09/02/2021
PRE-EMO Show Pfronten 2021
Experience state-of-the-art machine tool manufacturing live
In a hybrid event both on site and in a live stream, DMG MORI will show the trade fair highlights and much more at the PRE-EMO Show at Pfronten two weeks before EMO.
25 high-tech machines – completely CO2-neutral
Automation: More than 10 autonomous manufacturing solutions from a single source
PAYZR: Risk-free production with equipment-as-a-service and the CLX 450 TC as well as up2parts as a software-as-a-service solution for automated costing
Integrated Digitization: Process-safe manufacturing along the digitized value chain
Milling, Turning, Grinding: Technology integration for maximum productivity and precision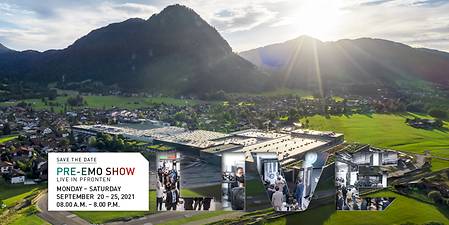 Just two weeks before EMO in Milan, DMG MORI will be showcasing the trade fair highlights at the PRE-EMO Show from September 20 to 25, 2021 at its traditional location in Pfronten. As this is a hybrid event, the latest development around trends in machine tool manufacturing will be presented both on site and in the form of online presentations via live stream. The exhibition will feature 25 CO2-neutral high-tech machines from the technology leader's broad portfolio, including more than ten holistic automation solutions such as the autonomous tool handling system TH-AGV. DMG MORI will present the related topic of digitalization using the Digital Manufacturing Package as an example. Another highlight is the digital subscription business model PAYZR, which has now been extended to the CLX 450 TC and up2parts. In the area of manufacturing technology, DMG MORI will demonstrate one of its core competencies, technology integration with Mill & Turn and Turn & Mill solutions in conjunction with the technology cycle grinding.
"We are delighted to finally be able to host a trade fair event with personal contacts again after such a long time," comments Cornelius Nöß, Managing Director of DECKEL MAHO Pfronten, on DMG MORI's first live event after more than a year and a half. He added that the DMG MORI DIGITAL EVENTS had successfully bridged the gap, but that nothing beats the on-site experience. "This is how we can provide the best insights into our highly technologized plant," Cornelius Nöß points to the Excellence Factory opened in 2020 as an example. There, the machining centers of the monoBLOCK series are produced in a continuous flow assembly with driverless AGV transport system. In view of the current Covid-19 measures, DMG MORI will implement a comprehensive safety concept with the 3G rules, maintain safety distances on the factory premises and limit admission to 500 people per day. Cornelius Nöß commented, "It goes without saying that the safety of all particants is our top priority."
Automation: More than teen autonomous manufacturing solutions from a single source
Holistic automation solutions are the defining theme for future-oriented users in machining. As a pioneer in this field, DMG MORI supplies 54 automation solutions completely from a single source. The machine tool manufacturer will also be presenting innovative developments for autonomous manufacturing at the PRE-EMO Show. With the TH-AGV, DMG MORI is showing another member of its family of automated guided vehicles. This can pick up tools weighing up to 50 kg with ø 280 mm diameter and 400 mm length. The maximum loading weight with 16 tools is 480 kg. The safety of people and machines in collaborative operation is ensured by scanners and sensors that permanently monitor the travel path.
In addition, DMG MORI will show its modular PH CELL automation concept for up to 40 pallets. The compact automation solution offers maximum flexibility. The modular design allows an individual number of pallets in different sizes. With a footprint of 10.7 m², the PH Cell is a space-saving automation solution that also allows for highly autonomous production even in tight production areas. DMG MORI will offer the PH Cell for a wide range of 18 different machining centers.
PAYZR: Risk-free production with Equipment-as-a-service and software-as-a-service now also with the CLX 450 TC and up2parts.
"Subscription & All-In instead of investment and purchase" is DMG MORI's formula for success for the new PAYZR business model for Equipment-as-a-service and software-as-a-service. The central customer promise is derived from the brand. PAYZR stands for "PAY with Zero Risk" and was launched in the equipment-as-a-service segment at the beginning of the year with the compact M1 vertical machining center. At the PRE-EMO Show, DMG MORI is expanding the PAYZR portfolio with the CLX 450 TC, which was also presented this year. With its automatic tool change and the B-axis, the complete machining center reduces setup times for high component variance and low batch sizes.  The CLX 450 TC by PAYZR is therefore the perfect solution for high flexibility in terms of production and payment model.
In the future, DMG MORI will also offer the topic of software-as-a-service with products from up2parts: up2parts calculation enables automated quotation generation based on artificial intelligence. Calculations and quotations can thus be created in seconds and with just a few clicks. This not only increases efficiency in work preparation, but also the success rate and thus the competitiveness of our customers in the long term, even from batch size 1. up2parts calculation is based on a company-specific database, which interested parties and customers can also use in full in the free product up2parts cloud basic. With unlimited storage space, machines, materials, customers and components are stored centrally there – the latter as a 3D model. A geometric similarity search automatically finds identical or similar components within a few seconds.
Integrated Digitization: Process-safe manufacturing along a digitized value chain
As a technology leader, DMG MORI is making a significant contribution to shaping this change. The company supports its customers with future-oriented solutions for networking machine tools and digitizing the value chain. Users can get off to an optimal start in this future field with the Digital Manufacturing Package. It includes DMG MORI Connectivity for networking both DMG MORI machines and selected third-party brands, the PLC-independent update to the latest CELOS version, and the DMG MORI Messenger. DMG MORI Monitoring shows the current status of all networked machines at a glance – on the PC as well as on mobile devices. The free my DMG MORI customer portal ensures end-to-end optimization of service processes around DMG MORI machines, while DMG MORI NETservice enables direct remote communication with DMG MORI Service. As a result, many service cases can be solved quickly and easily.
Milling, Turning, Grinding: Technology integration for maximum productivity and precision
DMG MORI's traditional core competence lies in machining. The machine tool manufacturer has determined a significant trend with its series for Mill & Turn and Turn & Mill complete machining. Against the backdrop of increasing demands on productivity and precision, DMG MORI continues to drive this technology integration forward and also enables grinding in the same setup. Visitors to the PRE-EMO Show will see the exclusive DMG MORI Grinding technology cycle on the turn & mill center CTX gamma 2000 TC as well as on a model of the duoBLOCK series in the form of the DMC 125 FD µPrecision. This machining center in particular already stands for uncompromising precision thanks to a volumetric accuracy of less than 15 µm and a positioning accuracy of 4 µm. This combined with grinding in a single setup leaves nothing left to be desired in precision machining.