05/09/2022
Open House Pfronten 2022 - PH 50
Pallet handling on only 2,7 m²
With the compact PH 50, DMG MORI offers a cost-effective entry into the automation of numerous machining centers.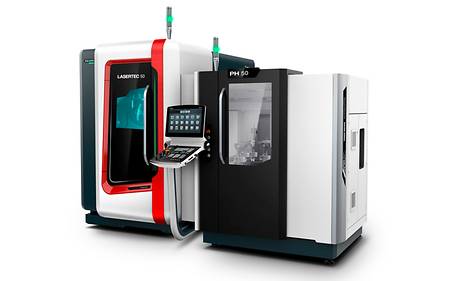 Small footprint – only 2.7m² (1.6 x 1.7 m)
Flexible use for a wide range of DMG MORI machines
Operation directly at the machine control
Three NC axis for high flexibility and precision
Configuration variety for HSK50, HSK63, HSK100, EROWA ITS148, Schunk 200 x 200, Schunk 320 x 320 as well as for other zero point clamping systems (workpiece weight; incl. pallet max. 70kg)
PALLET MASTER for comfortable and clear management of the automation directly via the machine control
DMG MORI sees the automation of its machine tools as one of the most important topics of the future. This applies to both workpiece and pallet handling systems, which have long been available in large numbers. Now DMG MORI is expanding its offering with the PH 50, the most compact and cost-effective pallet handling system in the portfolio. It is compatible with the LASERTEC 50 PrecisionTool, and, for example, the DMP series, the DMU 50 or the ULTRASONIC 50. Further combination options can be made after technical testing.
In order to remain competitive, companies with limited production space are more than ever dependent on space-saving and simultaneously automated manufacturing solutions. With a footprint of just 2.7 m², the new PH 50 from DMG MORI is an ideal solution in such cases. Three NC-controlled axes offer maximum flexibility and precision and allow the pallet handling system to be connected to a wide range of machining centers. In addition, various configurations are available, ranging from HSK interfaces and EROWA to Schunk or other zero-point clamping systems. The maximum number of pallets is 22, and the workpiece weight including pallet can be up to 70 kg, depending on the design. The new PALLET MASTER allows convenient and clear management of the automation directly via the machine control.
Manufacturers of large-format diamond tools provide an impressive example of the production gains achieved with the PH 50. There, pallet handling is a flexible solution for producing the demanding precision tools (up to ø 355 mm), for example for electromobility and the wood industry, even more cost-efficiently on the LASERTEC 50 PrecisionTool.
Various configurations are available for the PH 50, ranging from HSK interfaces to EROWA and Schunk