05/09/2022
Open House Pfronten 2022 - Gear Cutting
Gear Cutting – 60 percent faster programming with DMG MORI gear cutting solutions
Based on exclusive technology cycles and tools from DMQP partner HORN, DMG MORI offers unique gear solutions on standard machines.
gearSKIVING: Hob peeling of internal and external gears up to MODULE 11
gearMILL: Gear cutting with standard tools ≥ MODULE 3
gearBROACHING: Gear shaping of internal and external gears up to MODULE 4
Customized tools from DMQP partner HORN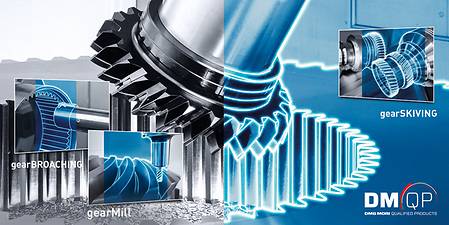 In the course of increasing technology integration, DMG MORI has developed numerous solutions that enable flexible complete production of sophisticated components. One impressive example is gear milling on turn-mill and mill-turn centers. With gearSKIVING, gearMILL and gearBROACHING, DMG MORI offers innovative technology cycles that enable efficient machining of high-precision gears - without the need for special gear cutting machines. In this way, users retain absolute flexibility in manufacturing. DMQP partner HORN is also on board for the development of customer-specific gear cutting tools.
60 percent faster thanks to dialog-guided input of gear parameters
Gears are an essential component in drive technology. The demands placed on these often safety-relevant and also very complex components are correspondingly high and varied. In the past, special machines had to be used for these parts. With five axes as standard, technology integration at the highest level and supported by specialized DMG MORI technology cycles, the expensive special path is now a thing of the past. The highlight: The complex NC programs are calculated automatically following dialog-guided input of the gear parameters. This saves up to 60 percent time compared to conventional programming. Since it is a pure software solution, gear cutting can be integrated into both new and many existing machines.
gearSKIVING – up to 8 times faster than gear shaping
gearSKIVING enables internal and external gear cutting up to MODULE 11 with gear qualities of ≥ 9. This cycle can be used on the universal lathes of the NLX and CTX series, on the NTX and CTX TC turn & mill machines, as well as on all milling lathes of the DMU eVo, DMF, and DMU/DMC FD series. The highlight of gearSKIVING is the speed of machining. Gear shaping is up to eight times faster than conventional gear shaping. gearSKIVING is available for CELOS on SIEMENS or CELOS with MAPPS.
gearMILL – gear hobbing on standard machines with standard tools
Especially for large gears with modules > 3, gearMILL is the ideal solution. This cycle enables gear cutting on standard machines with standard tools. Based on blank drawings or gear data, the programs for cylindrical, bevel and worm gears are created. Even contact patterns can be modified and the gearMILL software offers an interface to coordinate measuring machines, e.g. Klingenberg, Leitz or Zeiss. The gear quality (depending on gear type and component size) is ≥ 5. In addition, the gearMILL software offers post-processors for controls from SIEMENS, HEIDENHAIN and MAPPS.
gearHOBBING – gear hobbing for spur and helical gears
With gearHOBBING, DMG MORI enables gear hobbing of cylindrical gears and helical gears. The cycle allows parameterization of all important functions. For example, the operator only has to enter after which number of workpieces the tool should "shift", i.e. be offset along the tool's axis of rotation. The gearHOBBING technology cycle is available for machines of the NLX series as well as NTX and CTX TC. On the lathes of the NLX series, modules up to 4 can be machined in a quality IT8. By using a motor spindle as a milling spindle on our turning-milling machines of the NTX and CTX TC series, a module up to 3 with a quality IT7 can be achieved.
gearBROACHING – position-oriented production of gears on the main and counter spindles
DMG MORI has developed gearBROACHING for gear shaping of internal and external gears up to MODULE 4. With it, gear cutting qualities of ≥ 9 can be realized on turning centers of the NTX and CTX TC series CELOS on SIEMENS. The technology cycle is ideal for workpieces with shoulders or interference contours in the run-out of the gear teeth.
Customized tools from HORN in less than ten weeks
Decades of experience in tool manufacturing make Horn an ideal partner in gear cutting on standard machines, too. The DMQP partner checks customer inquiries within three working days and delivers customized tools for gearBROACHING and gearSKIVING in under ten weeks. The range includes single-tooth to four-tooth shaping tools with a clear tool definition for gearBROACHING. For gearSKIVING, solid carbide tools and replaceable insert systems are available – also as a version with internal coolant supply.