07/01/2020
DMG MORI SAILING TEAM
DMG MORI SAILING TEAM to compete in the Vendée-Arctique-Les Sables d'Olonne, the preliminary of the Vendée Globe
DMG MORI CO., LTD (hereinafter referred to as "DMG MORI") welcomed Mr. Kojiro Shiraishi as a skipper and launched DMG MORI SAILING TEAM (hereinafter referred to as "the team") in October 2018, and now the team will set out to an ocean yacht race, the Vendée-Arctique-Les Sables d'Olonne, on July 4th.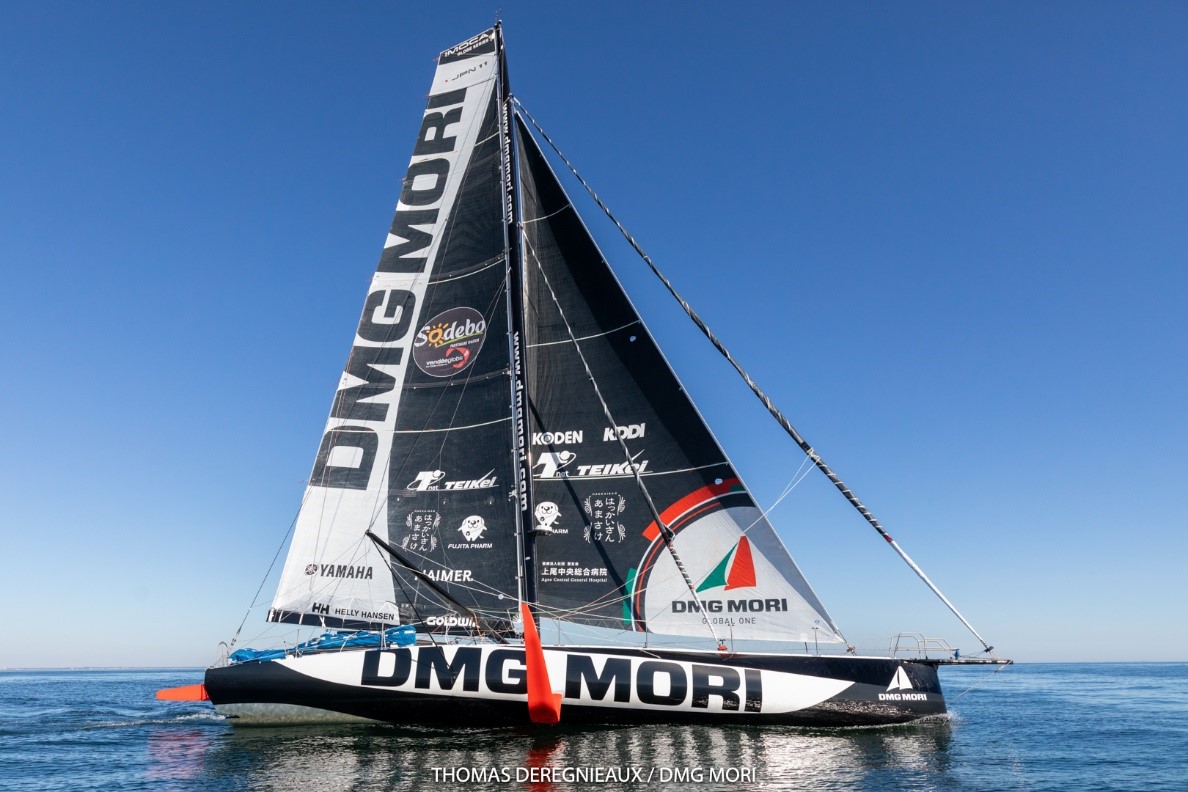 The team is based in Lorient, France, getting ready for the solo, non-stop, round-the-world race without assistance, "Vendée Globe 2020," scheduled from November 8th, 2020. Due to the COVID-19 related cancellation of the two Atlantic regattas Transat CIC (May 10th-​​​​​​​)" and "Transat NY-Vendée (June 16th-)", the Organizer created a new variant as a qualification for the Vendée Globe – the Vendée-Arctic-Les Sables d'Olonne –to replace the two trans-Atlantic races. This solo race will be taking the sailors up past Iceland and into the Arctic Circle and then down to the Azores with a return to the start location planned around ten to twelve days later. In preparation for the upcoming race Kojiro Shiraishi started his solo training on June 9th, and successfully returned to Lorient on June 16th after covered 2,100 nautical miles on their own. The solo training extended from Lorient to the northern point of the Azores Islands – and back.

The team and the new yacht DMG MORI Global One aim to finish the course of the preliminary race, as it is a prerequisite to be qualified for the Vendée Globe 2020 (the ranking does not matter).
Race outline
Name:
Vendée-Arctic-Les Sables d'Olonne

Schedule:
Start at 15:30, July 4th (Sat.) (estimated duration: 10-14 days)

Course:
Les Sables d'Olonne (France) - The coast of Iceland ​​​​​​​- The Azores (autonomous region of Portugal) - Les Sables d'Olonne (France). Total: 3,600 miles (approx. 6,500 km)
 *The course may change due to weather conditions.

Number of contestants:
22 (to be determined)

Offical website:
https://www.imoca.org/en/races/imoca-globe-series/vendee-arctique-les-sables-d-olonne