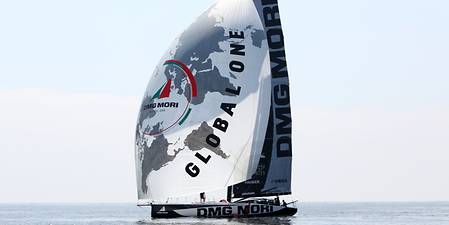 More than 5,000 fans, including team sponsors, customers, elementary school and kindergarten children, visited the marinas around Japan to see DMG MORI Global One, the yacht that survived the toughest round the world sailing race 'Vendée Globe 2020-2021', which is also known as the 'Everest of the Seas'.
The team was delighted to welcome so many visitors and hopes that the 4-month long tour could bring people in Japan a little bit closer to yacht and sailing culture.
The team will continue its activities to pursue its three goals: 1) Challenge Vendée Globe 2024-2025 with Kojiro Shiraishi, 2) Expand the yacht and sailing culture to Japan and 3) Train young skippers and engineers. DMG MORI Global One is currently being disassembled to be sent back to the team's base in France.
To qualify themselves for the Vendée Globe 2024-2025 that will start from November 2024 in France, the team will participate in several preliminary yacht races. The first preliminary race the team will compete in is the 'Vendée Arctique Les Sables d'Olonne that is held in France in June 2022.
DMG MORI SAILING TEAM is counting on the continued support of their fans.
◆Message by Kojiro Shiraishi
I would like to thank everybody who visited JAPAN TOUR 2021 during its short period of time. Although we had to limit the number of people to go inside the yacht, I am still very happy that so many people could see DMG MORI Global One at the marinas. It is thanks to everybody's daily support that we were able to bring DMG MORI Global One to Japan, even though sailing races are mainly held in Europe.
We will continue to do our best to inspire many people through our sailing activities, so we are counting on everybody's continued support.