07/15/2021
DMG MORI SAILING TEAM
Time to celebrate – Vendée Globe 2020-21 Prize-Giving Ceremony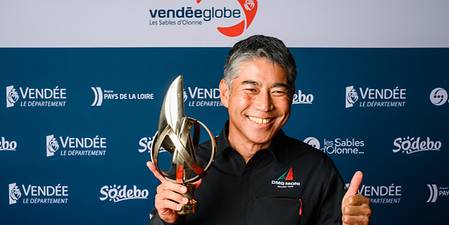 The Vendée Globe Prize-Giving Ceremony took place on Saturday, May 22 in Les Sables d'Olonne to celebrate all the heroes and adventurers who took part in the ninth edition of the race. Thirty one of the 33 skippers entered in the Vendée Globe 2021 were there. Among them was DMG MORI skipper Kojiro Shiraishi, who travelled from Japan to join this very special event. The skippers met up for the first time since the start last year, and looked back to this unique regatta around the world. 
Being the first Asian to successfully complete the Vendée Globe, Kojiro talked about his thought and motivation during the race:
This motivation was clearly awarded with an extraordinary experience, as Kojiro Shiraishi points out: "It was great to be able to be amongst all the skippers who risked their lives with me during this Vendée Globe. This year's Vendée Globe was special because we couldn't be together at all due to the Coronavirus. I was able to speak to all the other skippers about how our Vendée Globe was and exchange some precious information".
It was also announced that the 10th edition will leave from Les Sables d'Olonne on November 10, 2024. We are looking forward to it!