02/15/2021
DMG MORI SAILING TEAM
Around the Globe in 94 Days: Kojiro Shiraish became the first Asian to finish the Vendée Globe
The idea of the Vendée Globe is simple and yet takes your breath away: sailing around the world alone in a highly equipped sailing yacht. On November 8, 2020, 33 skippers set off for the 9th edition of the regatta in Les Sables d'Olonne in the eponymous Vendée region in the south of France. One of the successful returnees: Kojiro Shiraishi with his DMG MORI Global One, the high-tech yacht of the DMG MORI Sailing Team. He thus becomes the first Asian to finish the prestigious regatta.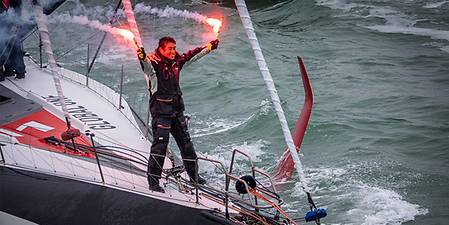 After 94 days, Kojiro Shiraishi and his DMG MORI Global One reached the start and finish port of the Vendée Globe in Les Sables d'Olonne on February 10, 2021; just over two weeks after the winner and as a hero, like all the other skippers who successfully mastered this Everest of the seas. Never before in this event has the field been so close as this year. Rarely has the finish been so dramatic. Until the very end, many of the participants delivered a head-to-head race and crossed the finish line only shortly after each other. 

The yacht of the DMG MORI Sailing Team had been specially designed and built for the Vendée Globe in just nine months. Kojiro had already participated in the regatta in 2016 as the first Japanese, but had to end the circumnavigation prematurely due to a broken mast. This time he was able to fulfill his dream and conquered the toughest regatta in the world. Constant companions along the way: storms, doldrums, generally difficult weather and repeated minor and major repairs. The Vendée Globe did not make it easy for him and also pushed the DMG MORI Shore team in the harbor of Les Sables d'Olonne to the limit time and again. This year's Vendée Globe thus once again showed all its fascination and drama.
At the finish line of the toughest regatta in the world