World premiere: LASERTEC 125
End-to-End Competence – Maintenance, repair and manufacturing of large components
In the field of 5-axis laser deposition welding DMG MORI will be presenting a new LASERTEC 125 3D hybrid at the formnext, a machine designed for workpieces up to ø 1,250 x 745 mm and 2,000 kg.
Consistent further development of the LASERTEC

3D hybrid

series
Parts measuring up to ø 1,250 x 745 mm and a workpiece weight of up to 2,000 kg

High build rates

Up to HRC 63 without heat treatment
Up to 80 percent reduction in processing times for production and repair tasks
Cost effective repair thanks to hybrid combination of a 5-axis milling machine and laser deposition welding
Convenient management of production with AM Assistant and Siemens NX

AM Assistant for control, evaluation and quality assurance of the production process based on an extensive sensor system for process monitoring
High-performance CAM software solution for powder nozzle technology developed especially for DMG MORI by Siemens NX
Since 2013 and the introduction of the LASERTEC 65 3D hybrid for laser deposition welding and 5-axis simultaneous machining in a single setup, DMG MORI has become established as a global full-liner in the additive production of metallic components. Gradually the range was extended, first with the LASERTEC 4300 3D hybrid – this combines additive manufacturing using a powder nozzle and turn-mill machining in one work area – and then the powder bed machines in the LASERTEC SLM series. With the LASERTEC 125 3D hybrid DMG MORI has now expanded its laser deposition welding portfolio to include a model for the maintenance, repair and production of significantly larger parts.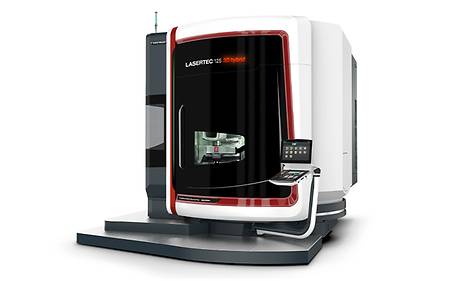 Additive manufacturing is becoming increasingly established as a pioneering procedure for industrial use. The demands placed on the technology are therefore also changing. DMG MORI consistently takes this into consideration in the further development of its machines, as is impressively reflected in new LASERTEC 125 3D hybrid. Based on the sturdy monoBLOCK series it is designed for parts measuring up to ø 1,250 x 745 mm and a workpiece weight of up to 2,000 kg. The rigid machine construction and high dynamics of the LASERTEC 125 3D hybrid enable the accurate, reliable and at the same time cost-effective complete machining of demanding 3D parts. Customers can expect high build rates and a repeat accuracy normally associated with CNC machines.
Shorter process chains and significantly reduced process times
The automatic changeover between laser deposition welding and 5-axis simultaneous milling in a single setup reduces processing times by up to 80 percent. Such savings can be achieved by completely doing away with process steps such as heat treatment, because the LASERTEC 125 3D hybrid can deposit material with a hardness of up to 63 HRC. The alternating use of laser deposition welding and 5-axis simultaneous milling is particularly beneficial for improving production processes or enabling new component geometries. One example here are closed impellers. Another equally impressive strength of the hybrid machine is the new part production and repair of forming and forging dies for hot and cold forming. Cutter blades, for example, can be back in use within one shift thanks to powder nozzle technology.

New possibilities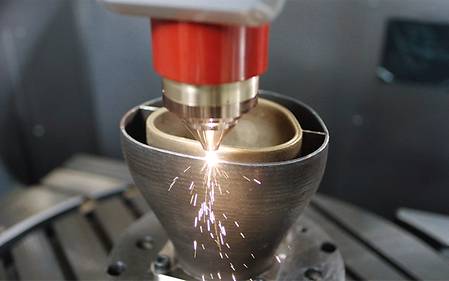 The LASERTEC 125 3D hybrid can also produce lightweight structures, that reduce the weight of parts such as turbine blades by up to 90 percent. A key unique selling point of laser deposition welding is the possibility it offers of changing between two materials quickly and CNC-controlled. Hard welding to reduce wear can be carried out in one area while at the same time corrosion-resistant welding for the prevention of environmental impacts is carried out in another area. The cooling performance on the part can be significantly increased compared with conventional cooling concepts. With this technology a core made of bronze that dissipates heat can be welded onto die casting molds and at the same time an outer skin made of tool steel.
Cost-effective repair
In the past five years, laser deposition welding has emerged as an excellent technology for the repair and coating area in many target industries. Like the LASERTEC 65 3D hybrid before it, the LASERTEC 125 3D hybrid also maintains and repairs parts economically. With this latest model users can now also setup large parts and dies. The damaged area is first prepared by milling before the repair is carried out with laser deposition welding. The part is then finished in a final milling process – all in a single setup. In other words all the individual processes are brought together on one machine without compromising other production resources. Thanks to the precise process control the welded material is of an extremely high quality. A service life three times longer than that of conventional manual welding repair work was achieved with the repair of die-cast inserts.
Another use of this technology is in areas where top priority is given to plant availability and reduced maintenance times. These include industries such as oil and gas as well as the chemical, pharmaceutical and energy industries. Users benefit here from the flexibility of the LASERTEC 3D hybrid models.
Intelligent software solutions for convenient management of production
Like its sister models the LASERTEC 125 3D hybrid can be integrated into the hybrid CAD/CAM process chain where it contributes significantly to productivity in production. The Siemens NX hybrid CAM system enables end-to-end programming of repairs. Customers can change seamlessly between machining and laser deposition welding during programming. All process steps are then sent to the machine in one program and carried out alternately in automatic operation.
The AM Assistant is part of the innovative software and hardware offer for the LASERTEC 125 3D hybrid. It includes among other things an integrated thermal imaging camera for continuous thermal monitoring of the entire component or defined areas, monitoring of the melt pool size and temperature or monitoring of the clearance between nozzle and component. Threshold values for all relevant process parameters, such as powder volume, working distance or inert gas volume, can be stored using the input mask AM Guard – also part of the AM Assistant. If these values are exceeded or undercut the build job is interrupted and then started again without problem after a correction has been made. Reject rates caused by process parameters that have not been optimized are already minimized in advance. The AM Evaluator software is an intelligent downstream evaluation software for 3D process data. It can be used for the graphic display of stored 3D process data from the production process for evaluation purposes. Data from the melt pool analysis, powder flow monitoring or laser power can be analyzed individually, compared with each other and with previous build jobs. Automatic generation of reports for quality assurance in production is also possible. With the AM Assistant DMG MORI offers optimum support for additive manufacturing and the preconditions for maximum quality and process reliability along the entire process chain.