ULTRASONIC 20
ULTRASONIC 20
linear

– The answer to the challenges posed by carbide metal machining

After SAUER had set the benchmark for the machining of CVD and PCD tool blades with its LASERTEC 20 PrecisionTool, the product portfolio in the ULTRASONIC range has now been extended by the addition of the ULTRASONIC 20 linear. This machine is capable of machining carbide metal tool bodies economically.
With this machine, SAUER is presenting itself as a universal supplier of precision machines for tool manufacture. The ULTRASONIC technology is already established for machining hard, brittle materials. This technical know-how is now also finding its way into the field of carbide metal machining.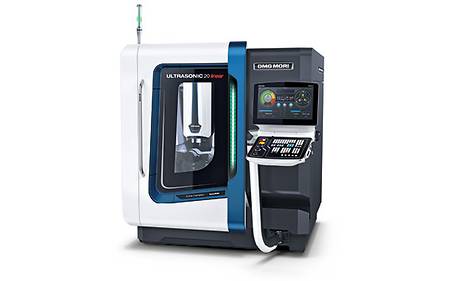 The specific kinematic superimposition of an additional oscillation on the tool rotation effects a reduction in the process forces by up to 40% compared with conventional machining. Depending on the component requirements, this enables higher feed speeds and infeed rates, improved tool service life and significantly improved surface quality up to Ra < 0.05 µm.
The ULTRASONIC 20 linear is particularly well-suited for producing complex carbide metal tool bodies thanks to its 5-axis kinematics. Both spiral and straight chip flutes can therefore be produced on one machine. Furthermore – in contrast to conventional tool grinding or erosion – filigree insert seats in particular, as well as axial and radial cooling holes, can also be incorporated.

This complete machining in a single setup enables machining time to be reduced by an average of 30%. It is therefore considerably more economic than when the same workpiece has to be processed on several machines.


On completion of the programming, the operator can start a process simulation, which is intended, among other things, to avoid a collision in the work area. Incorporation into the existing CELOS user interface from DMG MORI avoids the need for an additional programming workstation.A further advantage of complete machining is the high accuracy, as the workpiece does not have to be re-clamped and there is therefore no variation in the machining. In order to satisfy customer requirements regarding the programming of the tool body, a facility has been provided to program appropriate tool geometries by entering the required parameters quickly and efficiently on or directly at the controller. The user is assisted in creating the 3D data by a menu with dialogue boxes, and is therefore quickly able to deploy the ULTRASONIC 20 linear in a target-oriented manner to achieve optimum results. This software has been specially optimised for use in conjunction with the SIEMENS 840D Operate 4.7 for all applications.
DMG MORI is therefore responding to the special requirements of customers in the field of CVD and PCD tool manufacturers who are involved in the expanding market of machining high-end materials.