02/11/2020
Open House Pfronten 2020 - World premieres: DMU 65 H monoBLOCK and DMC 65 H monoBLOCK
The revolution in universal horizontal machining
The new DMU 65 H monoBLOCK and DMC 65 H monoBLOCK unite the flexibility and ergonomics of a 5-axis universal machining center with the productivity and process reliability of a horizontal machining center.
5-axis machining with a horizontal gentry concept
Workpiece dimensions of ø 630 x 700 mm and maximum 600 kg workpiece weight
Modular design with speedMASTER and powerMASTER spindles
Wheel magazine with up to 543 tool pockets
Optional rotary mill-turn table
Application-specific automation solutions available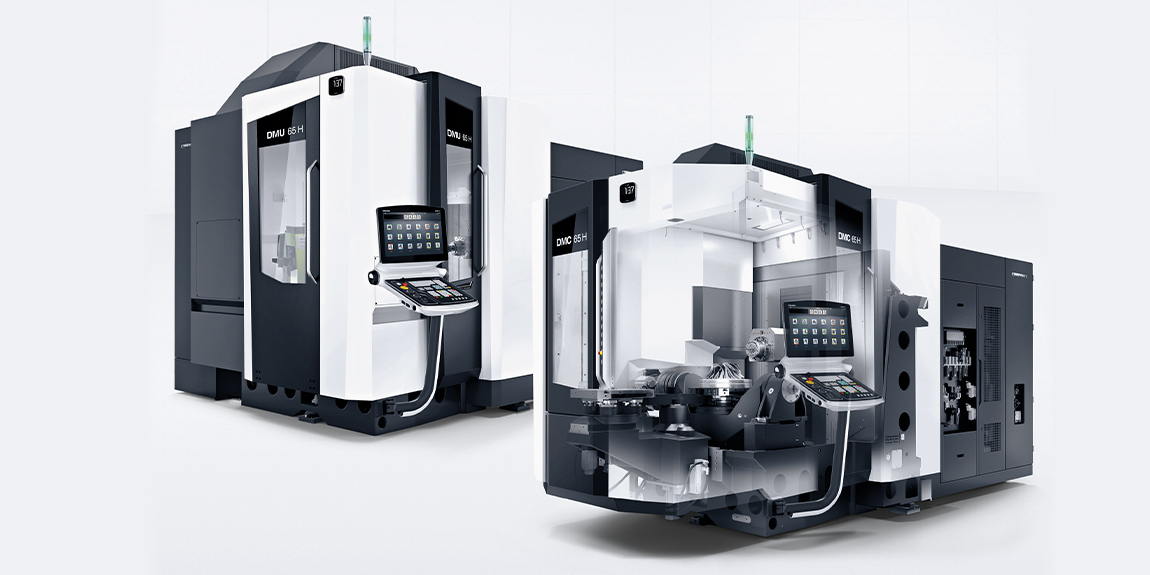 With the DMU 65 H monoBLOCK and DMC 65 H monoBLOCK DMG MORI will be presenting the new highlight in horizontal machining at the Open House in Pfronten. The unique horizontal gantry design makes the machines ideally suited for demanding applications like those in the machining of aerospace structural components, for example. Users in the die & mold branch benefit from the possibility of completely machining deep hole bores of up to 550 mm directly on one machine. A sturdy and thermo-symmetrical construction, optional linear drives and modular design with spindles from the MASTER series plus the patented wheel magazine mean the machine can be equipped optimally for demanding applications.
The inherently rigid machine bed with 3-point support, extensive cooling concept, thermo-symmetrical design and swiveling rotary table with bearings on both sides with which the DMC H 65 monoBLOCK is equipped provide the ideal basis for the consistently accurate machining of complex workpieces. The concept of horizontal machining enables optimum chip flow and thus also perfect heat dissipation to ensure process reliability in production.

In the version with linear drives the world premieres prove highly productive machining centers with rapid traverses up to 100 m/min and 1 g acceleration. The DMU 65 H monoBLOCK and DMC 65 H monoBLOCK can accommodate twelve pallets with workpiece dimensions of ø 630 x 700 mm and maximum 600 kg workpiece weight. The ergonomic design of the machining centers offers optimum accessibility and as a result a high level of user comfort during setting up. New jobs can be set-up parallel to machining at any time with the pallet changer or rotary magazine.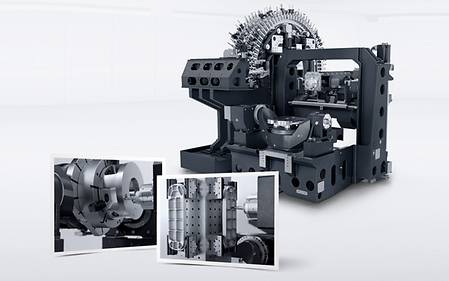 The modular design leaves nothing to be desired where equipment is concerned. This includes speedMaster spindles with speeds up to 20,000 rpm and a powerMASTER spindle with HSK-A100 interface and 288 Nm torque. In other words, the DMU 65 H monoBLOCK and DMC 65 H monoBLOCK are ideally equipped for the demands arising from the electrification of the powertrain. A chain magazine with maximum 60 tool pockets or a wheel magazine that can accommodate up to 543 tools mean the machines can be equipped inline with requirements. Where controls are concerned, the world premieres come equipped with CELOS. Both the SIEMENS 840D as well as the Heidenhain TNC 640 are available. As a special highlight the DMU 65 H monoBLOCK and DMC 65 H monoBLOCK are also available as mill-turn versions, which allow the complete machining of components with up to 1,200 rpm. "Thanks to the combination of proven components with a highly innovative new machine concept and a multitude of automation options our engineers in Pfronten have managed to set a new standard in horizontal 5-axis technology", claims Cornelius Nöß, Managing Director of DECKEL MAHO Pfronten.

As DMG MORI sees the future of manufacturing in automated production, there are a number of very different automation solutions available for both horizontal machining centers for customers to choose from. The offer ranges from the flexible PH‑AGV 50 to linear and rotary pallet storage and on to include the new PH Cell, thus ensuring individual automation depending on the production area and order volume. All automation solutions can be connected to both the DMC 65 H monoBLOCK with double pallet changer for shorter idle times, as well as to the DMU 65 H monoBLOCK, which impresses with its especially large workpiece diameter. Thanks to horizontal machining and the resulting ideal chip flow, the horizontal machining centers are especially suitable for unmanned and minimally manned production.