Open House Pfronten 2020 - LASERTEC 30 DUAL 
The power of two lasers
Equipped with two lasers the new LASERTEC 30 DUAL SLM expands the DMG MORI portfolio as a significantly more productive manufacturing solution for the powder bed process.
Two powerful 600 W lasers for build rates of 90 cm³/h
Focus diameter down to 50 µm for maximum precision
New standard in durability and work safety thanks to permanent material-independent filter system
rePLUG module for fastest possible powder change
Intelligent powder management and innovative OPTOMET software
DMQP: Cost-effective powder circuit with seal of quality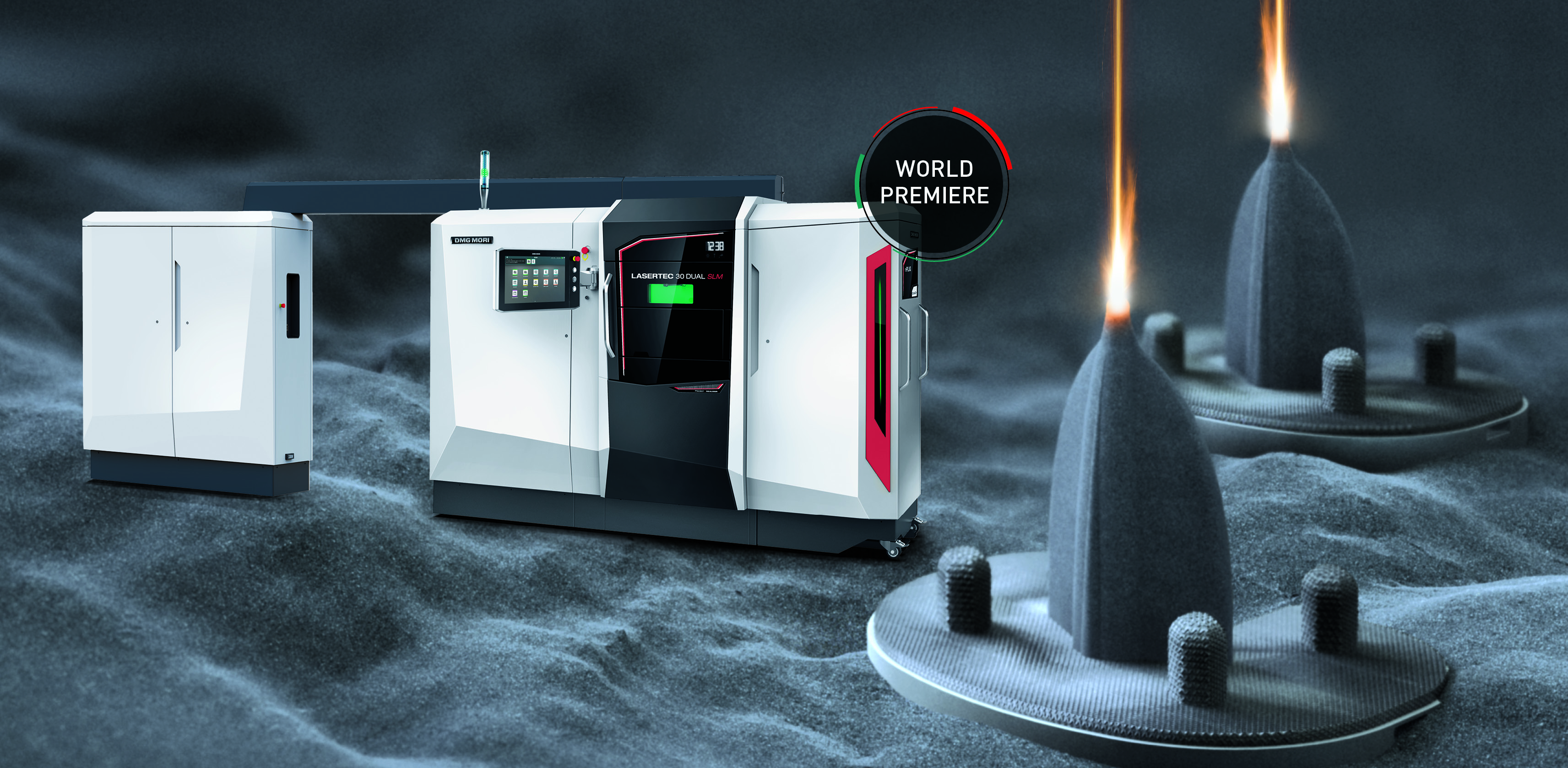 Based on the proven LASERTEC SLM series, DMG MORI will be presenting the new LASERTEC 30 DUAL SLM at this year's Open House in Pfronten. The new flagship in powder bed processing is equipped with a high-precision optics module that has two lasers, which together can build-up one component or several workpieces in parallel. This increases productivity by up to 80 percent. Users benefit from a level of accuracy that is above the industrial standard.

DMG MORI sets new standards in selective laser melting with the LASERTEC 30 DUAL SLM. Two powerful 600 W lasers, whose scan field each covers the entire build area, enable build rates of up to 90 cm³/h. The software automatically recognizes which scan strategy is the most efficient thus ensuring the LASERTEC 30 DUAL SLM always operates optimally and that it can be used flexibly depending on the order situation. "In addition a focus diameter of 50 µm enables a level of accuracy that is unique in this machine class", stresses Mathias Wolpiansky, Managing Director of REALIZER GMBH and responsible for the LASERTEC SLM series.
Another new feature is the permanent filter system, which operates independently of material and thanks to the automatic passivation of metallic dusts offers a new level of durability and work safety. Active cooling of the build area allows users to remove finished components more quickly and so prepare new orders faster. The result is a further increase in productivity.
rePLUG module for fastest possible powder change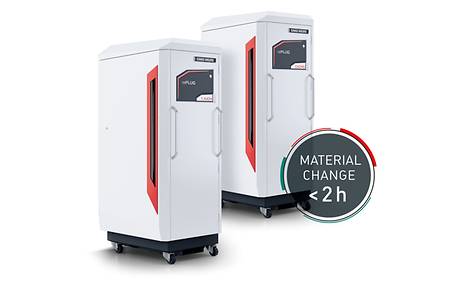 DMG MORI has retained the successful concept of the LASERTEC SLM series and the ergonomic Stealth design in the development of the new model. Like its counterparts the LASERTEC 30 DUAL SLM also has a build area and maintenance elements that are easily accessible and thus simplify servicing. The intelligent rePLUG for powder change is also used here. On the one hand, the closed powder circuit under inert gas ensures a high level of work safety and, on the other, the powder can be easily changed within two hours thanks to the rePLUG powder module – the fastest option on the market.

Intelligent powder management and innovative OPTOMET software
With the DUAL concept, permanent filter system, active cooling of the build area and the rePLUG module DMG MORI has managed to maximize the productivity of the LASERTEC 30 DUAL SLM. The same applies to the OPTOMET software. Functions such as OPTOMET Max. Power for optimized exposure strategies and enhanced utilization of machine performance plus OPTOMET Temperature Control for reduced residual stresses in the component due to active control of the build platform temperature together create constant conditions at the process level.
DMQP: Cost-effective powder circuit with seal of quality
DMG MORI has underscored its holistic process approach by also extending and attuning the DMG MORI Qualified Products program to include peripheral and accessory components for additive manufacturing. The main focus is on open powder selection on the one hand and having a qualified and integrated powder circuit on the other. Powder return and recycling with selected DMQP partners provides an economical way of processing expensive powder materials. Hanau-based Heraeus has been won as a highly competent DMQP partner in this area. The company ensures that a comprehensive powder portfolio that meets the strict quality standards is available to customers. DMG MORI conclusively validated these standards on a LASERTEC SLM powder bed machine. The wide choice of materials in the DMG MORI web shop ranges from tool steel and stainless steel through to aluminum and cobalt-chrome and on to include Inconel and titanium, so that it covers almost every requirement in the target industries – worldwide and within just a few workdays. All powders are marked with the DMQP seal of quality and are ready to use, because they are provided with the relevant parameters.