09/17/2019
EMO 2019 - DMG MORI Economic Stimulus Program
Strong partner for every economic situation
With its own Economic Stimulus Program, DMG MORI offers its European customers more liquidity, no-risk financing, ongoing training, as well as full service and reconditioning of machines.
Buy Back Program: Machinery buy back for more liquidity
DMG MORI Finance: Renting, purchasing, leasing with no risk
DMG MORI Academy: More expertise through training
Worry-free production thanks to DMG MORI Maintenance Plus
DMG MORI Used Machines: Machine reconditioning as an alternative to a new purchase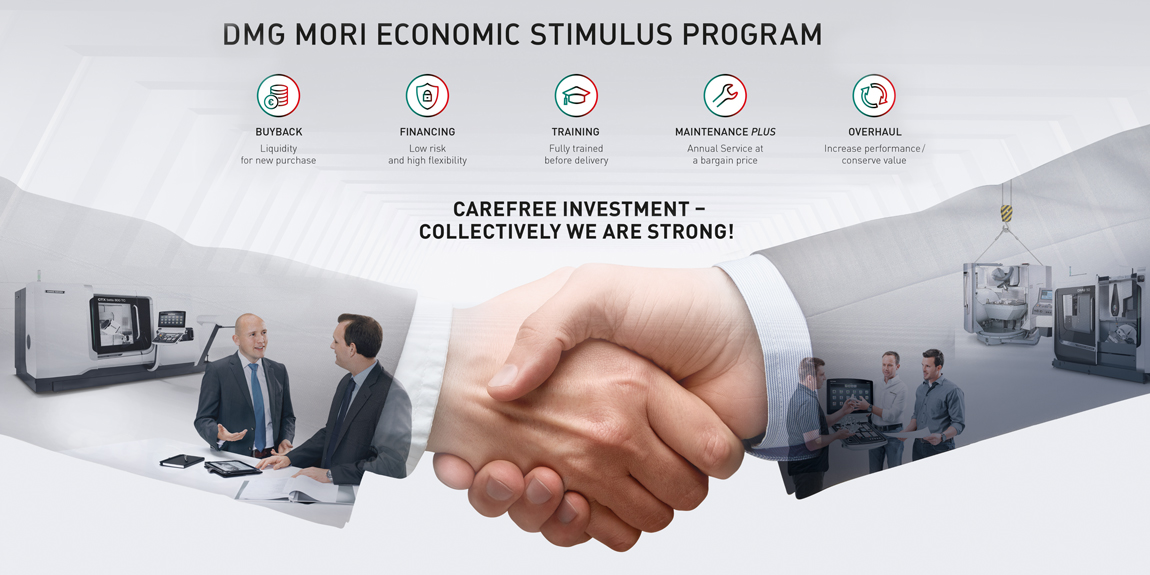 After years of growth, many DMG MORI customers now face uncertain economic times. The machine tool manufacturer is taking advantage of its global presence and unique and wide range of services and products to position itself as a reliable partner especially in this situation. Based on a comprehensive five-point Economic Stimulus Program, DMG MORI is able to provide its customers on the economic level with long-term support in the area of further training as well as service and machine technology. All measures perfectly complement one another and are all from a single source.​​​​​​​

"We are committed to offering financial security and good service to our customers going through a difficult economic phase," Markus Piber, Sales, Service and Technology Excellence Divisional Director, explains the motivation behind the DMG MORI Economic Stimulus Program. He developed the program together with Dr. Maurice Eschweiler, Chief Representative of DMG MORI AKTIENGESELLSCHAFT. Who adds: "We want to minimize the risks for our customers while at the same time maximizing flexibility and planning."
Machinery buy back for more liquidity
The liquidity of a company is a decisive factor for investments in the modernization of technology. To make this easier also in economically weaker times, DMG MORI offers to buy back the old machines from its customers. The Buy Back Program guarantees customers immediate payment without the need to engage an external dealer. Our in-house DMG MORI Used Machines GmbH has already been acting for a long time in this area as one of the largest CNC machinery dealers – including third-party machines, in particular.
No-risk financing
DMG MORI Finance provides its customers with all-round support on the subject of financing and offers much more than the conventional renting, purchasing or leasing. There are no costs for commissioning a machine. Dr. Maurice Eschweiler adds: "Customers have the option of beginning financing up to six months later, which in turn strengthens liquidity." There are also flexible rates depending on machine utilization. Moreover, attractive options such as staggered rates, higher residual values, follow-on financing and sale-and-lease-back also offer maximum flexibility. DMG MORI Finance has thus launched a TOP Seller campaign for particularly high-volume DMG MORI machines. Here, leasing rates are recalculated down to the last penny in the favor of the customers. "Naturally, our financing offers also apply to investments in automation, used machines, reconditioning as well as training and are also aimed at start-up companies," assures Markus Piber.

More expertise through training
Well-trained employees are the basis for productive manufacturing processes, which is why training by the DMG MORI Academy is an integral part of the DMG MORI Economic Stimulus Program. Irrespective of short delivery periods, it is committed to training operators prior to commissioning the machine. "Customers can thus accept orders without any time delay after commissioning," says Dr. Maurice Eschweiler.

Worry-free production thanks to DMG MORI Full Service
Well-utilized production depends on reliable service to ensure that machine downtime is reduced to the minimum. This is the reason why DMG MORI Maintenance Plus offers our customers an all-round maintenance package at highly attractive conditions.
Financing and Stimulus highlights

Grace period of up to six months at the beginning
Staggered rates depending on utilization
High residual value costing for the machines at the end of the financing period
Financing of reconditioning and servicing
Start-up financing as support for customers just setting up shop
Flexible contract adjustments also during the fixed term
Attractive follow-on financing after the agreed rent period
Sale-and-lease-back transactions for additional cash flow
Reconditioning of proven production technology
Proven machine technology and established processes are the heart of many production environments. To ensure that users can continue to manufacture with their trusted machinery for the long term, the DMG MORI Economic Stimulus Program also covers machine reconditioning as an interesting alternative to new purchasing. The offer ranges from the components to the general overhaul with original spare parts, which can also be financed at the same time.