06/22/2016
Preview IMTS 2016
Latest technology at IMTS
At this year's IMTS, DMG MORI will be demonstrating 26 high-tech machine tools and innovative technologies as well as their close relationship to US customers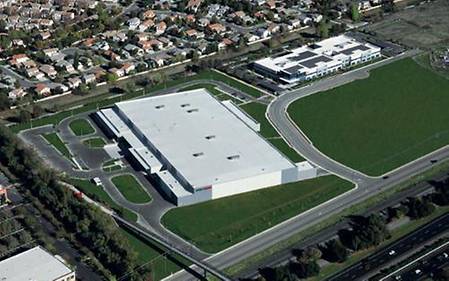 One of the largest industrial trade shows in the world, the Chicago-based IMTS will offer an excellent framework for DMG MORI to present latest CNC technologies and most recent developments in the US market. From September 12-17, 2016, the machine tool manufacturer will present a total of 26 machine tools on an exhibition area of 17,000 ft2. The portfolio includes US premieres, the ULTRASONIC 20 linear and the SPRINT 32|8 as well as the locally produced DMU 50 with PH 150 and NHX 4000 2nd Generation with RPP. At IMTS, DMG MORI will focus on local production in Davis and on the established direct sales business model in the US market. Technology Cycles, Automation Solutions, Industry 4.0, and Additive Manufacturing are further highlights presented by DMG MORI.

Direct Sales and Service USA

As the industry is changing and becoming more globalized, DMG MORI raised the standards and challenged the industry with the announcement of its strategic direct-to-customer approach in October 2015. Since the launch of the Direct Sales and Service business model, DMG MORI demonstrates its commitment to the customer on both a global scale and at the local level. Customers have access to the most complete, high-quality line of machine tools globally, as well as exceptional service with direct sales and service teams, local production, and global factory support.

Local Production for US Customers

DMG MORI's North American manufacturing facility, located in Davis, California, was opened in July 2012. Along with the new direct-to-customer announcement last year came the appointment of DMG MORI Manufacturing USA, Inc., Chief Executive Officer Mark Mohr and Chief Operating Officer Zach Piner. DMG MORI USA is dedicated to offering customers comprehensive local service and support for the highest quality of U.S. made machine tools.

With a production capacity of up to 100 machines per month, the Davis location manufactures and assembles horizontal machining centers, five-axis universal milling machines, vertical mills, and turning centers. Design and production activities in California offer North American customers not only the world's best CNC hardware, but provide price-competitive, customized technical solutions to today's most demanding production challenges.

At IMTS, customers will experience live demonstrations on locally manufactured machines and take a virtual tour through the factory in Davis. They will discover how DMG MORI builds its machines seamlessly from design to production through the virtual reality experience.

Spare Parts – highest availability due to global presence

In manufacturing, a fast delivery of spare parts is crucial to efficient production. Downtimes of machines can be reduced to a minimum when these spare parts can be replaced with a short period. With regard to DMG MORI USA, spare parts is under the responsibility of Chief Service Officer Kevin Bowers.

DMG MORI processes all orders centrally through a 24/7 service hotline and ships the spare parts from the closest DMG MORI Spare Part Center. The global network includes DMG MORI warehouses in the USA Germany, India, Thailand, China, and Japan.  With over $240 million worth of inventory and more than 275,000 unique spare part numbers in the global logistics network, DMG MORI guarantees a fast worldwide delivery directly from the manufacturer. The inventory includes new parts as well as replacement parts. There is also spare part availability for early models from 1970 or later.

Industry 4.0 with CELOS and DMG MORI Software Solutions
DMG MORI is pushing forward intelligent software solutions as the elementary basis of the digital transformation of manufacturing process chains. In the age of "Industry 4.0" it is very important to build-up a customer-oriented strategy of digital manufacturing. As a part of this strategy, DMG MORI supports customers on the way to digital transformation by offering the app-based CELOS system.

CELOS was first presented three years ago and, the system is continuously being developed based on today's production needs. The holistic user interface from DMG MORI is as easy to use as a smartphone. Thanks to its open architecture, CELOS allows the exchange of information with higher-level structures in addition to its effects in the shop floor area. As a result, CELOS offers customers complete integration of their machines in the company organisation while simultaneously creating today the interface of metal cutting production in the cyber-physical production system of the future. The benefits in day-to-day operation are convincing: a 30 percent time saving in tooling times and 50 percent lower time and effort for the calculation of technology values or the search for important information are just a few of the effects that can be achieved with CELOS. In addition, CELOS offers smooth entry into the future of metal cutting production, because this takes place gradually. Customers using CELOS today receive first, unlimited access to the existing 16 CELOS APPs and second, the chance to benefit from future apps, as CELOS is, and will remain, upwardly compatible.

DMG MORI Technology Cycles for simple programming of complex machining operations

In order to optimally use the whole potential of today's machine tools, a large portion of expert competence is needed. Increasingly complex applications require ever more sophisticated machining strategies that can only be realized with high programming effort under conventional conditions. DMG MORI as a competence partner supports its customers also at the preliminary stage of metal cutting manufacturing with a large number of exclusive DMG MORI technology cycles, which contribute to process reliability mainly in workshop-oriented programming, improve component qualities and also enable integration of technology.

With the exclusive technology cycles, DMG MORI sustainably supports the work of its customers on the powerful machine tools at multiple levels. Advantages, in addition to the higher ease of use and reduced cycle times, also include process reliability as well as component quality. Adding to this is the option of technology integration. So there are special technology cycles for interior, exterior and surface grinding, as well as cycles for calibrating the dressing station and dressing the grinding wheel. A special measuring technology of solid-borne sound was developed for scratching the grinding wheel on the component. Dressing of the grinding wheel can also be automated with this solution, thus ensuring a reliable process. Grinding operations can thus be performed during low-manned machine operation. The component quality is ensured with In Process measurement by means of a measuring probe.

Additive Manufacturing of
3D

components in finished part quality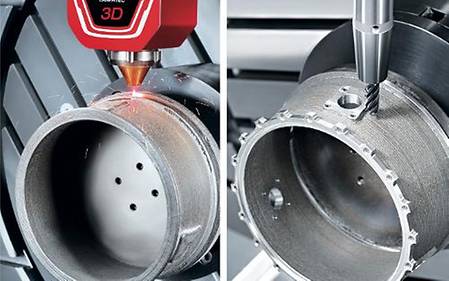 In times when components are becoming increasingly more complex and more individual, additive manufacturing processes rank as the future way out of the complexity trap. The technology allows a high degree of geometric freedom with regard to component design. However, additive manufacturing is seen as slow, inaccurate and expensive; an attitude that has made its entry into the market difficult, especially in the metal machining sector. In the light of the above, the combination of laser deposition welding using a powder nozzle combined with machining opens up completely new perspectives. As a pioneer and trendsetter DMG MORI already offers not just one but two ground breaking hybrid machines – the LASERTEC 65 3D and the LASERTEC 4300 3D.

In the field of additive manufacturing DMG MORI stands out from other suppliers in that the machine tool manufacturer uses a blown powder deposition welding process with laser, as it has long been used in principle for repair work in the tool making or turbine technology branches. In this process the powder is melted onto the base material by the laser beam. Unlike other laser-based processes in additive manufacture that work according to the layer principle, whereby a component is built-up layer by layer in a powder bed. DMG MORI also builds up layer by layer, but only uses the powder where it is actually needed. This reduces the necessary quantity of powder significantly. Another key advantage is the around ten times faster build-up of the material. The hybrid machine allows the integral combination of additive and subtractive manufacturing in a single setup, so DMG MORI can offer customers the best of both worlds.

DMG MORI has been offering a hybrid machine – the LASERTEC 65 3D – for almost two years now. Its basic machine is a DMU 65 monoBLOCK 5-axis machine for high-precision milling operations with up to 5-axis simultaneous machining. The integrated laser head is equipped with a 2.5 kW diode laser. It is automatically exchangeable and during the milling operations it is moved completely out of the working room of the machine. The machine is ideally suited for the complete hybrid production of components as well as for repair work and applying partial or full coatings. This year, DMG MORI has expanded the additive manufacturing program with the LASERTEC 4300 3D. This second hybrid machine will add the possibility of turning operations to laser deposition welding and 5-axis milling, so that rotation-symmetric components can now also be produced with the hybrid process. Equipped with a mirrored C-axis workpieces can also be machined on the rear side with the counter-spindle thus enabling in total 6-sided complete machining of the finished part.

US Premiere: SPRINT 32 | 8
DMG MORI has now expanded its series of automatic lathes equipped with a SWISSTYPEkit to include the SPRINT 32|5 and SPRINT 32|8 for bar material with diameters of up to 1.3 in. The SWISSTYPEkit allows for the machining of both short and long components with an equal degree of excellence. This makes the SPRINT models the machines of choice in the DMG MORI range. At the upcoming IMTS, the machine tool manufacturer will show the US premiere of the SPRINT 32|8. With the new SPRINT models, GILDEMEISTER Italiana has expanded its portfolio of automatic lathes to include an additional size for bar material with diameters up to 1.3 in. thus giving DMG MORI customers an even greater choice of manufacturing solutions for minimum cycle times.

Following in the footsteps of the smaller SPRINT 20|5, the SPRINT 32|5 and SPRINT 32|8, as versatile, top-performance automatic lathes, fit perfectly into the GILDEMEISTER Italiana product family. With a footprint of just 30.1 ft2, the two new models are the most compact machines in their class while at the same time offering a large work area for workpieces of up to ø 1.3 in. x 23.6 in. The two new SPRINT models derive their versatility from the proven SWISSTYPEkit, which enables both short and long turning on one machine – with setup times of less than 30 minutes. To achieve this, the spindle stroke is lengthened from 4 to 10 in. An optional quick tool-change system reduces setup times by another 20 percent.

The SPRINT 32|8 is ideally suited to the machining of more complex workpieces. It has an additional Y-axis for the second tool carrier plus a C-axis for the counter-spindle. The SPRINT 32|8 is equipped with a total of six linear axes and two C-axes and has 28 tool pockets. This expansion option of the machine has a third independent tool carrier that is suitable for deep hole drilling on the main spindle, for example, and that also enables 4-axis machining on the main spindle. These two stations can also be equipped optionally for powered tools. The second tool carrier has eight pockets for rear-side machining, four of which are equipped for powered tools. There are pockets for a total of ten (eight in the standard version) powered tools.

US Premiere: ULTRASONIC 20
linear

2nd Generation

The ULTRASONIC portfolio from DMG MORI series has now entered a new league with the new ULTRASONIC 20 linear 2nd Generation. Extensive optimizations across the board – from the expanded ULTRASONIC technology and the machine construction, to the performance and options available – further enhance the technical edge of the machining center. Spindle speeds of optionally up to 60,000 rpm, more powerful drive motors, an even smaller footprint plus CELOS with apps developed specifically for ULTRASONIC are among the innovations that users from the optical, clock and watch, medical and high-precision mold construction sectors will benefit in future.

The decisive technological innovations of the ULTRASONIC 20 linear 2nd Generation include a new, completely digitally controlled ultrasonic generator plus ULTRASONIC actuators with enhanced performance. The tool holders with adapted actuator technology are changed into the milling spindle simply and automatically. Each of these holders contains so-called piezo elements, which are activated by a program-controlled inductive system with a high frequency of between 20 and 50 kHz. The actual tool rotation is thus superimposed with an additional tool movement in the longitudinal direction so that a defined amplitude, which can be programed in the NC-program, in the range of up to more than 10 µ is generated on the cutting edge of the tool or on the grinding layer. During grinding, drilling and milling this ULTRASONIC superimposition of vibrations has a direct, positive impact on process forces, metal removal performance and tool service life and thus on the machining result in the form of cost efficiency and accuracy.

More exactly ULTRASONIC results in a higher removal rate, accurate edge machining and up to 40 percent reduced process forces in the machining of advanced materials such as glass, ceramics, corundum, composite materials and hard metal. Deflections are minimised while workpiece accuracy and process reliability are increased. In addition, this oscillating contact interruption results in better lubrication and cooling of the cutting edge as well as optimum removal of particles from the active zone. This enables longer tool service life as well as excellent surface qualities of up to Ra < 0.1 µ for hard-brittle high-performance materials such as glass, ceramics, corundum and other materials that are difficult to machine such as hard metal or fibre composites. The ULTRASONIC 20 linear 2nd Generation thus uniquely combines high speed cutting and highly efficient ULTRASONIC grinding of advanced materials on one machine. It allows the machining of an unrivalled broad range of materials.