01/22/2019
Open House Pfronten 2019 - LASERTEC 125 Shape
Enhanced texture quality at high processing speeds
With a rapid traverse of up to 5 m/s in the Z direction, a 1,000 kHz laser and scan speeds of up to 30 m/s – the new LASERTEC 125 Shape from DMG MORI is setting new standards in the surface structuring of large dies and molds.
monoBLOCK Design: Extremely compact, highly stable design on a footprint of < 19 m²
5-axis machining: Integrated NC swivel/rotary table for workpieces up to ø 1,250 x 1,000 mm and 2,000 kg (optional: tandem drive up to 2,600 kg)
Top dynamics thanks to Direct Drive technology
Latest scanner technology: Scan speeds up to 30 m/s
State-of-the-art control: SIEMENS 840 D solutionline with LASERSOFT 3D software features
Optional high-speed Z-Shifter increases travel speed in the Z direction from the current 1.5 m/s to 5 m/s
Geometrically defined surface structures can be produced with the LASERTEC Shape series with maximum process reliability and reproducibility. Fine contours and filigree cavities for the manufacture of injection molds, pressing dies, labels and other engravings in the very best quality and without any tool wear are also part and parcel of the machine's capabilities. DMG MORI will be debuting the LASERTEC 125 Shape as the new highlight of the series at the Open House event in Pfronten. 
The machine has been designed especially for the texturing of large molds and dies of up to ø 1,250 x 1,000 mm and workpiece weights of maximal 2,600 kg (with the optional tandem drive). The optional high-speed Z-Shifter increases travel speed in the Z direction from the current 1.5 m/s to 5 m/s, while the laser achieves a pulse frequency of up to 1,000 kHz. Texture quality has once again been optimized while retaining the high processing speed. This has resulted in up to 69 percent shorter processing times and, therefore, far lower costs per part.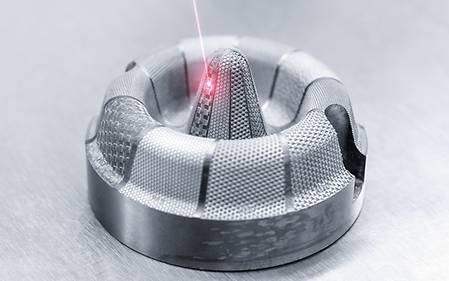 Like the smaller LASERTEC 75 Shape, the LASERTEC 125 Shape also combines all the stability benefits offered by the tried-and-tested monoBLOCK design, along with the advantages of challenging 5-axis machining. With a footprint of just 19 m2, it is the most compact machine in its class. Travel paths of 1,335 × 1,250 × 900 mm (X/Y/Z) allow this machine to be used for a multitude of different applications. It can handle maximum workpiece dimensions of ø 1,250 x 1,000 mm thus also enabling the efficient texturing of large formats. The NC swivel/rotary table is designed for a workpiece weight of up to 2.000 kg. The load capacity goes up to 2,600 kg with the optional tandem drive. The work area offers users optimum accessibility and guarantees a reduced risk of collision thanks to its large dimensions.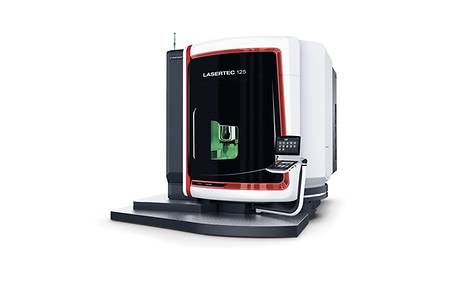 LASERTEC Shape technology allows users from all sectors of tool and mold making absolute freedom of design with maximum repeat accuracy and reproducibility. Shape technology has already become established especially in the sector of automotive mold making for exactly this reason. It is the guarantor for the exalted demands of the end customers with regard to individual and diverse interior and exterior surface textures. The "green" technology, in which no chemicals whatsoever are now needed for cost and time-consuming etching processes, makes fast serial implementation of new innovative injection-molded parts child's play. Not only designs that look and feel good can be realized quickly, but technically optimized surface structures (e.g. optimized flow or durability) can also be tested and implemented. From watch straps to mobile phone cases, from glove compartment covers and dashboards in cars and on through to aircraft cabin seats for journeys to remote corners of the globe - LASERTEC Shape technology and the 3D surface textures it creates can be found wherever you look.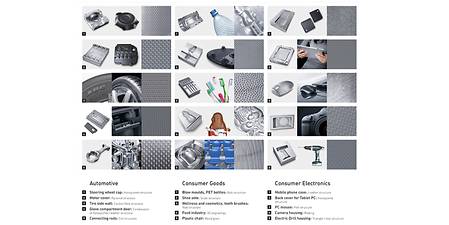 The dynamics of the LASERTEC 125 Shape derive from DirectDrive technology and have now been further enhanced by the optionally available high-speed Z-Shifter. In contrast to the Z-Shifter installed in the standard version with its a maximum speed of 1.5 m/s, the high-speed Z-Shifter achieves up to 5 m/s in the Z direction. "Texturing quality is retained even with the higher feed rate, because the process is supported by an enhanced texturing strategy", explains Patrick Diederich, managing director of SAUER GmbH. The high quality of surface texturing achieved by the LASERTEC 125 Shape is the result of state-of-the-art hardware and software components. "It is precisely this combination that allows efficient machining of the highest level", claims Diederich. A high-precision scanner with digital measuring system and scan speeds up to 30 m/s round off the powerful hardware.
Where the control is concerned, a 21.5" ERGOline multi-touch display provides optimum user comfort. The LASERTEC 125 Shape is equipped with the intuitive and uniform user interface CELOS and a SIEMENS 840 D solutionline with LASERSOFT 3D software features. These simplify the creation of contours, lettering, logos and surface structures in 3D surfaces, cylinders or complex free-form surfaces. In other words the machine program and the optimum texturing strategy can be generated automatically from the 3D CAD data of the actual workpiece.