01/22/2019
Open House Pfronten 2019 - Integrated Digitization
Value creation at all production phases
In the area of integrated digitalization, DMG MORI is pushing towards universal digitalization at all levels of value creation – from upstream manufacturing planning through digital monitoring of production up to digital services.
Integrated digitization for machines, processes and services
CELOS: Digital monitoring of production

MESSENGER
CONDITION ANALYZER
PERFORMANCE MONITOR

ISTOS PLANNING SOLUTIONS: Integrated digital planning of processes

PRODUCTION PLANNING
PRODUCTION FEEDBACK
PRODUCTION COCKPIT

NETservice and WERKBLiQ: Digital service solutions for production
As a pioneer of digitalization in the area of machine tool manufacture, DMG MORI continues to consider it a strategic future-oriented field. The technology leader will present pathways towards networked production at the Open House under the catchphrase Integrated Digitization. During the Open House, DMG MORI will invite its visitors to take a 45-minute Digital Pfronten Tour, in which digital products and solutions for integrated digitalization will be presented. DMG MORI will be presenting PRODUCTION PLANNING at five stations for workforce planning at DECKEL MAHO Pfronten, a fully integrated production planning and control system as well as the PREPARATION & PRODUCTION area for the digital process of manufacturing a mold insert – from job scheduling using a CAD/CAM system (Siemens NX) and CELOS PC Version through to production on the DMC 1850 V with CELOS Version 5. After a DIGITIZATION SHOW of DMG MORI products for digitization of the entire value-added chain, the tour will be rounded off with MONITORING with the DMG MORI MESSENGER, CONDITION ANALYZER, PERFORMANCE MONITOR and PRODUCTION COCKPIT and, in the area of SERVICE & MAINTENANCE, with WERKBLiQ. Amongst other things, the web-based and multi-vendor platform makes it possible to manage the maintenance of a total of eight 5-axis milling machining centers and three universal surface grinding machines in mechanical manufacturing and the 17 milling machining centers in the Technology Center at DECKEL MAHO Pfronten. Moreover, the benefits of the direct service support with the new NETservice including the SERVICEcamera will be demonstrated live to the visitors.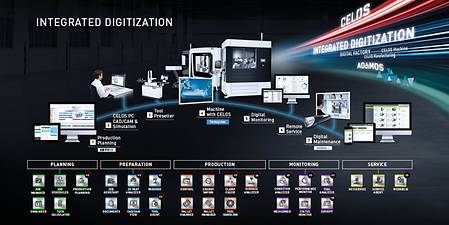 With its APP-based control and operating system CELOS, DMG MORI has created a basis to offer long-term support to customers on their pathway to Industry 4.0 with the aid of integral workflows – both at the machine level as well as for upstream processes. CELOS is installed on all new DMG MORI high-tech machines and one of its features is the capability of digitally monitoring production. CELOS Digital Monitoring is made up of the apps MESSENGER, CONDITION ANALYZER and PERFORMANCE MONITOR, amongst others.
MESSENGER centrally visualises the current status of a machine park and can display machine-specific information, such as the operating status, the current NC program or the workpiece counter on mobile end devices. This reduces downtimes and increases productivity. Moreover, the information on machine runtimes, downtimes and faults can be used to calculate the cost effectiveness of orders. At the same time, the CONDITION ANALYZER uses sensor data to visualise and analyse the status of the machines on the basis of the components. This can, for example, support preventative maintenance. The PERFORMANCE MONITOR makes it possible to capture, analyse and visualise overall system efficiency while taking into account machine availability and component quality.


PRODUCTION PLANNING: Integrated digital planning of processes

The latest development by ISTOS GmbH demonstrates how DMG MORI supports the user also in integrated production planning. The decentralised DMG MORI profit centre has developed applications for integrated production planning. With modules for material management, workforce planning as well as detailed manufacturing planning and order tracing, PRODUCTION PLANNING enables situational planning to combat limited capacities and thus supports resource-saving and cost-optimised operation processes. PRODUCTION PLANNING is a part of the current tried-and-tested PLANNING SOLUTIONS, In the future, this will form the foundation for optimised production with features for planning, monitoring and feedback covering all manufacturers and applications.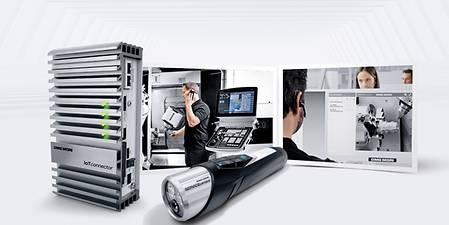 IoTconnector represents the basis for connecting new DMG MORI machines. The IoTconnector's retrofit kit also enables existing DMG MORI machines to be connected into the production network. NETservice by DMG MORI is installed in the IoTconnector. It represents the new benchmark for remote service in the area of machine tool manufacture. NETservice makes it possible for machine operators, service experts and service technicians to interact in a remote-service session by means of a multi-user conference to quickly find a joint solution for service issues. The customer or a DMG MORI service technician can film or photograph the situation on site and transmit this via live stream directly into the running NETservice application through the new SERVICEcamera. This visual supplement results in a significantly higher and faster solution rate for service issues through the DMG MORI hotline.
Machine availability can be significantly increased by efficiently controlling service resources. WERKBLiQ GmbH is a daughter company of DMG MORI, who, with its web-based and multi-vendor platform, sustainably optimises the management of service and maintenance of the entire machine park for customers. WERKBLiQ ensures secure and complete documentation of maintenance processes and offers simple and cross-departmental communication. The platform networks all those involved in the maintenance process and, with a total of 15 modules, ensures fast commissioning of technicians directly from the machines, minimises downtimes through adherence to maintenance and enables spare parts to be procured quickly, amongst other features. This allows DMG MORI to offer an integrated digitalisation strategy at all levels of value creation.