05/09/2022
Open House Pfronten 2022 - World premiere: NTX 500
High-speed Turn & Mill complete machining
The NTX 500 is the most compact model among the NTX series for highly productive 6-sided complete machining of complex workpieces.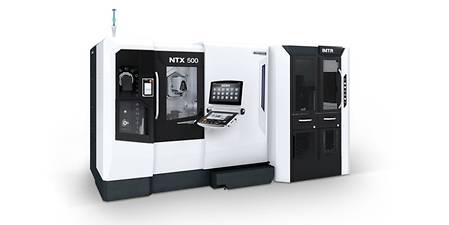 6-sided complete machining with main and counter spindle turnMASTER with 8.000 min-1
Workpieces up to ø 120 mm and 558 mm turning length, bar machining with up to ø 40 mm (workpieces up to ø 90 mm and 558 mm turning length in machining with lower turret)
High-speed Turn & Mill spindle compactMASTER, up to 42.000 min-1 (30.000 min-1 in standard) including 150 mm Y axis
38-pocket tool magazine (Capto C4 / HSK-T40 / KM40), optional 76 or 114
4-axis synchronized machining by upper turn-mill spindle with lower 16-pocket turret BMT 42/64 with 12.000 min-1
60 mm Y-axis for lower turret
Automation, e.g. integrated bar feeder and robot (IMTR – In Machine Travelling Robot)
Equipped with the cutting-edge operating system
The continuing trend towards increasingly complex workpieces requires extremely versatile manufacturing solutions. With the NTX turn & mill series, DMG MORI has a product range that enable productive manufacturing of artificial bones or implants in demanding industries and especially in medical technology. Now the machine tool manufacturer is presenting the NTX 500. The most compact model in the series offers a working area for workpieces up to ø 120 x 558 mm.
The NTX 500 offers versatile machining options – also automated if desired.
As with its larger sister models, the heart of the NTX 500 is a high-speed turn & mill compactMASTER spindle with a length of only 250 mm. Its turning speed of 42.000 min-1 and a swivel range of +/- 120° swivel range offer absolute flexibility in 5-axis simultaneous machining – even with small diameter precision tools. The Y-axis moves by 150 mm. Main and counter turnMASTER spindle each with 8.000 min-1. In addition, the turn & mill center allows highly productive 6-sided complete machining of demanding workpieces.
The NTX 500 features a lower turret with 16 tool positions, including a Y-axis with 60 mm travel. This allows parallel cutting to the turn & mill spindle in 4-axis machining, drastically reducing cycle times. The tool magazine can be loaded during machining and offers space for 38 tools. Optionally, 76 or 114 tool positions are available.
Automation solutions are available for the NTX 500 with an integrated bar feeder (right side bar feeder) and an integrated robot (IMTR) for unmanned production over long distances. The former is designed for bar stock up to ø 40 mm. The integrated robot allows automatic workpiece unloading from the main and counter spindles.
The NTX 500 shows its strengths particularly in the medical sector, but also in the automotive and lifestyle sectors.