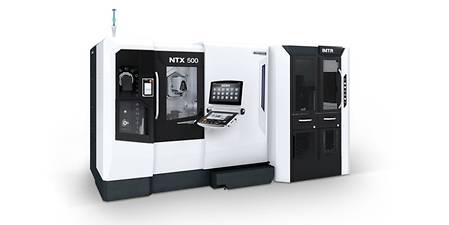 6-sided complete machining with main and counter spindle turnMASTER with 8.000 min-1
Workpieces up to ø 120 mm and 558 mm turning length, bar machining with up to ø 40 mm (workpieces up to ø 90 mm and 558 mm turning length in machining with lower turret)
High-speed Turn & Mill spindle compactMASTER, up to 42.000 min-1 (30.000 min-1 in standard) including 150 mm Y axis
38-pocket tool magazine (Capto C4 / HSK-T40 / KM40), optional 76 or 114
4-axis synchronized machining by upper turn-mill spindle with lower 16-pocket turret BMT 42/64 with 12.000 min-1
60 mm Y-axis for lower turret
Automation, e.g. integrated bar feeder and robot (IMTR – In Machine Travelling Robot)
Equipped with the cutting-edge operating system
The continuing trend towards increasingly complex workpieces requires extremely versatile manufacturing solutions. With the NTX turn & mill series, DMG MORI has a product range that enable productive manufacturing of artificial bones or implants in demanding industries and especially in medical technology. Now the machine tool manufacturer is presenting the NTX 500. The most compact model in the series offers a working area for workpieces up to ø 120 x 558 mm.