05/09/2022
Open House Pfronten 2022 - Technology Cycles
More efficiency through application-oriented technology cycles
At the in-house exhibition in Pfronten, DMG MORI is expanding its range of exclusive technology cycles to include efficient solutions in the areas of balancing, clamping and machining.
In-Machine Tool Balancing: convenient tool balancing in the workspace
Profile Dressing: exact and highly accurate dressing of profiles in grinding wheels
Tool Balance Assistant: calculation of maximum speeds taking tool life into account
iJAW: Safety and quality through intelligent clamping sensors
cCLAMP: determination of optimum clamping forces for machining without deformation of the workpiece
ULTRASONIC IntoolSENSOR: minimum tool wear by measuring the tool-component contact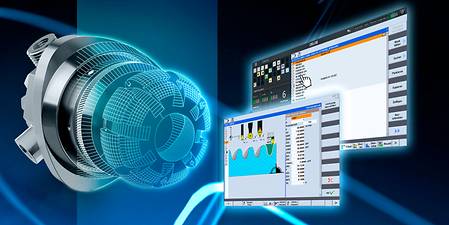 As innovative assistants, especially in shop-floor-oriented programming, the exclusive technology cycles have enriched the work in CNC machining for many years. They create a clear program structure, eliminate errors through dialog guidance and reduce programming time by up to 60 percent. With the innovations now presented, the portfolio grows to over 60 DMG MORI technology cycles. The portfolio covers a wide range of functions from handling to measuring and machining to monitoring. DMG MORI will present six new exclusive technology cycles at the in-house exhibition in Pfronten. The application-oriented solutions increase efficiency in the areas of balancing, grinding, ULTRASONIC machining and clamping.
In-Machine Tool Balancing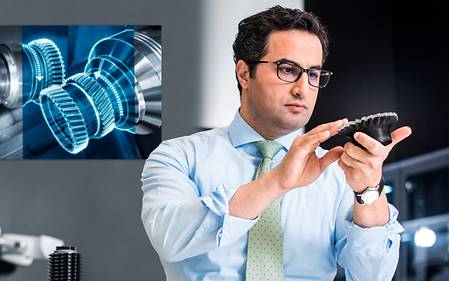 Perfectly balanced tools are essential to achieve the high surface finishes required in precision applications such as grinding or high-speed cutting. What is normally done on external equipment, the In-Machine Tool Balancing technology cycle does in the workspace. It balances the tool in its machining position both vertically and horizontally. Unbalance masses and corrects them directly in the workspace. The advantage is that it takes into account the entire system consisting of spindle, tool holder and tool, thus achieving a balancing quality of 0.3 g/mm. In addition, balancing with In-Machine Tool Balancing is more economical because the external process is eliminated.
 
Profile Dressing
With the Profile Dressing technology cycle, DMG MORI is expanding its range of products for grinding on the duoBLOCK universal machining centers and gantry machines. It enables the precise dressing of profiles in grinding wheels. Dressing accuracy is very high thanks to customized dressing wheels from Tyrolit, a DMQP partner. This allows special shapes to be ground with high resolution and impressive surface accuracy – a process that normally requires grinding machines. Because Profile Dressing works in combination with the AE Sensor as well as other grinding cycles, operation is extremely user-friendly. The time saved by having the entire grinding process in one workspace is enormous.
 
Tool Balance Assistant
Key industries such as automotive, medical and aerospace require maximum productivity in manufacturing. One of the ways users achieve this is by ensuring the best possible utilization of the spindle while keeping maintenance times to a minimum and tool life to a minimum. Based on the tool weight and the residual unbalance of the tool determined on the balancing machine, the DMG MORI technology cycle Tool Balance Assistant automatically calculates the maximum permissible speed that allows balanced and simultaneously productive machining. In this way, the maximum performance capability of the machine tool in terms of cutting performance and surface quality can be tapped. If this limit is exceeded, a corresponding warning is issued to the machine operator and the process is automatically documented in a log file. The Tool Balance Assistant was developed as part of the strategic partnership between DMG MORI and HAIMER.
 
iJAW
With this technology cycle, DMG MORI offers full integration of the iJaw product introduced by Röhm GmbH for in-process clamping force measurement, with a high level of user-friendly operation. Thus, incorrectly set clamping forces can be avoided and machining safety can be increased. The clamping force and its possible changes are continuously monitored within a predefined range. In addition, iJAW makes a possible loss of clamping force visible in case of insufficient maintenance of the chip removal equipment. This in turn enables targeted maintenance, which minimizes unscheduled machine downtime and reduces costs.
 
cCLAMP
With cCLAMP, DMG MORI offers a technology cycle that calculates the minimum required and maximum permitted clamping force. In this way, secure clamping of the workpiece is ensured in accordance with VDI 3306. cCLAMP also predicts the expected deformation of the workpiece based on the clamping forces transmitted to the component by the clamping jaws. Based on a preset tolerable deformation of thin-walled components, the technology cycle also calculates the optimal process forces.
 
ULTRASONIC IntoolSENSOR
DMG MORI has developed the ULTRASONIC IntoolSENSOR especially for precision machining of hard-brittle materials such as glass and ceramics. The technology cycle detects the tool-component contact with high precision through the ULTRASONIC tool system. Unlike a structure-borne sound system, the ULTRASONIC IntoolSENSOR generates a vibration at the tool and detects its change upon contact. Based on this measurement, tool wear can be precisely corrected. In this way, very high accuracy requirements can be met, as is particularly common in the semiconductor and optics industries.