Open House Pfronten 2016 - DMU 600 Gantry
XXL gantry for dynamic finishing
DMG MORI has expanded its XXL machining range with the DMU 600 Gantry linear, in particular with those sectors in mind where the highest demands are placed on contour accuracy.

DMG MORI sets new standards in dynamics and surface qualities in large part machining with the new DMU 600 Gantry linear. Direct drive technology in all axes enables highly dynamic finishing processes with absolute contour accuracy. This adds up to an enormous gain in productivity for users in XXL production because post processing is reduced significantly –especially in tool and mould making and the aerospace industry. DMG MORI concentrates the expertise for producing the DMU 600 Gantry linear as well as the DMU 600 P in the XXL-Center at DECKEL MAHO Pfronten.

DMG MORI designed and constructed the DMU 600 Gantry linear for best surface quality and high dynamics. These are achieved through the use of the innovative contactless linear-motor drive technology. The design of the machine has been optimised with regard to static and dynamic rigidity and ensures consistent temperature stability thanks to extensive temperature control measures for the structure, components and guides. This applies to the complete feed axes, the linear guideways and the main spindle, where a spindle growth sensor is also used. The Temperature Thermal Control Package, which includes a thermo shield, coolant temperature control and structure cooling, is available as an option. Thanks to efficient cooling units with their needs-based activation, the DMU 600 Gantry linear also impresses with energy-efficient consumption.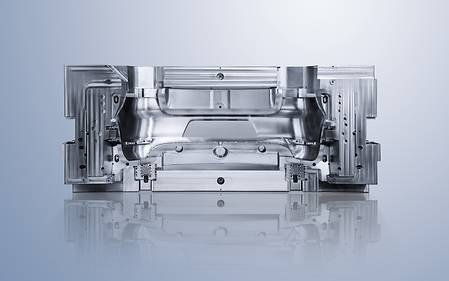 DMG MORI achieves best surface qualities and maximum accuracy with the DMU 600 Gantry linear by the consistent use of the long proven and continuously further developed linear technology. These results are based on the fact the linear motors have a direct, rigid connection to the machine structure and there is no interference caused by gear meshing frequencies from the powertrain. Added to this are a high control bandwidth and improved axis parameters compared to conventional drive technology. The linear motors are maintenance-free, so availability is also extremely high. A five-year warranty on the equipment adds additional security.

The construction of the DMU 600 Gantry linear is based on a single-piece EN-GJS-600-3 (GGG60) cast iron Y-crossbeam and X-traverse. The side walls are part of the foundation and are made of reinforced concrete. The standard version of the gantry machine is designed for workpieces weighing up to 150,000 kg, with a point load of 15,000 kg/m². The table measures 5,000 x 3,000 mm in a work area of 6,000 x 3,500 x 1,500 mm in the standard configuration. The plunger with optimised interference contour enables travel of optionally up to 2,000 mm in the Z-direction, the Y-axis crossbeam of 4,500 mm and the X-axis can be lengthened as desired.

The modular XXL spindle range includes a torque spindle with 12,000 rpm and 300 Nm, a vertical head gear spindle for maximum torques of up to 1,445 Nm and a motor spindle with a high speed of up to 28,000 rpm (100 % DC). There are also flexible interchangeable milling heads available with C / A and C / B kinematics. An optional integrated C-axis with direct drive as an axis with endless rotation is available. The machine is equipped with a chain magazine with 30 tool stations in the standard version and up to an optional
180 stations.

Simple machine operation is ensured by CELOS and the ERGOline control with a 21.5" multi-touch screen and SIEMENS. Consistent administration, documentation and visualisation of order, process and machine data plus compatibility with PPS and ERP systems and networking with CAD/CAM products ensure holistic integration of the machine in the corporate organisation.

XXL-Center for absolute competence in the construction of large machines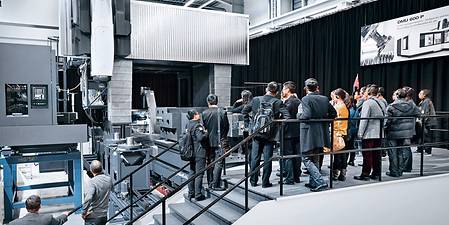 DMG MORI installed an XXL Center at DECKEL MAHO Pfronten dedicated solely to the construction of the DMU 600 Gantry linear and its sister model the DMU 600 P. It operates as an independent department within the plant, so DMG MORI can benefit from short decision-making paths in the construction of the large machines.

As a rule, the configuration of both the DMU 600 Gantry linear and the DMU 600 P is very application specific. In order to meet the individual requirements of customers, the XXL Center has its own construction department that ensures the planning of models runs smoothly. DMG MORI also has the corresponding capacities available in production: the specially installed XXL machine foundations allow the construction of in total 12 DMU 600 Gantry linear and DMU 600 P machines a year.

Highlights of the DMU 600 Gantry linear

High-gantry design with linear motor technology for maximum precision and dynamics Thermal stabilisation and optional enclosure of structural components with a thermo shield
2 possibilities for 5-sided and 5-axis simultaneous machining: interchangeable head with A-axis (fork head) or B-axis
Complete machining from roughing to fine finishing:
Gear spindle with 6,000 rpm/ 53 kW / 1,445 Nm (100 % DC)
Motor spindle up to 12,000 rpm / 42 kW / 300 Nm (100 % DC) and 28,000 rpm / 27 kW / 28 Nm (100 % DC)
Chain magazine with space for 120 tools, station (head station) for changing over interchangeable heads with pick-up system