02/01/2016
Open House Pfronten 2016 - Aerospace / Automotive / Die & Mold
Branch competence across the board
Its many years of experience and application-specific expertise enable DMG MORI to develop customised solutions for users from many different segments.
That advanced production solutions ensure competitive ability in the manufacturing industry is an undisputed fact. DMG MORI supports its customers in this respect with its many years of experience and holistic process competence. A key feature in the range of products and services of the leader of innovation is also its specific branch orientation. Thanks to innumerable projects in the aerospace and automotive industries as well as in the automation or tool and mold making branches DMG MORI has been able to build up a wealth of application-specific expertise from which its customers today benefit. Because experts from DMG MORI concentrate on developing future-orientated manufacturing solutions for branch-specific applications in dedicated competence centers.
DMG MORI Aerospace Excellence Center – revolutionising the market with innovative turnkey solutions
For several years now the aerospace industry has been undergoing radical change: A shortage of resources and the demand for an improved CO2 balance are forcing manufacturers to invest in more economical and environmentally-friendly aircrafts. This in turn gives rise to completely new challenges where the manufacture of sophisticated aerospace components is concerned. As a leader of innovation in the field of machine tool construction DMG MORI supports the development of the aerospace industry in its Aerospace Excellence Center at DECKEL MAHO Pfronten with future-orientated manufacturing solutions developed in close cooperation with users from the branches.

"There is no escaping the use of extremely light but at the same time high-strength materials nowadays – materials such as titanium alloys or composites," explains Michael Kirbach, Head of the DMG MORI Aerospace Excellence Center. In its Aerospace Excellence Center DMG MORI concentrates on the demanding applications in aerospace technology with holistic manufacturing processes geared to the respective needs of its customers. "After all, today's production costs have to be brought in line with far shorter life cycles than was formerly the case", says Michael Kirbach. The work can begin with technical consultations and go on right through to encompass turnkey solutions designed specifically in accordance with customer specifications.

As long-term planning is typical in particular for aerospace technology, DMG MORI, too, relies on farsightedness and extremely advanced, revolutionary manufacturing solutions. "That is the only way to guarantee sustained competitive ability for all concerned", claims Michael Kirbach. So with options such as the heavy-duty machining package, which includes, among other things, a powerful gear spindle with a torque of up to 1.300 Nm, DMG MORI enables maximum metal removal volumes and at the same time top precision. With its ULTRASONIC technology, DMG MORI also addresses the question of the efficient machining of fibre-composite materials. Added to this is the integration of laser deposit welding in the LASERTEC 65 3D and the LASERTEC 4300 3D in the field of additive production.

Automotive – individual solutions for large series production
A growth area at DMG MORI for years, the automobile branch is now experiencing a major structural change. The growing diversity of models and versions and at the same time shorter product life cycles, extensive modularisation and building block strategies, high dynamics in the use of new technologies in the car plus enormous cost pressure and the ever greater growth in production in emerging countries all add up to demand strong, innovative and flexible suppliers who can hold their ground under these conditions. As a manufacturer of machine tools and complete production systems operating on a global level DMG MORI meets these demands with its close-meshed sales and service network and a highly flexible group of supply plants in all key sales markets and so remains an indispensable partner for the automobile and supplier industry worldwide.

The machines in the product portfolio for the automotive sector range from the cost and space-saving i-series for mass production according to Japanese manufacturing philosophy and on to include the machines in the NHX series with a 4-axis table and pallet changer that are produced worldwide and the highly productive centers of the
DMC H linear series with their innovative linear drives. This now puts DMG MORI in a position to offer the ideal machine for every manufacturing task in the series production of cubic motor and gear components.

For the mass production of rotatory components, DMG MORI has now, among other things, optimised the vertical lathes in the CTV series to cope with the machining of homokinetic elements and hardened gears and has thus opened up a wide field of applications. Where horizontal turning is concerned, the CTX, NLX and NZX product series have also been further developed and adapted for different applications in the automated series production of crankshafts, carrier bearings and electric motor rotors. With DMG MORI Systems, the machine tool manufacturer also has an experienced service provider on board that concentrates on the target-oriented implementation of the demands of automated solutions.
HSC Center and Mold Laboratory – die & mold competence built on years of experience
Die & mold applications have ranked high at DMG MORI for many years and this has resulted in an enormous wealth of experience in this sector on the one hand and the development and continued development of path-breaking manufacturing technologies on the other. The HSC Center in Geretsried and the Mold Laboratory in Japanese Nara impressively underscore this competence with specialised application technicians who always develop optimum manufacturing solutions for the tool and mold making sector. Trials are carried out here, customers are given technological support and training courses are offered.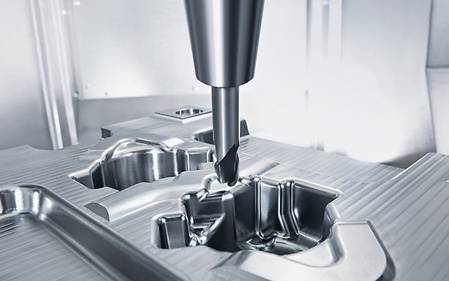 The demands on precision, long-term accuracy and surface qualities are met by stable DMG MORI machining centers that are convincing with their thermo-symmetric design and innovative cooling systems. While spindles with shaft, flange and sleeve cooling ensure best surfaces, dynamic linear drives enable the required precision and at the same time shorter machining times. The latest examples of this performance spectrum are the
HSC 30 linear and HSC 70 linear that DMG MORI has now added to the machine portfolio. CELOS is on board, as it is in all high-tech machines from DMG MORI. This uniform, app-based user interface enables consistent management, documentation and visualisation of order, process and machine data. In die & mold applications in particular, users benefit here from a seamless process chain.