03/31/2015
Open House Pfronten 2015 - NZX 4000
4-axis turning centre for the efficient and highly productive machining of long workpieces with large diameters
The NZX 4000 is a 4-axis turning centre for the heavy-duty machining of long workpieces with large diameters. Crankshafts for marine engines or pipes for oil pipelines are two representative fields of application.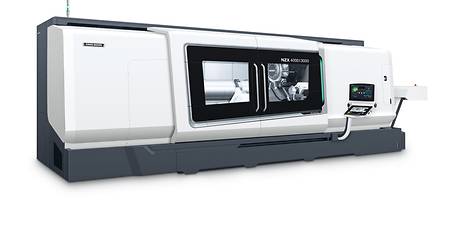 The trapezoidal machine bed with high resistance to deformation and the unique, wide flat guides in all axes are primarily responsible for the highly rigid structure of the NZX 4000.With Y-axis and BMT turret (tool direct drive via servo motor), the turning centre achieves a milling performance with the top turret which can be compared to that of an SK 40 machining centre. For this purpose, the Y-axis provides a path of +/- 70 mm in the respective variant.

The main spindle with beltless gear drive already provides a performance of 37/30 kW (30 minutes/constant) as standard. The servo motor integrated into the turret disk decreases frictional heat, minimises vibrations, improves the efficiency and increases the milling performance with regard to speed, accuracy and surface quality.

By default, the NZX 4000 has a direct travel measuring system from Magnescale, which enables highest positioning and repeat accuracies in the two X-axes. Optionally, this solution is also available for the other axes.

The selection of several spindle boring diameters enables configuration of the NZX 4000 for the respective machining requirement. Depending on the task or workpiece requirements, the following spindle designs are available for the turning centre:

NZX 4000 A with ø145 mm spindle boring
NZX 4000 B with ø185 mm spindle boring
NZX 4000 C with ø285 mm spindle boring

A special feature is provided by the stable turret adaption for long boring bars up to 1000 mm. Various steady rests are also available as manual or NC-controlled version. In order to optimally use the large spindle bores, there are the additional so-called front and rear chucks, which are given priority particularly for pipe machining. For this reason, various necessary options, like workpiece limit stops, chucks or mandrels in the tailstock are available for supporting pipes.

CELOS from DMG MORI
On control side, the NZX 4000 presents itself with ERGOline Control with CELOS on MAPPS from MITSUBISHI for the fastest and most intelligent route from the idea to the finished product. CELOS provides a uniform user interface for all new high-tech machines from DMG MORI. CELOS APPs provide the user with integrated management, documentation and visualization of order, process and machine data on a unique 21.5" multi-touch screen. Furthermore, operation of the machine is simplified, standardized and automated.

The most recent CELOS version with now 16 CELOS APPs will be supplied from April 2015. Included in this are four new APPs, which will be presented for the first time at the open house exhibition of DECKEL MAHO in Pfronten. The CELOS PC version is also new. It is used by customers to optimally plan and control their production process directly during work prepa-ration. In addition, any machines or equipment can be incorporated in an integral CELOS periphery with the CELOS PC version.

Furthermore, CELOS links the machine with higher-level company structures in a unique way, thus creating the basis for consistent digitalized and paperless production. Through direct coupling of ERP / PPS and PDM, with CELOS users get to the product 30 % faster. CELOS is thus setting standards and responds to Industrie 4.0.

Highlights of the NZX 4000
Torsion-resistant trapeze bed with wide flat guideways ideal for heavy-duty machining
4-axis complete shaft machining of large diameters by means of Y-axis and integrated tool drive 
2 turrets with 12 or 8 tool pockets respectively, optionally extendable by means of the Y-axis
Tremendous milling performance, comparable to an SK 40 machining centre
Equipped with an 11 / 7.5 kW BMT turret drive
Three spindle bore versions

A

B

C

  with ø145 / ø185 / ø285 mm
For long boring bar optionally adaptable up to 1000 mm
Up to two NC-controlled steady rests optionally usable