05/22/2015
DMG MORI extends its technology partnership with Infiniti Red Bull Racing
DMG MORI - Innovation Partner of Infiniti Red Bull Racing
DMG MORI extends its long standing technology partnership with Infiniti Red Bull Racing. As "Innovation Partner" of Infiniti Red Bull Racing, DMG MORI has agreed to further sponsor the Team until end of 2017.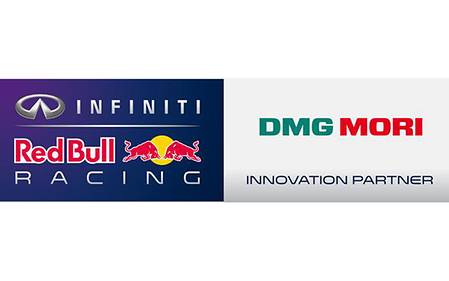 In consideration of the provision of the Machines and Services, DMG MORI is a key supplier for the manufacturing facility within the Team's headquarters based in Milton Keynes, UK.

Since the partnership began in 2004, DMG MORI has worked closely with Infiniti Red Bull Racing to select the best technological equipment for an optimum utilization. The range of machinery at Infiniti Red Bull Racing currently includes 22 CNC-machines from DMG MORI. The machines are used to produce complex high-tech parts for the Formula One Infiniti Red Bull Racing car and are therefore an important contribution to the success of the team.

"Our innovative machine tools prides itself on being at the forefront of the machine tool industry. Technology is a key to success and cutting-edge innovations are fundamental to prevail in Formula One. We are proud to continue our partnership with Infiniti Red Bull Racing and to support the Team," says Dr. Thorsten Schmidt, member of the board of DMG MORI SEIKI AKTIENGESELLSCHAFT.

"The partnership renewal with DMG MORI reinforces the longstanding relationship we have had as partners throughout our journey in the sport," says Christian Horner, Team Principal. "DMG MORI has worked hard to help us grow our manufacturing capabilities over the past 10 years. I'm delighted that we've been able to continue this partnership into a new and exciting era of the sport. This is another example of Infiniti Red Bull Racing seeking expertise from a class-leading supplier to help us improve our operation."

DMG MORI stands for the partnership between two of the world's leading machine tool manufacturers: DMG MORI SEIKI AKTIENGESELLSCHAFT, Bielefeld, Germany, and DMG MORI SEIKI COMPANY LIMITED, Tokyo, Japan. DMG MORI offers innovative high-tech machine tools and services, as well as software and energy solutions. Machine tool manufacturing is DMG MORI's core segment. The company operates worldwide at 21 production sites and 154 sales and service locations. DMG MORI's expansion of its machine tool sector is based on a consistent focus on high-growth industries such as the automotive, aerospace, medical technology and power engineering sectors. The automotive industry is one of the world's key industries and one of the most important sectors for DMG MORI.