03/01/2016
Industrie Paris 2016
Innovative hightech exhibits
DMG MORI will impress visitors at the Industrie Paris 2016 with advanced machine tools and a focus on future sectors

From 4 to 8 April 2016 DMG MORI will presenting its range of products and services during Industrie Paris, the biggest French trade fair in the field of manufacturing, with a total of 14 highly modern exhibits. The innovation leader in machine tool manufacturing will be focussing there on industry 4.0, aerospace and automotive. The ULTRASONIC 20 linear 2nd Generation that was presented at the beginning of this year will be one of the highlights on side of machine tools.

CELOS & DMG MORI Technology cycles for Industry 4.0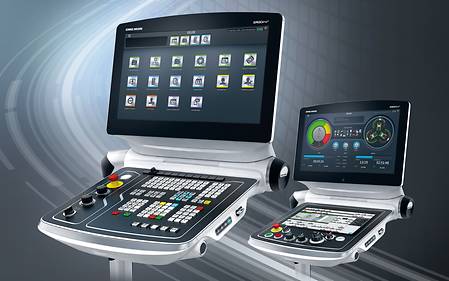 With CELOS, DMG MORI is offering a cutting-edge user interface that can be expanded with new APPs and updates and which provides an immediate solution to Industry 4.0. CELOS is as easy to use as your smartphone, networks all machines within a manufacturing organisation and therefore simplifies the process from the idea to the finished product. 16 APPs help the operator prepare, optimise and process production jobs without any errors and enables the consistent administration, documentation and visualisation of order, process and machine data, consequently holistically improves the profitability of production.

With 31 DMG MORI technology cycles as another highlight, DMG MORI is presenting software solutions on the cutting-edge 5-axis and turn-mill machining centres to make complex machining processes an effortless reality. Thanks to parameterised context menus, complex processes can be directly programmed on the machine up to 60 percent faster. For the easy to learn and ready-made windows to enter data, programming is hardly needed and complicated DIN programming are avoided. Therefore, DMG MORI technology cycles are ideal for application-specific shop floor programming.
DMG MORI Aerospace Excellence Center – revolutionising the market with innovative turnkey solutions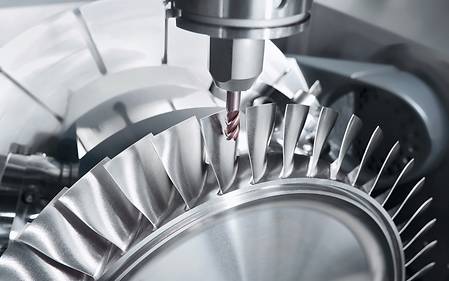 For several years now the aerospace industry has been undergoing radical change: A shortage of resources and the demand for an improved CO2 balance are forcing manufacturers to invest in more economical and environmentally friendly aircraft. This in turn gives rise to completely new challenges where the manufacture of sophisticated aerospace components is concerned.

As a leader of innovation in the field of machine tool construction DMG MORI supports the development of the aerospace industry in its Aerospace Excellence Center at DECKEL MAHO Pfronten with future-orientated manufacturing solutions developed in close cooperation with users from the branches. These include options such as the heavy-duty machining package, which includes among other things a powerful gear spindle with a torque of up to 1.300 Nm enabling maximum metal removal volumes and at the same time top precision. With its ULTRASONIC technology, DMG MORI also addresses the question of the efficient machining of fibre-composite materials. Added to this is the integration of laser deposit welding in the LASERTEC 65 3D and the LASERTEC 4300 3D in the field of additive production.

Automotive – individual solutions for large series production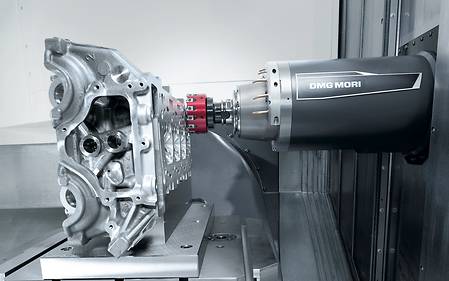 A growth area at DMG MORI for years, the automobile branch is now experiencing a major structural change. There are a growing diversity of models and versions and at the same time shorter product life cycles, extensive modularisation and building block strategies, high dynamics in the use of new technologies in the car plus enormous cost pressure and the increasing growth in production in emerging countries. This all adds up to demand strong, innovative and flexible suppliers who can hold their ground under these conditions. As a manufacturer of machine tools and complete production systems operating on a global level DMG MORI meets these demands with its close-meshed sales and service network and a highly flexible group of supply plants in all key sales markets and so remains an indispensable partner for the automobile and supplier industry worldwide.

The machines in the product portfolio for the automotive sector range from the cost and space-saving i-series for mass production to the machines in the NHX series with a 4-axis table and pallet changer and the highly productive centers of the DMC H linear series with their innovative linear drives. For the mass production of rotatory components, DMG MORI offers among other things vertical lathes in the CTV series and horizontal lathes of the CTX, NLX and NZX product series. With DMG MORI Systems, the machine tool manufacturer also has an experienced service provider on board that concentrates on the target-oriented implementation of the demands of automated solutions.
ULTRASONIC 20
linear

2nd Generation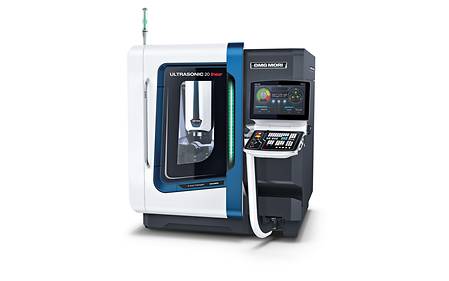 Even externally, the completely revised ULTRASONIC 20 linear 2nd Generation with its new, functional design and a reduced footprint of just 3.5 m² is impressive compared to its predecessor. The diverse technological optimisations include the now optional 60,000-rpm speed of the spindle, the up to 47 percent (A-axis) more powerful drive motors, a 15-kg higher load weight and the use of larger tool diameters of up to 50 mm. Another highlight is the high-speed C-axis (1,500 rpm) for high-precision and productive internal and external cylindrical grinding of rotational-symmetric workpieces made of advance materials.

Where control is concerned, the ULTRASONIC 20 linear 2nd Generation supports users with a multitude of new functions. The ULTRASONIC parameters are automatically determined and tracked during processing. In the clearly arranged CELOS control a CELOS APP expressly developed for the purpose shows the ULTRASONIC technology cycles and key process parameters such as frequency, amplitude and output, thus enabling maximum utilisation of the ULTRASONIC and machine performance.