04/20/2015
CIMT 2015, Local production – Tianjin
In the market for the market
NHC constructed locally – the DMG MORI plant in Tianjin is part of a production strategy that is both global and close to the customer.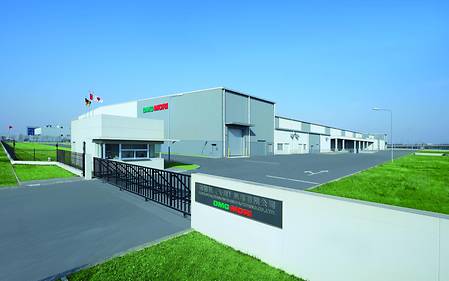 21 production plants worldwide and a production capacity of over 20,000 machines a year make DMG MORI a global player with a strong local connection. Manufacturing locally ensures an integrally high standard of quality – in both production and service. One latest example of such local production is the ultra-modern plant in Tianjin, where production of the horizontal machining centers of the NHC series has been underway since 2013. Maximum Output is 100 machines/month and as of 2015 the 100 employees will also be responsible for the production of the new NHC 6300. Cast parts are also machined in the plant and provided to DMG MORI's overseas factories. In this case the volume of production is 400 tons a month.

Production and delivery quality take absolute priority in Tianjin. This is guaranteed by the use of state-of-the-art manufacturing equipment that includes two NH 10000 machines and two Heavy Industries 5-sided machining centers for producing cast parts for machine beds and columns. The high standard of quality is further ensured by means of a 100 % final inspection of all purchased and locally manufactured components.

Great importance is also placed on occupational health and safety in Tianjin. Based on the model of the safety dojos at the Japanese Iga Campus safety training is carried out for all employees in the Chinese plant. The objective: Tianjin is to be an absolutely safe, clean and accident-free production plant.