09/30/2015
LASERTEC & ULTRASONIC News 01.2015
Hoedtke GmbH & Co. KG - Additive complete machining in finished parts quality
Laser deposition welding and 5-axis simultaneous milling in one set-up: Hoedtke has added a LASERTEC 65 3D from DMG MORI to its cutting-edge production outfit
For over 75 years, Hoedtke GmbH & Co. KG has been an innovative service provider in the field of diverse metalworking processes. Its services range from contract work to component and process development. The company has more than 250 employees at two locations in Pinneberg and Kiel. Using the latest manufacturing technologies, the years of experience of its specialists, engineers and scientists are transferred into components, modules and entire systems for a wide range of sectors – including aviation technology and mechanical engineering as well as authorities and research institutes. Since December 2014, Hoedtke has been making use of another new production method with a LASERTEC 65 3D from DMG MORI: with laser deposition welding and 5-axis simultaneous machining, the machine combines additive and subtractive manufacturing processes, providing an entirely new degree of freedom in the complete machining of challenging workpieces in just one set-up.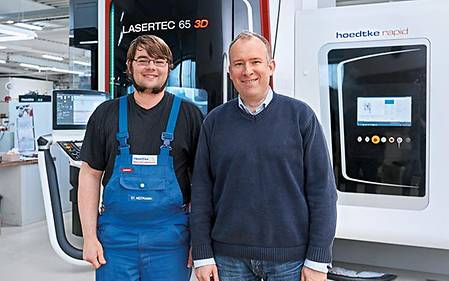 Joachim H. Hoedtke calls his company's approach to orders 'Ing.Think': 'The customer might have a completely original idea which we will then take further in order to develop a component or even entire modules and products.' Engineers and even scientists are just as involved in such projects as the specialists and masters in the production team. 'We are constantly driven by a type of childish curiosity to find the optimal solutions to complex and diverse problems', says the managing director.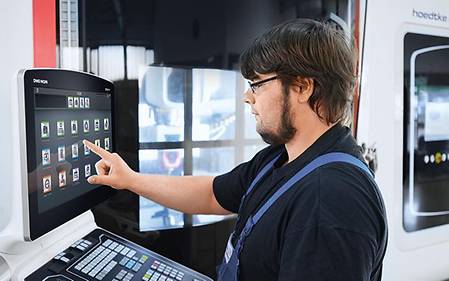 Over the past decades Hoedtke has developed a wide range of skills, some of which are pooled into their own fields of business. For example, the company develops and builds entire vacuum chambers, primarily for research institutes. One of these highly complex products is being used as a precision scale by the National Metrology Institute of Germany. Hoedtke is working in another cutting-edge field, designing modules for aviation technology. Escape hatches and pressure-tight doors are just two examples of challenging products which have to undergo strict qualification processes. Nevertheless, Joachim H. Hoedtke underlines that the company will continue to work across different sectors: 'We have always been a general store and want to remain that way.'

Additive manufacturing and 5-axis milling in one set-up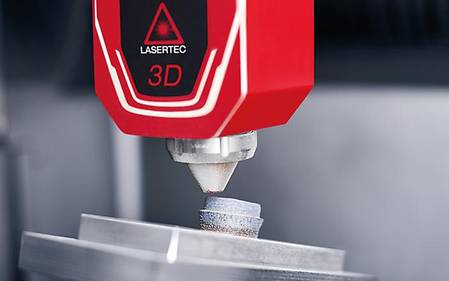 Hoedtke is known for always being quick to embrace new manufacturing technology. In particular, people in this region were involved in the development of sheet metal working with laser beam and water jet technology. 'We have been working with lasers since 1979', recalls Joachim H. Hoedtke. This experience was used to build up the highest levels of expertise, including with modern manufacturing processes. The most recent example of this is laser deposition welding which Hoedtke has added to its range with a LASERTEC 65 3D from DMG MORI. The acquisition of this machine was also in response to the strong interest shown by customers, explains Hoedtke: 'I was more and more frequently asked if I could provide 3D printing in metal.'

Hoedtke has been printing prototype plastic parts with FDM machines for a long time now. However, the additive manufacturing of metal workpieces on the LASERTEC 65 3D is new. 'There has been no similar machine concept to date', says the managing director of the 3D metal printing range. Manufacturing solutions in the metal powder bed were not productive enough for the desired applications. 'Additionally, practically every metal component produced through additive manufacturing requires surface treatment.' The machines developed by SAUER can come into their own here.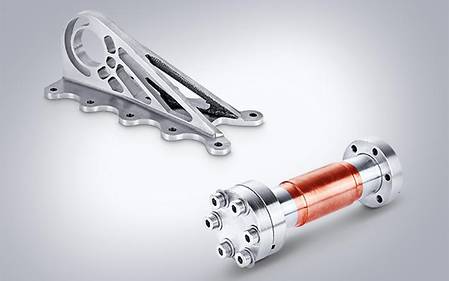 As the basis for the LASERTEC 65 3D, DMG MORI uses a highly stable high-tech universal machine from the DMU range of DECKEL MAHO. The laser head is flexibly integrated through an HSK interface. This way, the model combines additive manufacturing with a metal powder feed and 5-axis milling in one set-up. The deposition rates of the metal powder feed are up to ten times higher than the powder bed. Additionally, complete machining on one machine saves both time and money. Joachim H. Hoedtke also sees plus points in the complexity: 'In principle, no supporting geometry which would later have to be removed is required to realise overhanging structures – unlike with the powder bed.' It is also possible to combine different materials such as stainless steel and copper in one component. Two powder feeds are available for such a purpose.

Joachim H. Hoedtke sees great potential in the concept of the LASERTEC 65 3D and believes that the surface has barely been scratched. This is why Hoedtke has been working closely with the developers at SAUER since acquiring the machine: 'With samples from our practical work, we will be able to advance the technology further.' They aim to continuously increase the productivity of the LASERTEC 65 3D.