09/17/2019
EMO 2019 - CLX 750
Heavy duty machining of up to 600 kg workpiece weight on 8.9 m²
The new CLX 750 impresses with its stability, a powerful spindle and forward-looking equipment options for digitalized production.
Workpieces with a diameter of up to 700 mm and a turning length of up to 1,290 mm (max. diameter 640 mm in conjunction with optional Y-axis)
2,000 Nm main spindle (A2-11") with 46 kW
Part hollow clamping diameter 127 mm
12-way VDI 50 turret
± 80 mm Y-axis (optional) for off-center machining, optional steady rest up to diameter of 430 mm
Optional sub spindle ISM76 with 4,000 rpm and 360 Nm
Wide range of exclusive DMG MORI technology cycles
DMG MORI IoTconnector as standard
3D control technology on 19″ touch panel, optionally with SIEMENS or FANUC
DMG MORI will present the world premiere of the CLX 750 as new top model of the CLX series at the EMO. Designed for workpieces up to 600 kg and a turning length of 1,290 mm, the universal turning center is particularly suited to the machining of large shafts. With DMG MORI technology cycles, the IoTconnector as standard and modern 3D control technology, the CLX 750 is ready for any forward-looking production. Customer-specific automation solutions complete the range of equipment. ​​​​​​​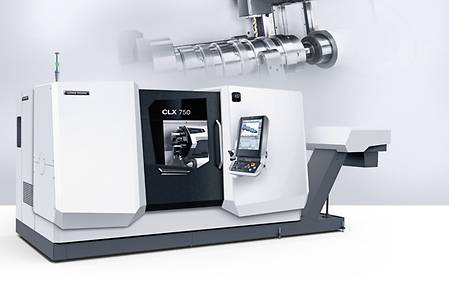 Up to 1,290 mm turning length and a maximum turning diameter of 700 mm or 640 mm in the version with the Y-axis make the CLX 750 a very versatile turning center in a wide range of industries. In the production of shafts, an optional steady rest supports turning operations up to a diameter of 430 mm. A Y-axis traverse distance of an impressive ± 80 mm is available for the eccentric machining of complex workpieces, while a sub spindle enables 6-sided complete machining. On spindle side, the CLX 750 impresses with regard to heavy-duty machining: 2000 Nm torque and 46 kW power speak for themselves.

DMG MORI has made the CLX 750 future-proof in view of the growing digitalization in machining operations. Modern 3D control technology from SIEMENS or FANUC is available, while exclusive DMG MORI technology cycles like alternating rotational speed, the Easy Tool Monitor 2.0 or the Multi-Threading Cycle enable easy and efficient machining. The IoTconnector is part of the standard equipment of all CLX machines. It enables digital networking of the machines, provides the highest possible protection by means of integrated firewall and enables pioneering service solutions with SERVICEcamera and NETservice.
Future-oriented manufacturing is increasingly accompanied by automated production – a trend which is consistently followed by DMG MORI. This way, productivity of the CLX 750 can be improved lastingly with customized automation solutions – and in the well-known DMG MORI quality.