10/08/2018
Grand Opening FAMOT 2018 - FAMOT Pleszew Sp. z o. o.
Classic example of a digital production plant
With extensive investments and far-reaching digitisation initiatives, DMG MORI has extended and transformed the traditional Polish production plant FAMOT in Pleszew to one of the largest and most modern manufacturing facilities in the Group.
Grand Opening in October 2018
Investment volume totalling 60 million Euros
Total area extended to 50,000 m²
First end-to-end digitisation of all added value levels
Products integrated from digital sister companies in the Group:

ISTOS PLANNING SOLUTIONS
DMG MORI Software Solutions
WERKBLiQ
Founded in 1877, FAMOT Pleszew Sp. z o. o. with its around 700 employees is one of the most traditional of all DMG MORI plants. With investments amounting to a total of 60 million Euro, DMG MORI has extended the factory – one of the largest within the company – to a total area of 50,000 m², of which 21,000 m² are production and assembly areas, and has continuously modernised and digitised the manufacturing technologies in order to promote increased capacities and to further develop its own universal machine portfolio. The first DMG MORI plant that operates digitally end-to-end on all added value levels. With modular products from ISTOS, DMG MORI Software Solutions and WERKBLiQ this future-oriented project serves as an example for a digital production plant. FAMOT's extensive innovations will be presented to trade visitors at the Grand Opening from 8th to 12th of October 2018.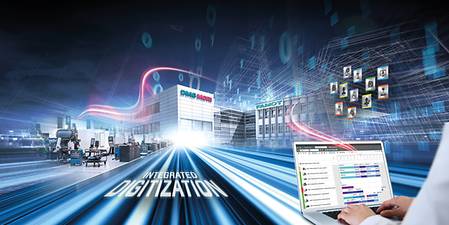 Future production through integrated digitisation
"DMG MORI supports its customers on their path to Industry 4.0 and IIoT. If we are to offer target-oriented end-to-end solutions, we also have to advance our own digitisation, of course," explains Dr. Michael Budt, CSO FAMOT / GRAZIANO / Ulyanovsk MT, making reference to the developments in FAMOT. "We are experiencing first-hand how digital transformation can be implemented in practice, because we are developing integral digital solutions for our own production." In this respect the regenerated FAMOT factory marks a milestone for DMG MORI as well as – with exemplary character – for customers and suppliers.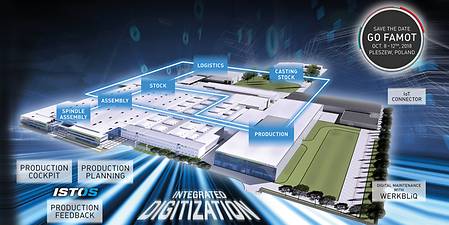 The linking of the DMG MORI IT infrastructure with regard to order management, supply chain and customer relationship was particularly decisive. All added value levels including internal workflows, systems and both controlled and manual process steps had to be seamlessly networked by FAMOT at the same time. This ranged from incoming orders in sales to maintenance management and from integrated production planning to our own MDE/BDE software for monitoring elementary key figures for mechanical processing. Dr. Michael Budt speaks about the objectives: "This concerns efficient, fast and safe production processes as well as a sustainable increase of productivity, quality, transparency and responsiveness. The specification sheet also listed the requirement to combine existing isolated solutions and new software systems to an integrated agile production network." Digital sister companies in the Group – in particular ISTOS with its modular applications within the PLANNING SOLUTIONS – supported FAMOT here.

A core element of the digital factory at FAMOT is the so-called "Manufacturing Service Bus". "This open bus system enables the integration of different plant-specific applications. These include overarching applications such as ERP, HR or tool management," summarises Dr. Michael Budt. Plus the production-oriented ISTOS application for production planning, MDE/BDE, central status visualisation among other things and for master data management and variable personnel resource planning. Other applications that communicate via the "Manufacturing Service Bus" include the web-based service platform WERKBLIQ from the DMG MORI subsidiary of the same name. Alone the over 2,000 mappings produced indicate the relevance of the "Manufacturing Service Bus". These are (in part bi-directional) links between the fields of the different applications.
Investments in structures, technology and human resources
In view of the order and production volume that has been growing continuously for years – in the area of rump body machines for the DMG MORI Group and in particular in the CLX and CMX series of our universal machine segment – modernisation of the FAMOT plant with an investment amounting to a total of 60 million Euros became a necessity, says Dr. Michael Budt and goes on: "We can now expand our capacity and ensure consistent growth in business development." By 2020 the FAMOT factory is to produce more than 2,000 of its own CLX/CMX machine tools and additionally around 2,000 rump body machines plus several hundreds more components and parts for the sister companies in the Group.
The investments apply to our structures as well as our production technology. The production area today comprises a total of 21,000 m², a third of which is for assembly. There is also a large new rough casting store and a new logistics hall. 140,000 parts a day are distributed to the numerous stations in production and assembly via a KARDEX mini-load store. An inductive hardening facility – for the machining of components of the new CTX 5th generation series produced in Bielefeld – completes the enormous vertical integration of FAMOT. "At the heart of FAMOT is mechanical production – the largest within the group. Approximately 50 machine tools, mainly from the DMG MORI range, currently run networked around the clock to meet the huge demand.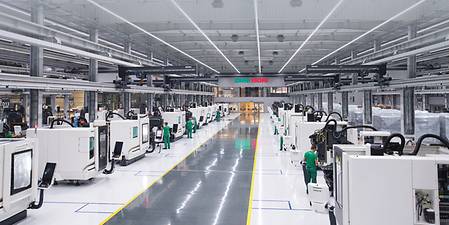 The sustained growth also increases the need for competent employees at FAMOT – in both production and in service. As one of the largest employers in the region FAMOT cooperates with more than 15 technical schools and universities to cover this need. This development also impacts the higher-level sales and service company DMG MORI Poland. The number of service technicians has doubled to 50 over the past five years and especially in service new technicians are permanently being employed and trained. Dr. Michael Budt is fully aware that: "When we talk about service quality and aftermarket in general, we do not compromise. Furthermore, we invest in our application technology – at FAMOT as well as at DMG MORI Polska. The commitment of our employees is necessary to maintain the trust of our customers."