02/11/2020
Open House Pfronten 2020 - Integrated Digitization
Flexible entry into digitalization
DMG MORI supports its customers with integral and innovative solutions for future-oriented production through the continuous development of its digitalization services at all levels of the value chain.
Digital Manufacturing Package: Easy start into digitalization with DMG MORI Connectivity, CELOS Update, DMG MORI Messenger, NETservice and my DMG MORI
my DMG MORI and WERKBLiQ: Unique customer portal for more transparency, quality and speed in all service processes
TULIP: The simplest way to digitalize shop floor processes
DMG MORI Digital: Comprehensive end-to-end service for customer-orientated digitalization solutions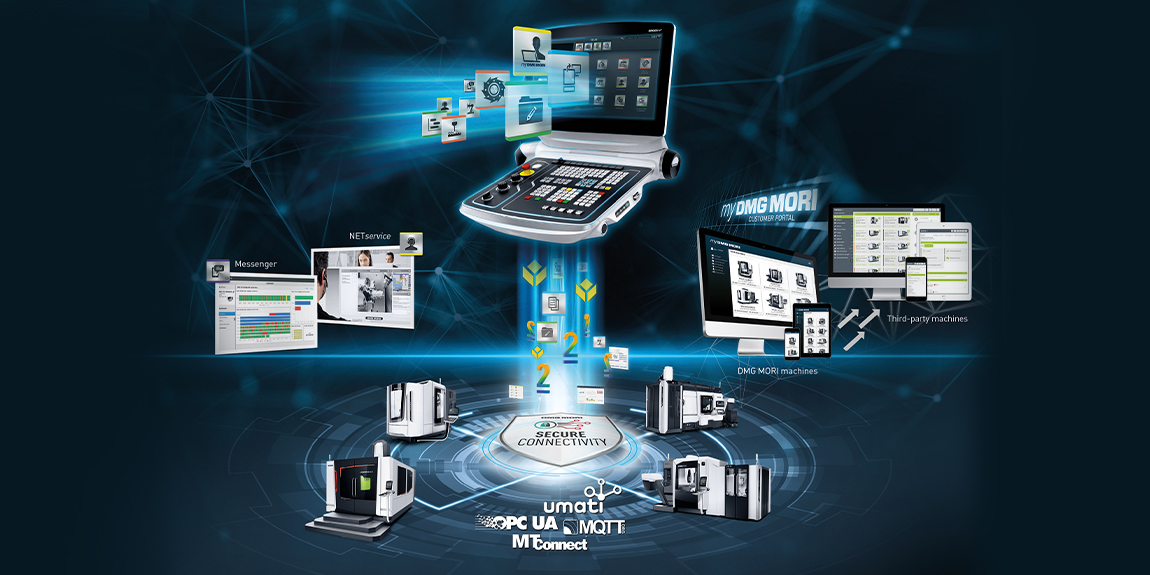 The DMG MORI Open House at DECKEL MAHO in Pfronten is characterized by "Dynamic Excellence" and once again presents trade visitors with a unique program of integrated product solutions for the present and the future. Industrial digitalization is also becoming increasingly important in the machine tool industry. This development is reflected in DMG MORI's range of products and services by the continuous further development of DMG MORI Connectivity, CELOS and service solutions such as my DMG MORI and WERKBLiQ. TULIP complements the range with the digitalization of shop floor processes. Moreover, the machine tool manufacturer offers its customers a comprehensive 360° digital service in the form of DMG MORI DIGITAL for all matters relating to industrial digitalization.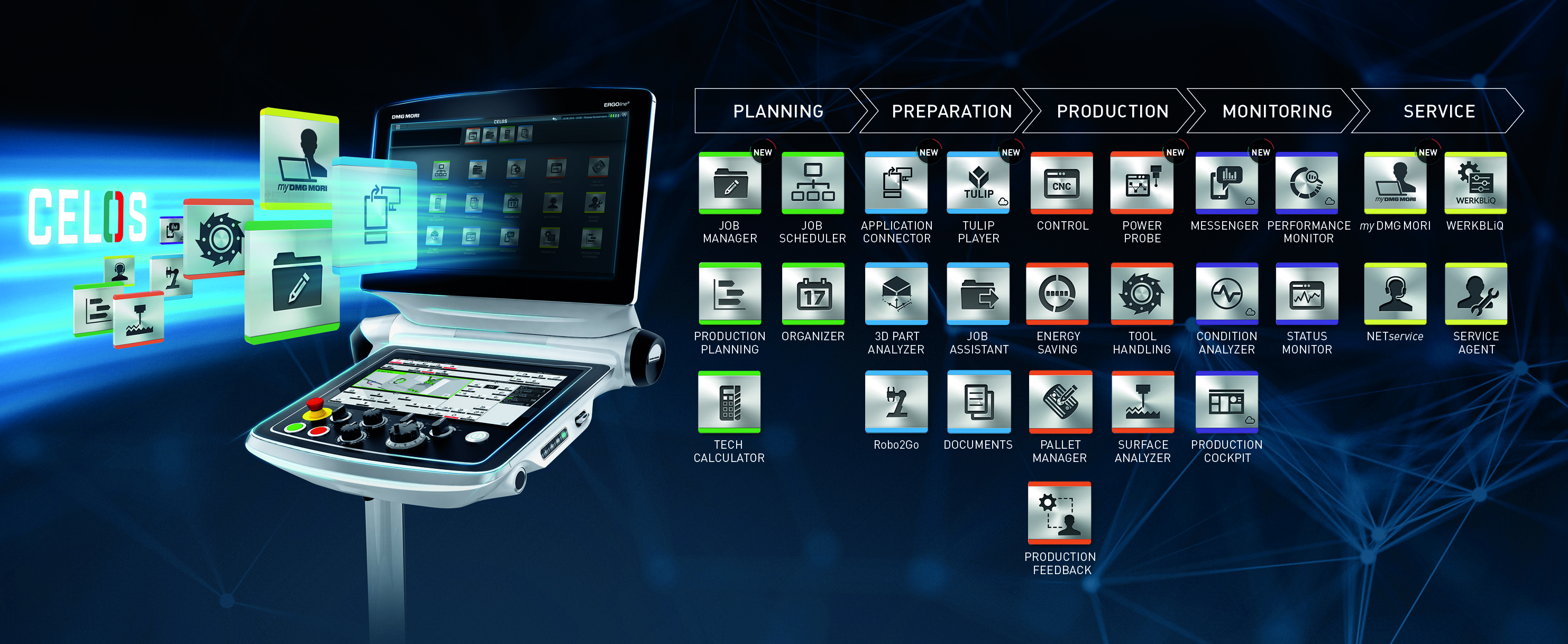 Since the world premiere of CELOS around six years ago, DMG MORI has pioneered countless trend-setting innovations to success. Today, CELOS is used in the control systems of more than 20,000 DMG MORI machines worldwide. On top of this are the success stories of DMG MORI Planning & Control, DMG MORI Messenger and those of the WERKBLiQ maintenance and repair platform.
DMG MORI has set the course with ADAMOS early on for networked value creation in times of platform economy. "Overall, we established ourselves in a brilliant starting position digitally and globally," says Christian Thönes, Chairman of the Executive Board of DMG MORI AKTIENGESELLSCHAFT, drawing a positive balance.
The highlights from the most recent EMO are now also making a successful contribution to this. In the meantime, DMG MORI Connectivity not only ensures the secure networking of DMG MORI machines, but also that of selected third-party products. Moreover, CELOS customers are now able to carry out a PLC-independent CELOS update to the current version. This applies to every existing CELOS version of the past six years.
Highlights DMG MORI CONNECTIVITY
Connectivity as standard for all new machines made by DMG MORI
Networking of DMG MORI machines and selected third-party products
Support of established protocols (OPC-UA, umati, MQTT and MTconnect)
Open interaction with networks and IoT platforms such as ADAMOS, MindSphere or FIELD system
Perfect networking to monitoring and remote services
The new DMG MORI MESSENGER was also presented at the EMO. The innovation offers comprehensive monitoring for all machines and devices in production networked via DMG MORI Connectivity – also for third-party products.
At the same time, the new my DMG MORI customer portal was introduced, service processes were completely optimized and new benchmarks set for digital, transparent communication. Users can easily upgrade from my DMG MORI to WERKBLiQ, the integrated maintenance and servicing platform, and thus also connect up with third-party products, and make use of further premium functions.
Christian Thönes identifies the perfectly orchestrated interplay between the mechatronic core business and the digital units as a stable foundation for the successful transformation from a product and service provider to an integral partner for digital value creation. "We are both a leading provider for our customers and a key leading user of our own digital solutions for integrated manufacturing in all business areas!"
"This is our strength and we are going from strength to strength," emphasizes Christian Thönes. "We test everything inside and out in our own production plants and thus ensure the high quality and scalability of our solutions – from the market launch of a CELOS APP to the implementation of the digital factory." Thönes is convinced: "A structure like this is unique within the machine tool industry. It can't be copied, let alone imitated!"
This applies even more than ever as DMG MORI undertook a strategic stake in three other start-ups last year. TULIP impresses with an employee-centric platform, which is able to be used without any programming knowledge. DMG MORI Digital GmbH acts as the new spearhead of the group in the industrial digitalization market.
TULIP: The simple way to digitalize shop floor processes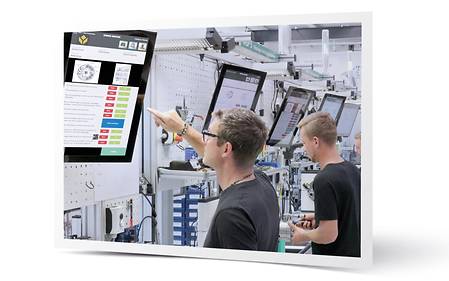 The cooperation between DMG MORI and TULIP from Boston, USA, will make it much easier for small and medium-sized companies in particular to get started in digital manufacturing. The secret of success: Rather than forcing employees on the shop floor into a strict set of guidelines from the "top down," TULIP provides them with creative and simple digital tools via a no-code platform. They are able to use it to write their own personal digitalization script – without the need for any IT or programming skills.
Every individual scene of a process can be described and visualized on the TULIP platform using existing or self-created APPs just like a modular script. And where necessary, certain scenarios can be linked with key figures from digital sensors, measuring devices and machines via "drag & drop". An interactive "roadmap" is thus created step by step. It supports employees in their work and prompts them to carry out measurements or tests at control points important to results. Visualization takes place via a separate screen at the workstation or directly (via APPLICATION CONNECTOR from CELOS) on the control screen.
"The continuous transparency will enable us to tap the enormous potential for the future viability of the company," emphasizes Christian Thönes. He refers to spindle production at DECKEL MAHO Pfronten as an example. Here, after only a few weeks, productivity was able to be increased by 20 percent and the error rate reduced by 10 percent.
DMG MORI Digital: Comprehensive end-to-end service for customer-orientated digitalization solutions
DMG MORI Digital GmbH acts as the central partner for all enquiries and services concerned with digitalization and offers DMG MORI customers a comprehensive 360° service for all aspects of their digitalization projects. The new partnership thus decisively demonstrates DMG MORI's claim to be a pioneer of integrated industrial digitalization.
DMG MORI Digital's comprehensive performance and service promise is therefore largely formulated in a manufacturer-neutral way: It is all about supporting customers in the area of industry connectivity through consulting, implementation and qualification of the digital solutions from DMG MORI and partner products.
DMG MORI Digital expects important stimuluses from the market as the basis for customer-oriented new and further development and the expansion of joint expertise for IT and IoT in mechanical engineering and the industry.