09/17/2019
EMO 2019 - ADDITIVE MANUFACTURING
End-to-End process understanding from drawing to finished part
As a global full-liner in the additive manufacturing of metal components, DMG MORI provides the rapidly expanding technology area with innovative developments and a holistic advisory service.
Unique and continuous process chain from simulation to material cycle and also service and consulting


LASERTEC 3D hybrid / LASERTEC 3D: Continuous and process-reliable concept

Cost-effective repair thanks to laser deposition welding
New: AM Assistant software package for simplifying process development and improving quality control; includes Automatic Process Control, AM Guard, Powder Flow Monitoring and AM Evaluator

LASERTEC SLM: Maximum precision in the powder bed

OPTOMET Software: Exclusive new functions for increased process efficiency and improved component quality
DMQP Powder Cycle: Simple powder procurement via the DMG MORI web shop
ADDITIVE INTELLIGENCE: Holistic advisory solutions for successful technology start-ups
Efficient linking of LASERTEC 30 SLM 2nd generation and CNC machining with a zero point clamping system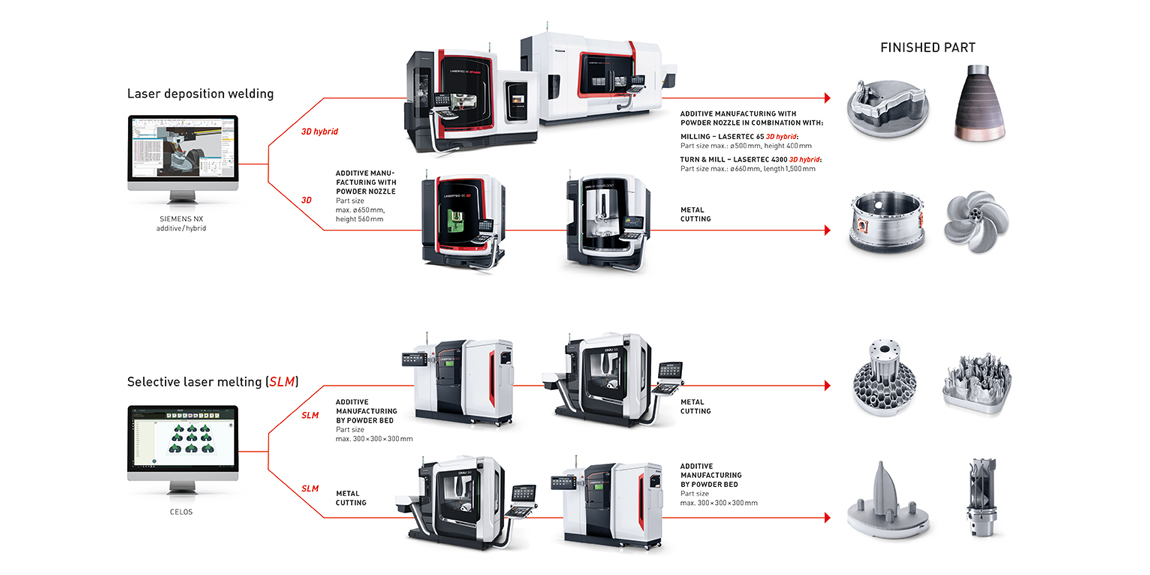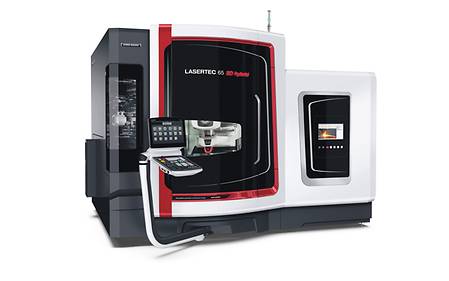 In 2013, DMG MORI created the new ADDITIVE MANUFACTURING business area in the field of laser deposition welding using a powder nozzle with the LASERTEC 65 3D hybrid. Six years later, after extending the product portfolio with powder bed technology, the machine tool manufacturer is regarded as a global full-liner in the additive manufacturing of metal components. DMG MORI provides a comprehensive service and integrated consulting in this pioneering field.

Additive manufacturing is becoming increasingly established as a pioneering procedure for industrial use. The demands made of the technology are therefore also changing. DMG MORI consistently takes this into consideration in the further development of its LASERTEC 3D hybrid, LASERTEC 3D and LASERTEC SLM model series. The main topics are the technical availability of the machines, their productivity, the component quality and occupational safety. Innovative process chains have therefore emerged in both additive manufacturing and also the powder bed procedure.
LASERTEC 3D hybrid and LASERTEC 3D: Continuous and process-reliable concept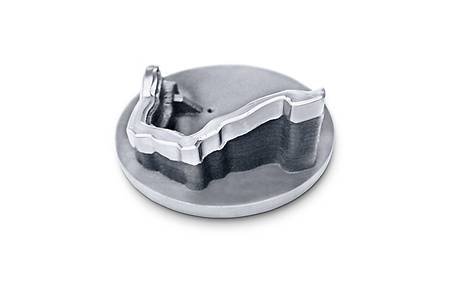 With the LASERTEC 3D hybrid and LASERTEC 3D machines, DMG MORI has realized a continuous concept consisting of machine, software solution and applications know-how which is completely process-reliable. The basis of this is a series-produced machine for 5-axis milling machining from the DMG MORI product portfolio which is already well established on the market. With regard to laser deposition welding, the customer can expect build-up speeds of up to 1 kg per hour, and repeat accuracy that he is only used to from CNC machines. This is in interaction with Siemens NX – the most powerful software solution that currently exists on the powder nozzle technology market. It was developed in collaboration between development engineers from DMG MORI and SIEMENS. "We support customers during construction design and process development with the applications know-how of our applications engineering. In this way, we also provide special training and also start-up support", explains Patrick Diederich, managing director of SAUER GmbH and therefore responsible for the LASERTEC 3D and LASERTEC 3D hybrid model series.
Cost-effective repair thanks to laser deposition welding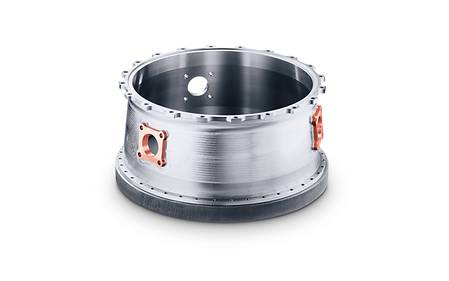 In the past five years, laser deposition welding has emerged as an excellent technology for the repair and coating area in many target industries. "Every other industrial customer purchases the LASERTEC 65 3D hybrid because of the cost-effective repair options", says Patrick Diederich, quantifying this trend. The hybrid machine has an extensive customer base in the manufacturing of reforming and forging tools, i.e. in warm and cold sheet metal reshaping. "At this point cutting knives should be mentioned, which previously had to run through a manufacturing process lasting for several days, but can now be deployed again within a shift thanks to the powder nozzle technology." Particularly also in industries where the main focus is not on the construction costs but system availability, users benefit from the strengths of the LASERTEC 65 3D hybrid. These include industries such as oil and gas, and also the chemical and pharmaceutical industries.
Patrick Diederich envisages the development of laser deposition welding extending to bigger customer components: "For example, complete die casting tools can be additively manufactured instead of production using moulds. Direct integration of additively manufactured features leads to an increase in tool service life." DMG MORI is expecting positive developments as far as automated manufacturing and repair are concerned (automation solutions are a main topic at the EMO). According to Patrick Diederich, the LASERTEC 3D machines must be regarded as "Build and Repair" solutions: "Several repair process steps run sequentially and automatically here, without loss of quality due to handling."
LASERTEC SLM: Maximum precision in the powder bed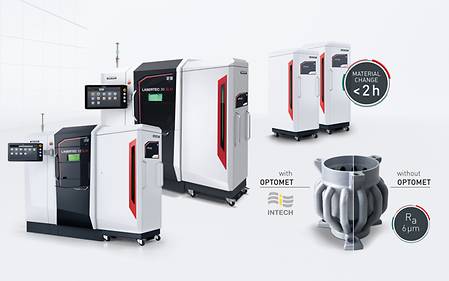 The DMG MORI portfolio in powder bed technology includes the LASERTEC 30 SLM 2nd generation with its large footprint of 300 x 300 x 300 mm and the LASERTEC 12 SLM, which sets new standards in precision thanks to its focal diameter of just 35 µm. In relation to this accuracy class, it has the biggest footprint with 125 x 125 x 200 mm. One thing that all LASERTEC SLM machines have in common is the powder change using the rePLUG powder module. On the one hand, the closed powder circuit provides the occupational safety that was mentioned at the beginning, and on the other hand the powder can be changed in an uncomplicated way within two hours using the rePLUG powder modules. "That is the quickest method on the market", emphasizes Mathias Wolpiansky, who is responsible for the LASERTEC SLM model series as the managing director of REALIZER GmbH at DMG MORI.

Intelligent powder management and innovative OPTOMET software
DMG MORI is also interested in increasing productivity in the powder bed technology area. Mathias Wolpiansky looks to the future: "On the hardware front, multi-laser systems are available which immediately increase the productivity of the machine," He also thinks that automation systems will be important in the future: "An initial approach is the automation of powder management, where we are already a long way ahead with the rePLUG powder module. Setting up and component handling, including powder removal, can also be automated using new machine concepts or with the aid of external robots." The OPTOMET software is also said to make an additional contribution to productivity. DMG MORI presented two new functions in this area at the EMO: OPTOMET Max. Power provides optimized lighting strategies and improved utilization of machine performance, which makes build-up rates that are up to 50 percent higher possible. The residual stress in the component can be reduced by means of active control of the construction platform temperature with OPTOMET Temperature Control. This creates constant conditions at process level.
DMQP: Cost-effective powder circuit with seal of quality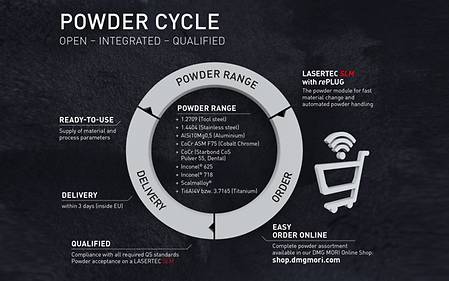 DMG MORI has underlined the holistic process thinking by also extending the range of DMG MORI Qualified Products to peripheral and accessory components for additive manufacturing. On the one hand, the main focus is on open powder selection, and having a qualified and integrated powder circuit on the other. Powder return and recycling with selected DMQP partners provides an economical way of processing expensive powder materials. A highly competent DMQP partner has been acquired in this area in the form of Hanau-based Heraeus, which ensures that a comprehensive powder portfolio which fulfils the strict quality standards is available to customers. DMG MORI has also conclusively validated these standards on a LASERTEC SLM powder bed machine. "The wide range of materials in our web shop ranges from tool steel and stainless steel to aluminium and cobalt chromium to Inconel and titanium, meaning that we can cover almost any requirement in our target industries – worldwide and within just a few working days", explains Mathias Wolpiansky. All powder is said to be marked with a DMQP seal of quality and ready to use, since it is provided with the relevant parameters.
ADDITIVE INTELLIGENCE: Building up know-how in a targeted way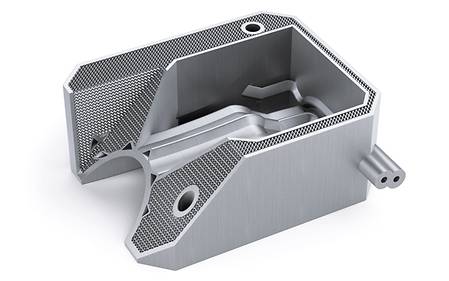 The continuing growth of additive manufacturing is obvious, and many companies recognize the potential thereof. However, there is often a lack of a consistent procedure. Precisely for this purpose, DMG MORI brings its experts in the ADDITIVE MANUFACTURING Excellence Centers into play. They can pass on their know-how in the local markets at the locations in Bielefeld, Pfronten, Tokyo, Shanghai and Chicago. The DMG MORI Academy provides support in order to fully utilize the potential of additive manufacturing. "Our ADDITIVE INTELLIGENCE advice unit supports companies in setting up the required know-how and process chain integration involving our LASERTEC SLM and LASERTEC 3D model series", says Patrick Diederich. The scope of the advice includes services along the entire process chain of additive manufacturing, from potential determination and engineering to small series manufacturing. "The AM Quickcheck is the perfect introduction for identifying applications in your own company."
Manufacturing in a future-oriented way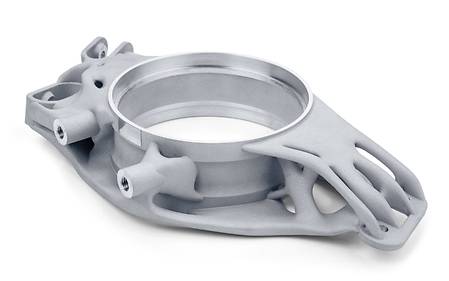 Additive manufacturing already deals with tasks which stretch conventional methods to their limit. Using a powder nozzle and in the powder bed, complex structures can be manufactured which are significantly lighter and have intelligent function elements, such as with multi-material components with improved cooling capacity due to the use of bronze. Patrick Diederich is convinced: "Against this background, our LASERTEC 3D and LASERTEC 3D hybrid machines and the LASERTEC SLM model series support new process thinking and are the perfect addition to future-oriented manufacturing."