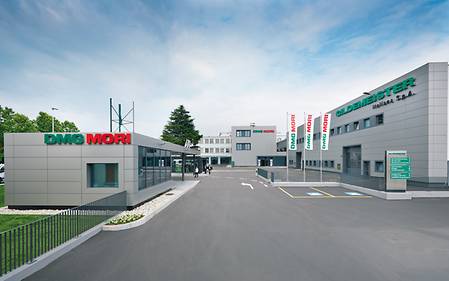 The EMO in Milan is a home match for GILDEMEISTER Italiana S.p.A. from Brembate di Sopra. There are just 60 km between the company and the "Fiera Milano" fair site. So the presence of the company at the DMG MORI fair booth is accordingly comprehensive. In addition to the world premieres of the SPRINT 32|5 and other innovative high-tech machines developed in-house, GITAL in Milan will also underscore its status as the largest manufacturer of metal cutting machine tools in Italy. The company's production program now also includes universal lathes in addition to its established core business of production and automatic lathes.

Location with a future
Last year the GILDEMEISTER Italiana S.p.A. plant in Brembate di Sopra near Bergamo was completely modernised and extended. A new assembly hall of over 1,200 m2 was built, followed by the creation of a new approximately
1,000 m2 Technology Center in which customer-specific demonstrations take place and application solutions are developed. Now the modernisation is complete and around 400 "in-house" production and automatic lathes plus an additional 100 NLX 2500|700 universal lathes from within the DMG MORI production network will be produced here a year. "In the market for the market" is the motto. Mutual use of the global production facilities within the cooperation between the German DMG MORI AKTIENGESELLSCHAFT and the DMG MORI COMPANY LIMITED enables a reduction in transport costs and shorter delivery times. It also means there are no currency risks or customs issues.
Global competence centres for bar and chuck machining
Despite the greater diversity of production GITAL is and of course remains for its customers primarily the European competence center for multi-spindlers, automatic production lathes and production turning centres. Within the DMG MORI production network GITAL collaborates closely with the production plant in Japanese Nara and its NZX-S and NRX series and with DMG MORI WASINO. The resulting cross-site synergies create an extremely diverse program for series and mass production in the field of turned parts manufacture that is unique worldwide.

From flexible series production through to highly productive mass productionWith the products for which it bears sole responsibility GITAL impresses with an comprehensive portfolio of production lathes, automatic lathes for short and long turning as well as CNC-controlled and mechanical multi-spindle automatic lathes for workpieces with diameters measuring 2 to 65 mm.

The high-tech machines in the SPRINT and SPRINT linear series, for example, are ideal for the highly productive automatic turning of diameters in the 2 to 42 mm range. Up to 10 NC-axes and 46 tools, of which max. 38 powered tools, plus the SWISSTYPEkit for short and long turning on a single machine are just a few of the many highlights of these bestsellers. Added to this where applicable are the advantages of the linear drive technology for maximum precision and long-term accuracy with an acceleration of 1 g and a 5 year warranty.

A special highlight during the days of the EMO will be the extremely space-saving SPRINT 32|5 with its footprint of just 2.8 m2, which will be celebrating its global premiere at the world trade fair for machine tool construction together with the SPRINT 32|8.

The GITAL portfolio will also be extended in the area of bar machining to include the mechanical and CNC-controlled multi-spindle automatic lathes of the GM and GMC series for the highly productive and accurate mass production of turned parts. Some highlights in this context include:
Bar machining up to ø 42 mm
GM: cam-controlled for cycle times of up to 0.9 sec.
GMC: one drive for the 6 main spindles
GMC ISM with up to 56 NC axes: separate drive for each of the 6 main spindles for optimum cutting parameters in every spindle position 
All that is missing as proof of the wide diversity of GITAL competence are the production lathes of the larger SPRINT machines with up to 3 turrets and 3 Y-axes for series production of even the most complex workpieces with diameters of up to 90 mm. Two outstanding examples of this machine generation with its ultra modular design are the TWIN concept of the 2-turret machine for machining in two independent work areas and the "premier class" for complex workpieces that with its 3 turrets and B-axis offers great geometric freedom while at the same time ensuring a high degree of productivity.