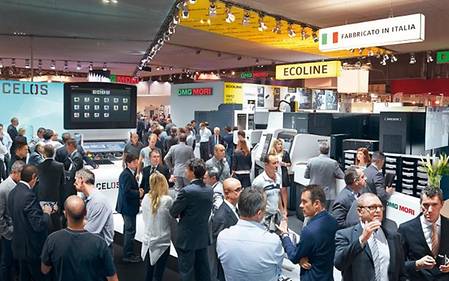 On the occasion of the EMO in Milan, DMG MORI emphasizes its status as world market leader in the field of metal-cutting machine tools with 10 world premieres as well as a representative range from its high-tech portfolio. 

The EMO in Milan provides DMG MORI with the perfect showcase for new advanced technologies and innovative products. From 5 to 10 October 2015, the technology partner will be presenting a total of 10 world premieres at its stand in Hall 4. In the field of turning technology, there are 4 world firsts: the production lathe SPRINT 32|5, built in Italy (including the equally new upgrade of the SPRINT 32|8), the second generation of the turn & mill machines CTX gamma TC in no less than two sizes and the NLX 6000|2000 turning-milling centre for large components. The three milling innovations all originate this time from the 4th generation of the duoBLOCK series. The trade fair presentation is rounded off by three world premieres from the ecoMill V series as well as the automatic lathes from DMG MORI WASINO, that have recently been added to the product range, strengthening the portfolio of DMG MORI since 1 April this year.

With two production plants in Italy, the EMO will be something of a home match for DMG MORI. Since 1969, GILDEMEISTER Italiana S.p.A. from Bergamo has been synonymous with high performance lathe technology and has a special focus on production and automatic lathe machines within the Group. With the site having been modernised and extended last year, DMG MORI will be setting new standards in the manufacture of machine tools from now on. A new 1,200 m² assembly hall has been created – accompanied by a 1,000 m² technology centre, in which customized solutions and innovative high-tech machines are developed and can be presented to customers under production conditions.

The EMO world premiere SPRINT 32|5 and its upgrade SPRINT 32|8 are "made in Italy" just like the universal turning machines NLX 2500SY|700 and CTX alpha 500, the turn & mill machining centre CTX beta 1250 TC, the production lathe SPRINT 50 as well as the automatic multispindle lathe GMC 20 ISM.