09/17/2019
EMO 2019 - DMG MORI Automotive Excellence
Efficient manufacturing solutions for alternative drives
The DMG MORI Automotive Excellence Center is accompanying the continuing change in the automotive industry with holistic process solutions for more cost-effective manufacturing.
Holistic and fully automated process solutions for car manufacturers and their suppliers
CTV model series: compact footprint and integrated automation in vertical production turning
DMU monoBLOCK, DMU eVo and NHX model series for the productive manufacturing of battery boxes
Complete machining thanks to the integration of grinding, toothing and measuring technology
The model ranges of car manufacturers now include increasing numbers of hybrid vehicles and electrically powered cars. This change is also affecting the range of components in the automotive area. This new model diversity requires flexible and efficient manufacturing solutions – for large production runs and also smaller batch sizes. As a partner to the automotive industry for many years, DMG MORI knows exactly what these requirements are. With this experience and the technical know-how that is available, the machine manufacturer implements holistic and fully automatic process solutions for car manufacturers and their suppliers in the DMG MORI Automotive Excellence Center.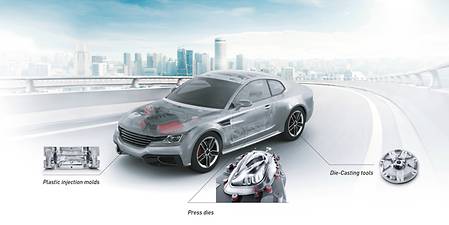 With the Technology Excellence Centers in the key industries of aerospace, automotive, die & mold and medical, DMG MORI is pursuing the approach of close collaboration with the customer during very early project phases in order to implement optimum manufacturing concepts. For quite some time, the main focus in the automotive industry has not been on the machine tools alone, but holistic and highly automated process solutions. Together with a series of partners for tools, clamping materials and automation solutions, DMG MORI provides its customers with the entire range of services from a single source.
CTV model series: Compact footprint and integrated automation
In view of the rapid change in the automotive industry, DMG MORI is noticing equally rapid development of new components, to which the machine tool manufacturer is reacting with efficient machines. The CTV model series has proven to be an optimum solution for automotive components in vertical production turning for many years. Fast loading and unloading in just a few seconds, a high degree of stability and the most powerful turrets in its class with torque of up to 85 Nm speak for themselves. The compact CTV models have integrated automation as standard. Other automation variants such as accumulating conveyor belts and palette carousels are optionally available. With the technology integration of grinding and gearSKIVING and a touch-probe for quality assurance, DMG MORI has equipped the model series for the increasing complexity of the workpieces in a future-proof way. With regard to the other model series in the turning area, Harry Junger, managing director of GILDEMEISTER Drehmaschinen, also thinks that the future is bright: "Our customers have been reliably manufacturing components such as constant-velocity joints, drive shafts and planet carriers on our machines for years. These are also installed in electric vehicles, meaning that we are still in a strong position for the requirements of the automotive sector."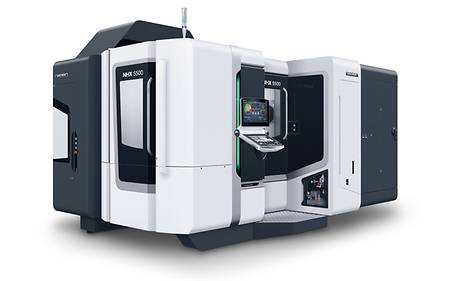 This also affects the milling area. The wide range of products from Pfronten, Seebach and Japan includes productive manufacturing solutions for conventional drives and also hybrid and electric vehicles. For example, battery boxes are manufactured on the different 5-axis machining centers in the DMU monoBLOCK and DMU eVo model series and the NHX 5500 – fully automatic thanks to a wide range of workpiece and palette handling systems, which DMG MORI provides for all machine tools.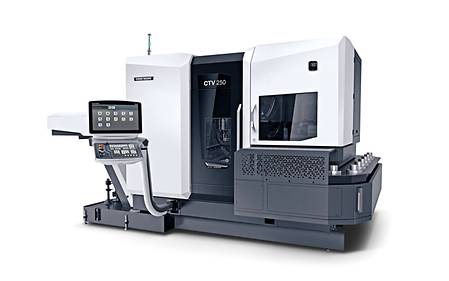 Highlights: CTV 250 WITH CELOS V6
12.5 m² footprint, including automation and chip conveyor
The most powerful turret in its class: 12 driven tools up to 85 Nm and 12,000 rpm
Maximum flexibility: Workpieces up to o 350 × 200 mm and a Y-axis with 180 mm
Maximum productivity: 8-second loading and unloading time thanks to 2-track automation
Maximum precision: Direct measuring systems from MAGNESCALE in all linear axes
New in CELOS: Automatic job import and application connector app