09/23/2021
PRE-EMO Show in Pfronten 2021 - World Premiere: NZ Plattform
DUE, TRE, QUATTRO – production turning newly defined
As the latest series in DMG MORI's production turning portfolio, the NZ platform sets new standards in modularity, flexibility and productivity for individual customer requirements on a footprint of just 17.8 m².
Two machine bed sizes: short version for workpieces up to 740 mm, long version for workpieces up to 1,290 mm
Highly flexible with up to four machining units for turrets:

80 mm Y axis on each position
-10° to +100° B-axis possible on all four positions

TWIN spindle as steady rest, Swisstype functionality or both side turning
Can be automated with integrated workpiece unloader, bar loader or one or two gantry loaders, robot in the work area, Robo2Go or MATRIS
DMG MORI has incorporated decades of experience in production turning as well as the individual requirements of users into the development of the new NZ series. The result is a highly modular platform with two bed sizes that offers customers maximum flexibility and productivity: bar and chuck machining are part of the modular system, as is the option to install two, three or four units with B-axis and a TWIN spindle in the Z-axis. Additionally, DMG MORI offers several automations solutions for the NZ platform.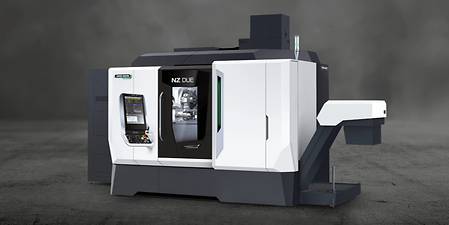 Available in two bed sizes, the new NZ platform serves a wide range of components. The short version is designed for workpieces up to 740 mm in length, while the long version accommodates components up to 1,290 mm. Chuck machining is possible in both cases up to a diameter of ø 120 mm, and for bar machining the passage is ø 65 mm. Including the 3.30 m long bar feeder, the NZ requires only 17.8 m² of floor space. Stability and precision in machining are ensured by the symmetrical architecture bed with high thermal stability and equal chip removal performance in all positions. On the control side, the NZ platform is equipped with a 19" DMG MORI SLIMline touch panel and FANUC 30iB.
Maximum modularity with up to four milling units
The highlight of the NZ platform is the individual equipment options, allowing each user to define a manufacturing solution tailored to their exact requirements. Due to the modular machine concept, the NZ platform includes the NZ DUE, NZ TRE and NZ QUATTRO. This means that two, three or four milling units can be installed in the workspace. Each of these units can be freely positioned and has a Y-axis with 80 mm travel and a B-axis with a swivel range of -10° to +100°. There is also the option of an TWIN spindle in the Z axis with a diameter of ø 65 mm. It serves as a hydraulic steady rest and offers a Swisstype function with up to 5,000 min-1 speed in the guide bush. Furthermore, the TWIN spindle can be used for turning at 4,000 min-1 and 60 Nm.
Even more productive with automation solutions
DMG MORI offers a range of automation solutions so that users can also secure their competitiveness in the long term with the NZ platform. An integrated workpiece unloading unit and a bar loader are just as much part of the portfolio as autonomous production via one to two gantry loaders or a robot in the workspace. In addition, the NZ platform is available with the Robo2Go or MATRIS.