02/05/2021
DMG MORI Technology Cycles
Efficient programming with technology cycles
With already 50 exclusive technology cycles, DMG MORI offers its customers decisive added value of digitalization.
50 exclusive DMG MORI technology cycles for handling, machining, monitoring, and measuring
Up to 60 percent faster programming with the help of programming assistants
gearHONING and ULTRASONIC axialGRINDING: More productive machining through technology integration
ULTRASONIC feedbackCONTROL: Real-time monitoring of material transitions
safeRETREAT and AI Chip Removal: process-reliable production
gearQUALITY and Tilted Measuring: optimized in-process measuring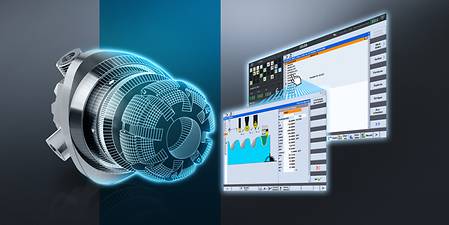 CNC machine tools from DMG MORI have always stood for productive and highly accurate machining. This already begins in NC programming, where the exclusive DMG MORI technology cycles, the digital assistants of shop floor-oriented programming, have enabled more efficient and reliable processes for many years. The range includes a total of 50 technology cycles for handling and machining as well as monitoring and measuring. DMG MORI illustrates the progressive development in this area with the presentation of eight new technology cycles. 
"Today, technology cycles are the backbone of workshop-oriented programming because they ensure maximum efficiency and reliable processes," explains Dr. Ing. Edmond Bassett, Head of Technology Development at GILDEMEISTER Drehmaschinen GmbH. In view of increasingly complex workpieces, it is only possible to significantly optimize manufacturing processes with technology cycles. "These programming assistants, which are fully integrated into the control, enable programming that is up to 60 percent faster, a clear program structure and a minimal error rate." In addition, DMG MORI places a great deal of focus on the integration of advanced technologies in order to sustainably optimize manufacturing chains through complete machining strategies. This is confirmed by a look at the new DMG MORI technology cycles now presented.
More productive machining through technology integration
From now on, DMG MORI will combine the proven gearSKIVING, a highly productive hobbing process, with the gearHONING technology cycle for finishing gears. With the help of a honing tool, the surface and form quality can be improved after hob peeling. By combining gearSKIVING and gearHONING, gears for high technological requirements can be produced. Other technology cycles for cutting are off-center grinding as an additional module to the grinding technology cycle and ULTRASONIC axialGRINDING. The former offers the possibility of programming eccentric superfinishing of cylinders directly on the machine, guided by dialog. Eccentricity and diameter dimensions can be freely selected and are mathematically checked for plausibility.
ULTRASONIC axialGRINDING offers customers technology integration to optimize productivity and accuracy in the machining of hard-brittle materials. More than 25 percent of machining time can be saved on typical components for the semiconductor industry, and up to 50 percent for narrow grooves. Another technology cycle for ultrasonic-assisted machining is ULTRASONIC feedbackCONTROL. It enables adaptive control of the feed rate, depending on the material layer to be machined. Here, process signals from the ultrasonic actuator are used to realize real-time monitoring of material transitions. For example, in the case of composite materials, the machine reacts automatically to different material properties. 
Process reliability and efficient measuring
In the area of handling cycles, DMG MORI will present safeRETREAT and AI Chip Removal. safeRETREAT is used to safely decouple the tool and component in the event of an emergency stop actuation triggered by the user. The cycle is offered in combination with gearSKIVING 2.0 and Multi-threading 2.0 to increase the operational safety of both technologies and to protect the components and the tools used from damage. AI Chip Removal ensures efficient chip removal from the work area. With the help of intelligent algorithms, the camera integrated in the workspace detects chip nests at an early stage and automatically steers the moving coolant nozzles to these locations to flush them out before it is too late and stopping the production machine becomes unavoidable.
With gearQUALITY and Tilted Measuring, DMG MORI optimizes in-process measuring. With gearQUALITY, for example, it is no longer necessary to remove the component from the machine for the gear measurement process. The laser scanner integrated in the measuring head records the surface in the measuring area and the stored software generates complete measurement protocols of the gearing according to the current state of the art in gear measuring technology. The quality determination of the gearing on the machine reduces superfluous process steps and increases the efficiency of technology optimization. Tilted Measuring is an exclusive technology cycle package for user-friendly measurement on components with a tilted tool axis whose reference surfaces are difficult to access. The stored measurement results are easily and quickly available for further process steps such as setting the zero point, automatically aligning the part or stopping the process. Since manual measurements are eliminated, this technology cycle saves setup time, increases the degree of automation, and improves part quality.
With these and other exclusive technology cycles, DMG MORI is responding to the increasing need for digitalization in the area of store floor programming as well. They make a significant contribution to mastering rising economic challenges.