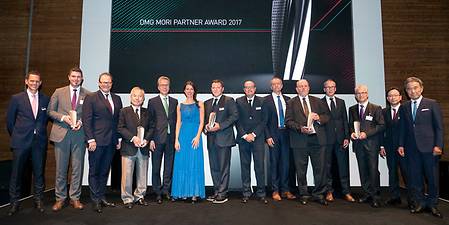 At the EMO Hannover – the world's largest machine tool trade fair – DMG MORI presented the "Partner Award 2017" to five of its supplier partners. Dr. Masahiko Mori, President of DMG MORI COMPANY LIMITED, and Christian Thönes, Chairman of the Executive Board of DMG MORI AKTIENGESELLSCHAFT, honored Schaeffler Technologies AG & Co. KG as the overall winner in front of more than 200 guests attending the DMG MORI Partner Summit. The other companies that had impressed by their outstanding performance in the close and constructive cooperation with DMG MORI were August Steinmeyer GmbH & Co. KG, FANUC CORPORATION and Siemens Aktiengesellschaft as well as M.T. S.r.l.
The projects in which the award winners were involved stand out through exceptional innovative power in the areas of process optimization and product development. "Reliability and stability form the basis for successful and enduring cooperation for us," says Dr. Masahiko Mori.
Partner Management with the DMG MORI Qualified Products (DMQP) stands for top quality of peripheral products. Together with the "Customer First" program, it represents an important pillar of DMG MORI's strategy for the future. Digital products and technologies are increasingly becoming a differentiating factor in achieving success. "Digitization as well as automation are the central key elements of a future oriented production. DMG MORI is accelerating this change together with strong partners," says Christian Thönes.
With the APP-based control and operating software CELOS as well as exclusive technology cycles and special software solutions, named "Powertools", DMG MORI is actively helping to shape Industry 4.0. 10,000 DMG MORI machines have already been fitted with CELOS and are on the market. And with the new and vendor-neutral IIoT platform ADAMOS, DMG MORI also offers its customers and suppliers a universal and simple digitization solution.
As the largest EMO exhibitor, DMG MORI is showing the future of manufacturing technologies across an area of around 10,000 m², exhibiting a "digital factory" as well as the latest trends and innovations from the areas of automation, digitization, ADDITIVE MANUFACTURING and Technology Excellence. Besides 75 high-tech machines – 35 of them with automation solutions – DMG MORI presents tailor-made complete technical solutions in the "Technology Excellence Centers" of Aerospace, Automotive, Die & Mold, and Medical.