03/01/2016
DMG MORI at the TechniShow
DMG MORI with nine high-tech machines at the TechniShow
The TechniShow in Utrecht, which takes place every two years, is the trade fair highlight for the machine tool branch in the markets of the entire Benelux region. 44,000 people visited the event two years ago. The organisers expect a further increase in numbers this year and forecast good business results for the exhibitors at the fair. The 228-m2 DMG MORI stand is located in Hall 12 (stand: D112) this year, where the machine tool manufacturer will be presenting nine high-tech machines from different technology sectors live in operation plus the UNO 20|40 tool presetter.
The new ECOLINE generation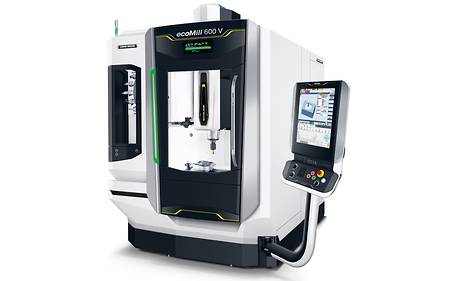 For years DMG MORI has defined a new standard of performance in the sector of entry-level machines with the ECOLINE product line. In line with its tradition of innovative performance, DMG MORI will be presenting the ecoMill 600 V at the TechniShow in Utrecht as a revolutionary milestone. Even at the very first glance, the vertical machining centre impresses with its new ECOLINE design that ensures further improved work ergonomics and a higher level of value retention. But the absolute highlight is the new DMG MORI multi-touch SLIMline-control (19" / Operate on SIEMENS / 400 V) with top screen resolution and touch function.

Practical, user-friendly and ergonomically optimised
The machining process can be simulated in advance with the control – it goes without saying in 3D. The optimised control panel with its 45-degree swivel range facilitates intuitive control – the perfect example of a state-of-the-art and responsibly designed workplace of today. The optimised ergonomics bring benefits in the form of better control and overview of the machine status and efficient and reliable machine utilisation.

The DMG MORI multi-touch SLIMline control (19" / Operate on SIEMENS / 400 V) represents the step to the next level with significantly expanded and advanced programming options and a capacity of 4 GB instead of the 5 MB of the previous version. The ecoMill V series in its new design is also available equipped with the DMG MORI SLIMline control panel (15" / MAPPS IV on FANUC).
In addition to its unique control performance, the ecoMill 600 V also impresses with its top performance during the machining process. Workpieces of up to 600 kg, for example, can be machined efficiently at 12,000 rpm even with the standard version, adding up to 25% faster cutting speeds. On top of this the machine boasts a positioning accuracy of 6 µm – the best in its class. Other convincing features of the ecoMill 600 V include a tool changeover time of max. 1.3 seconds, an optimised machine construction for highly stable milling operations and a fast tool magazine with space for 30 tools.

ecoTurn 450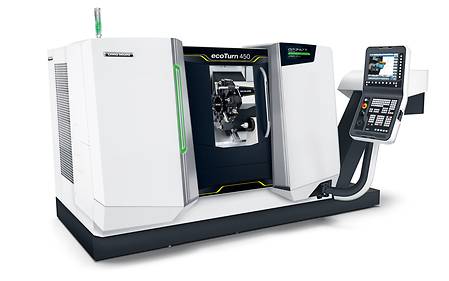 The new ecoTurn 450 universal lathe will also make its appearance at the TechniShow in the new ECOLINE design, again underpinning the high demands that DMG MORI places on the quality of its entry-level models. With a footprint of just 5.8 m2 the machine can handle a maximum turning diameter of 400 mm and a maximum turning length of 568 mm, ensuring a high level of productivity on the most compact of spaces. Other highlights of the ecoTurn 450 include:

Main spindle with belt drive: maximum torque 370 Nm (40% DC)
30 m/min rapid traverse (X/Z axis)
Ø 80 mm bar capacity (standard)
VDI servo turret with up to 12 tool stations
45-mm linear guides X, Z
NEW // Y-axis ±60 mm
45° slanting bed for optimum chip disposal
Automatic travelling tailstock: hydraulic (optional servo-(NC)-drive)
Considerably more robust and scratch-resistant surfaces made of anodised aluminium and powder-coated metal
Premium class universal turning
Stability and rigidity are the key to excellent machining results, long tool service life and efficient processes when it comes to lathes. And this is exactly what was taken into consideration in the development of the NLX series. Thanks to the overhauled machine bed and flat guides with their high damping capacity, the NLX models achieve a rigidity that is up to 30 percent higher than that of the predecessor series. This is also true of the NLX 2500SY | 700 that will be showcased in Utrecht, with its counter-spindle, Y-axis (100 mm) and its turning length of 705 mm.
In particular, the larger ball-thread drives, which together with the enlarged bearings make the axes up to 50 percent more rigid, play a decisive role in the top performance achieved by this machine. In addition DMG MORI has also improved thermal stability. The cooling system integrated in the machine bed reduces thermal displacement to a minimum. Add to all this the modular design of the NLX machines and you get the perfect basis for optimum turning operations. A special highlight in this context is the BMT turret for 12 powered tools and speeds of up to 10,000 rpm.
All new NLX models are equipped with CELOS as an intelligent human-machine-interface. CELOS from DMG MORI simplifies and accelerates the process from the idea to the finished product. CELOS APPs also enable continuous and digitalised management, documentation and visualisation of job, process and machine data. In addition CELOS is compatible with PPS and ERP systems; it can be networked with CAD/CAM applications and is ready for trendsetting CELOS APP expansions.

DMU 75 monoBLOCK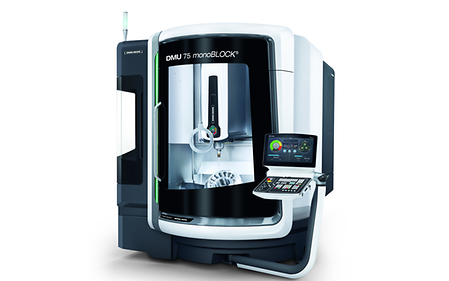 As an example demonstrating its position as the world market leader in the sector of 5-axis and 5-axis simultaneous machining, DMG MORI will be presenting the DMU 75 monoBLOCK in Utrecht; the machine will feature top equipment including a 750-mm X-travel, NC-swivel rotary table, 18,000-rpm motor spindle and a vertical chain magazine with 60 stations for SK40 tools. Workpieces with a diameter of up to 840 mm and weighing 600 kg can be machined on a space of less than 8 m². Whereby the work area can always be loaded from above without any limitation. Another impressive feature of the DMU 75 monoBLOCK are its intelligent control systems, which translate the performance of the machine construction into maximum process efficiency, top component precision and optimum user-friendliness.  This applies above all for CELOS from DMG MORI with a 21.5" ERGOline and SIEMENS.