04/15/2019
CIMT 2019 - Integrated Digitization
Value creation at all production phases
In the area of integrated digitalization, DMG MORI is pushing towards universal digitalization at all levels of value creation – from upstream manufacturing planning through digital monitoring of production.
As a pioneer of digitalization in the area of machine tool manufacture, DMG MORI continues to consider it a strategic future-oriented field. At CIMT, the technology leader will present pathways towards Industry 4.0 under the catchphrase Integrated Digitization. Core topics are the APP based control- and operating system CELOS, exclusive DMG MORI Technology Cycles, and DMG MORI Powertools. CELOS allows users both to process data relevant for production and to monitor the complete manufacturing process digitally. Additionally, DMG MORI Technology Cycles offer a visualized and user-friendly way of programming.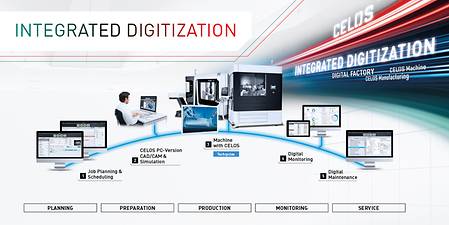 With its APP-based control and operating system CELOS, DMG MORI has created a basis to offer long-term support to customers on their pathway to Industry 4.0 with the aid of integral workflows – both at the machine level as well as for upstream processes. CELOS is installed on all new DMG MORI high-tech machines and is available as a PC version. It allows users a digital monitoring of their production. CELOS Digital Monitoring is made up of the apps MESSENGER, CONDITION ANALYZER and PERFORMANCE MONITOR, amongst others.
MESSENGER centrally visualizes the current status of a machine park and can display machine-specific information, such as the operating status, the current NC program or the workpiece counter on mobile end devices. This reduces downtimes and increases productivity. Moreover, the information on machine runtimes, downtimes and faults can be used to calculate the cost effectiveness of orders. At the same time, the CONDITION ANALYZER uses sensor data to visualize and analyze the status of the machines on the basis of the components. This, for example, can support preventative maintenance. The PERFORMANCE MONITOR makes it possible to capture, analyze and visualize overall system efficiency while taking into account machine availability and component quality.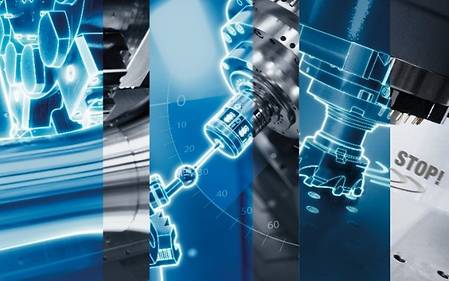 In shop floor programming, the exclusive DMG MORI Technology Cycles are profitable assistants that increase productivity and safety. A clear program structure allows 60 percent faster programming. It is dialogue-guided which minimizes the risk of mistakes. DMG MORI develops their technology cycles – 34 are available – continuously. They are divided into handling cycles like the process oriented adaption of speed and different measuring cycles as well as machining cycles, for example 5-axis simultaneous machining or complete processing of gears.