04/15/2019
CIMT 2019 - China premieres
Latest machining technologies for the Chinese market
During CIMT DMG MORI will be showing six China premieres in the field of turning, vertical milling, 5-axis milling and ADVANCED TECHNOLOGIES.
In a continuously growing market Chinese companies are constantly looking for innovative machining technology in order to keep up with the demands of their customers. At CIMT DMG MORI will answer this development with six China premieres in the field of turning, vertical milling, 5-axis milling and ADVANCED TECHNOLOGIES. Equipped with a GX 7 gantry loader the ALX 2500 focuses on highly productive turning processes and the DMC 1850 V rounds of the vertical machining series as the biggest model. For applications in 5-axis machining DMG MORI now offers the highly precise DMU 200 Gantry with 2.000 x 2.000 mm working area, the productive DMU 95 monoBLOCK with 20,000-rpm speedMASTER motor spindle, and the DMU 90 P duoBLOCK for heavy-duty machining. Another highlight among the Chine premieres is the LASERTEC 50 Shape that allows 5-axis machining of complex carbide tools using an ultra-short pulse laser.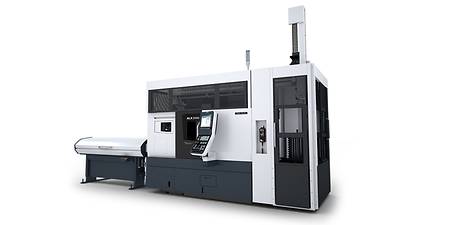 ALX 2500:
Reliable and cost efficient turning processes with gantry loader
Modern equipment options, compact dimensions and a high level of automation are all decisive for the efficiency of a turning machine. DMG MORI has considered this in the development of the new ALX 2500, so customers from the automotive and other demanding branches such as general mechanical engineering have a model available that meets the high demands of serial production. On barely 4.86 m², the stable, dynamic turning machine unites excellent standards from a maximum spindle speed of 3,500 min-1  to the BMT turret with twelve powered tools and tailstock and on to include perfect ergonomic design for operation and maintenance. In addition, the ALX 2500 offers a high degree of automation thanks to the optional gantry loader, a factor decisive for cost effectiveness in production. At CIMT DMG MORI will be presenting the China premiere as an automated version with this GX 7 gantry loader.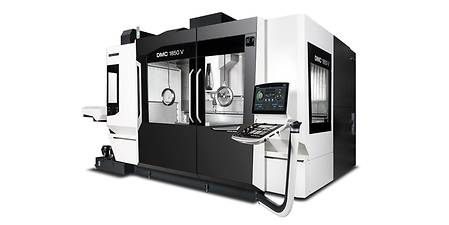 DMC 1850 V:
Vertical machining with 1,850 mm X-axis and up to 3,000 kg load capacity
The DMC V series has impressed for many years in vertical machining with a sturdy machine design, an innovative cooling concept and a modular design providing solutions for precision machining and heavy-duty cutting. DMG MORI has implemented and further improved these advantages for the DMC 1850 V as well. The machine impresses with an enormous stability and rigidity, which is achieved with the one-piece machine bed of grey cast iron. Furthermore, the DMC 1850 V makes an impression with high mechanical precision, which is reflected in the accuracy that can be achieved on the workpiece. The result is a circular accuracy of under 5 µm on all three levels as well as higher metal removal rate of 20 percent. The large X-axis traverse path of 1,850 mm positions the DMC 1850 V precisely between the smaller sister machines of the DMC V series and the larger DMF series. The new vertical machining center thus enables versatile applications in mechanical engineering, die & mold and the aerospace sector.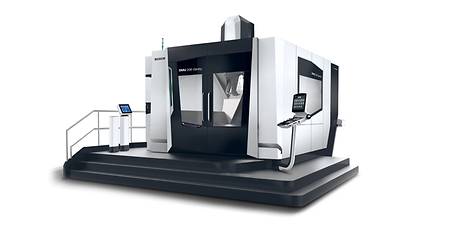 DMU 200 Gantry:
5-axis machining with up to 30,000 rpm and optional technology integration
The DMU 200 Gantry from DMG MORI impressively combines the machining of large components and maximum dynamics. Users benefit in the aerospace and automotive industry as well as in model making and the energy sector. With the 5-axis machining of up to 30,000 rpm and optional ULTRASONIC or LASERTEC technology integration, more complex components weighing up to 10,000 kg made of aluminium or composites as well as welded components can be machined economically. The machine can be easily loaded from the top with a crane. The low gantry design of the DMU 200 Gantry enables optimum utilisation of the work area. With a footprint of no more than 4,300 x 5,400 mm, the machine achieves travel paths of 2,000 x 2,000 x 1,200 mm, with which DMG MORI is successfully complementing its product range between the DMF and the DMU P series. In addition, the ratio of the large work area of 2.000 x 2.000 mm to less than 24 m² footprint convinces customers.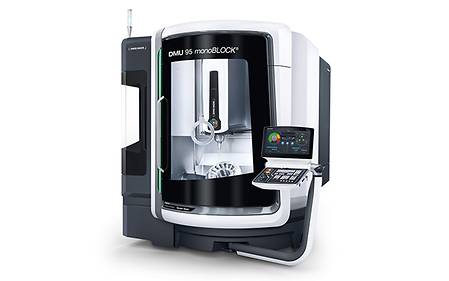 DMU 95 monoBLOCK:
Productive machining solution with monoBLOCK basis
With 950 mm traverse on the X-axis, a 20,000 rpm speedMASTER motor spindle with 36 month warranty without any hourly limit, a NC swivelling rotary table, and a tool magazine with 60 pockets, the DMU 95 monoBLOCK machines offer top features from the ground up for efficient 5-axis simultaneous machining in die & mold, aerospace, or energy. On a footprint of 12.3 m² workpieces up to 1,040 mm in diameter and 1,000 kg in weight can be machined. The working area can also be loaded with a crane from above without difficulty. Three different 3D control systems including CELOS from DMG MORI with 21.5" ERGOline Control with Operate 4.7 on SIEMENS 840D solutionline or HEIDENHAIN TNC 640 as well as the integrated MPC (Machine Protection Control) round off this unique 5-axis complete solution.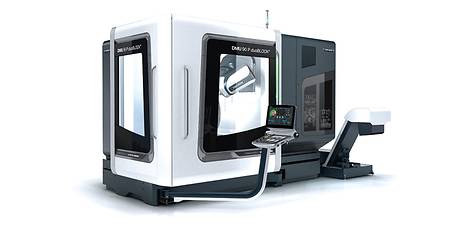 DMU 90 P duoBLOCK:
Heavy-duty machining with an attractive package price
Applications in tool and mould making as well as in general mechanical engineering call for investment in reliable, high-performance production equipment. In this field DMG MORI offers the attractively priced DMU 90 P duoBLOCK. 5-axis machining of the highest level is the trademark of the fourth generation of the successful duoBLOCK series. Outstanding features here include the highly stable design of the universal machines, long-term accuracy and highest precision with up to 4 μm positioning accuracy even in the standard version. With its DMU 90 P duoBLOCK, DMG MORI offers a machining centre that is designed as a package machine with a high-performance motor spindle, space for 60 SK50 tools and IKZ coolant unit and guarantees an economical entry into heavy-duty machining. With an X-axis travel of 900 mm and workpiece weight of 1,800 kg, it outperforms the smaller DMU 80 P duoBLOCK. Where its technical equipment is concerned, DMG MORI has concentrated on heavy-duty machining and offers the DMU 90 P duoBLOCK as an appropriately equipped package machine.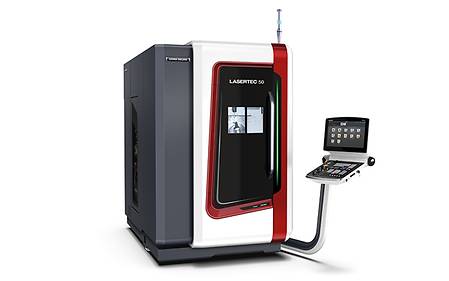 LASERTEC 50 Shape:
5-axis machining of complex carbide tools using an ultra-short pulse laser
Thanks to its highly compact, stable design, in combination with the high-performance ultra-short pulse laser, the LASERTEC 50 is particularly suited to demanding 5-axis machining work involving the production of complex prototypes and special tungsten carbide workpieces. This means even surface finishes of Ra < 0.2 μm can be achieved in tungsten carbide tools. The LASERTEC 50 Shape is available with a 20 watt femtosecond laser. Its clearly structured working area with optimal workpiece accessibility measures 500 x 500 x 700 mm with a table load of 14 kg in 5-axis machining. Rapid traverse speeds of up to 60 m/min and an linear drives with an acceleration of 1 g ensure dynamic machining. A CCD camera and 3D measuring probe allow fast setup, whereas the SIEMENS 840D solutionline with CELOS offers user-friendly programming.