04/15/2019
CIMT 2019 - Automation
More value creation through integral automation solutions
With flexible workpiece handling and palette automation systems, DMG MORI supports its customers on their path towards autonomous manufacturing.

An intelligent combination of machine tool and automation solution
Automation solution for all DMG MORI machines

Production plants supply the machine and the automation system from a single source
Hardware and software – perfectly coordinated

The range of services extends from standard automation and customer-specific automation solutions to turnkey solutions

Robo2Go 2nd Generation: Flexible automation, simple to program

GX07: space-saving gantry loader


MATRIS: Versatile modular workpiece handling


RPS: High-capacity compact rotary pallet storage system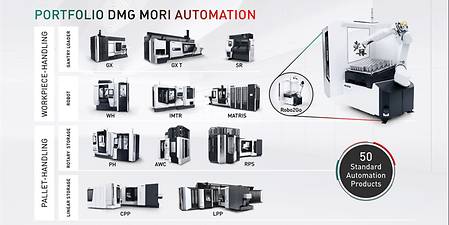 Automated machines are crucial components of a digital factory and therefore an integral part of intelligent and networked production. DMG MORI sees automation in this way as a strategic future-oriented field. Like all plants in the group, the production plant in Tianjin also assumes an important role in the development and implementation of automation solutions. Its portfolio ranges from technical consultations and budgeting to possible modifications to machines in use and on to include installation and commissioning. The experts in Tianjin also assume other optimizations, the tooling and teaching of robots, so customers receive a complete automation solution from a single source. DMG MORI will demonstrate its automation expertise at the CIMT using the examples of a CTX beta 800 TC with Robo2Go, an ALX 2500 with a GX 07 gantry loader, a CMX 1100 Vc with the MATRIS workpiece handling system and an NHC 4000 equipped with a rotary pallet storage solution.

Designing user-specific automation solutions requires a high degree of flexibility and experience. Expertise in this field is to be found directly in the plants at DMG MORI, as is also the case in Tianjin. The required flexibility is based on modular building blocks consisting of production cells and systems, which can be configured and adapted individually. DMG MORI also has a holistic approach to the design of automation solutions that considers the entire value creation chain and so ensures the system can be integrated ideally into the process.​​​​​​​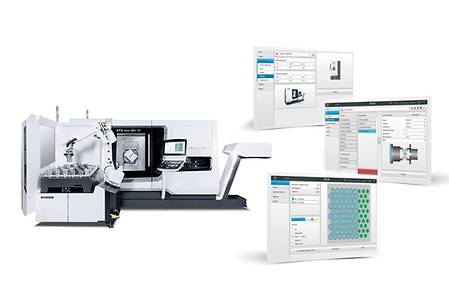 Robo2Go 2nd Generation: flexible automation, simply programmed

DMG MORI developed the Robo2Go 2nd Generation as a flexible robotic automation for the turning centers of the CLX and CLX series as well as the turn & mill complete machining centers of the CTX TC series. DMG MORI will be showcasing the robot at the CIMT on a CTX beta 800 TC. Thanks to its new software, the second generation can be operated intuitively. The processes can be created quickly and simply with the Robo2Go 2nd Generation based on predefined program modules and even without any knowledge of robot programming. This means that teaching a new workpiece takes less than five minutes, making the Robo2Go 2nd Generation an ideal and flexible solution for small and medium-sized batches.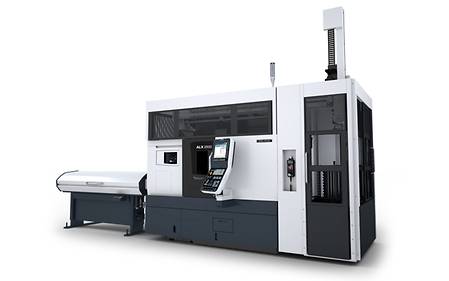 GX 7: Space-saving gantry loader
DMG MORI will be demonstrating the benefits of the GX 7 gantry loader at the CIMT on an ALX 2500. On the one hand this workpiece handling solution is extremely compact and space saving, on the other thanks to its integration in the machine control it is easy to program and setup. Its flexibility is also reflected in the different peripheral equipment, such as washing, measuring or marking, that can be connected. The workpiece magazine of the GX 7 is available with 14, 20 or 26 pallet tables, maximum workpiece weight per pallet is 35 kg and a diameter of up to 150 mm depending on the version. Travel speeds of 180 m/min in the X-axis and 200 m/min in the Z-axis make the GX 7 a fast and therefore also productive automation solution.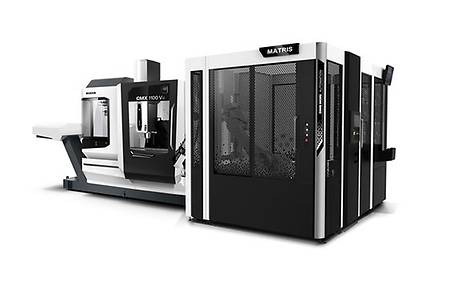 MATRIS: Versatile modular workpiece handling
DMG MORI will be presenting its MATRIS workpiece handling system at the CIMT on a CMX 1100 Vc. Depending on the application it can be equipped with different grippers and can be combined with standardized peripheral modules for washing, measuring or marking. The structured design of the robot programs and teach functions enable a fast start in serial production. In addition, the use of MAPPS connected makes maintenance and operation easier. Maximum workpiece weight is 20 kg with workpiece sizes up to ø 150 x 120 mm. There is also space available for 14 pallets. MATRIS has an additional impressive function when combined with the CMX 1100 Vc: it can load vertical machining centers with oversize tools. DMG MORI also has the smaller MATRIS mini in its range, a very cost-efficient miniaturized form of the MATRIS for an even more compact layout and shorter commissioning times.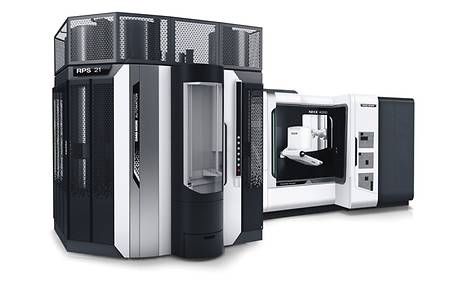 RPS: High-capacity compact rotary pallet storage system
With its rotary pallet, storage system DMG MORI offers an automation solution that is with up to 21 pallet stations on two or rather three levels for space-saving purposes and a setup station. The NHC 4000 that the machine tool manufacturer produces in Tianjin will be shown at the CIMT with the RPS standard version for five pallets. Maximum workpiece weight in the case of the NHC 4000 is 400 kg and the maximum workpiece size ø 630 x 900 mm. Control of the RPS is effected directly via the machine control with the aid of the integrated Pallet Manager software.