04/15/2019
CIMT 2019 - ADDITIVE MANUFACTURING
Innovative machine portfolio and intelligent software solutions for powder bed and powder nozzle technology
Customized manufacturing solutions: As a full-liner for the additive manufacturing of metal parts DMG MORI combines its LASERTEC 3D and LASERTEC 30 SLM models with conventional CNC machines.
Unique: Four process chains in ADDITIVE MANUFACTURING and metal cutting finishing from a single source
LASERTEC 3D hybrid / LASERTEC 3D:

Success on the market since 2013 with laser deposition welding using the powder nozzle technique
Multi-material applications and graded materials in one component
LASERTEC

3D hybrid

: Finished part in a single setup

LASERTEC 30 SLM:

LASERTEC 30 SLM 2nd Generation: Additive manufacturing in a powder bed with a 300 x 300 x 300 mm build volume
LASERTEC 12 SLM Four-times more accurate than the industrial standard
Unique rePLUG powder module system for fast material change in less than two hours
Open system for individual adaptation of all process parameters and free choice of material manufacturers
OPTOMET as an intelligent software for calculating all process parameters

CELOS: Integral software solution from CAM programming through to machine control

Additive Manufacturing Consulting for the efficient transfer of knowhow during technology introduction and all process questions

DMQP: New category "Materials" opens up new diversity in additive manufacturing processes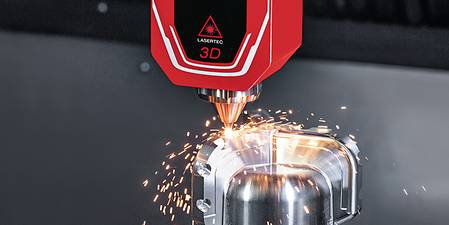 As a global full-liner with over 20 years of experience in the ADDITIVE MANUFACTURING of metal parts, DMG MORI represents innovative manufacturing technologies and a worldwide service. The portfolio includes four complete process chains for additive processes using powder nozzle or powder bed technologies. The offer that includes the LASERTEC 3D hybrid, LASERTEC 3D and LASERTEC SLM series has been expanded recently by DMG MORI to include the high-precision LASERTEC 12 SLM. The innovative OPTOMET software rounds off the offer with intelligent parameter control.
Potential of additive manufacturing

The steady growth of additive manufacturing technologies is alerting designers to the potential of this method in the construction of components and tools. The quality of workpieces produced with additive methods is also increasing as is machining speed. This has resulted in consistently positive forecasts: ADDITIVE MANUFACTURING expected to increase in a high double-digit range. "In particular as a complement to conventional production methods powder nozzle and powder bed processes offer expedient and extremely promising possibilities", explains Patrick Diederich, responsible for ADDITIVE MANUFACTURING at DMG MORI.

With its broadly diversified machine portfolio in both machining and ADDITIVE MANUFACTURING DMG MORI's approach to this topic is clearly holistic. Patrick Diederich goes on to tell us: "If additive manufacturing is to become established on the shop floor, it is essential to integrate this method into existing production systems and process chains – especially where successfully progressing from prototype and small series production to serial production is concerned."
Four process chains with ADDITIVE MANUFACTURING and machining from a single source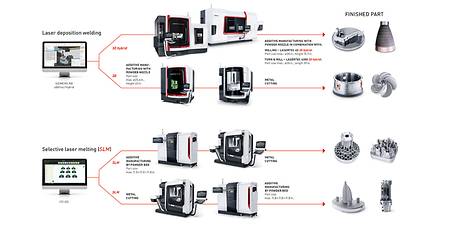 DMG MORI has performed successfully on the market for over five years now with the combination of laser deposition welding and metal-cutting machining on the machines of the 3D hybrid series. As the most widely used exponent in this series, the LASERTEC 65 3D hybrid is ideally suited for the additive manufacture of complex prototypes and small series parts, for the repair and coating of components. Next comes the LASERTEC 65 3D, which is geared solely towards laser deposition welding as a complement to existing machining centers on the shop floor. The LASERTEC SLM series expands the portfolio to include the powder bed method using selective laser melting. Thanks to the combination of additive manufacturing technologies with conventional CNC machines DMG MORI has realized four individual needs-based process chains.
LASERTEC 3D hybrid:
Additive manufacturing using a powder nozzle and conventional machining in a single set-up
The LASERTEC 3D hybrid and LASERTEC 3D machines are available for users in the field of laser deposition welding with a powder nozzle. The first combine additive manufacturing and conventional machining in a single set-up. The LASERTEC 65 3D hybrid is designed for the 5-axis simultaneous machining of parts measuring up to ø 500 × 400 mm. The LASERTEC 4300 3D hybrid enables 6-sided turn & mill operations for workpieces with sizes up to 660 × 1,500 mm. Designed for the complete machining of demanding geometries the LASERTEC 3D hybrid machines enable flexible changeover between laser deposition welding using a powder nozzle and mill or turn operations.
LASERTEC 65 3D:
Four complete process chains for powder bed and powder nozzle technology
A second process chain based on the powder nozzle includes the compact LASERTEC 65 3D for 5-axis laser deposition welding and a machining centre for final finishing of the additively manufactured components. This makes the LASERTEC 65 3D the ideal addition to the machines already installed on the shop floor, a combination that ensures optimum utilisation of production capacity. With travel paths of 735 × 650 × 560 mm the work area of the LASERTEC 65 3D is around 40 percent larger than the hybrid version and its footprint is about 45 percent smaller.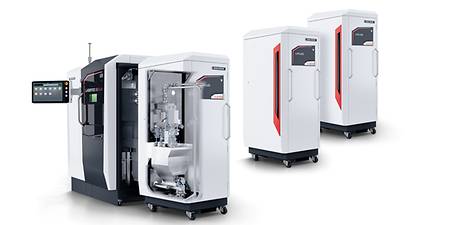 LASERTEC 12 SLM:
Two process chains with additive manufacturing in the powder bed

DMG MORI offers the LASERTEC SLM series for additive manufacturing in the powder bed (Selective Laser Melting). The LASERTEC 30 SLM 2nd Generation has a 300 × 300 × 300 mm build volume and with its Stealth design offers optimum user comfort, while the new LASERTEC 12 SLM excels with its high above-average accuracy. With a focal diameter of just 35 µm it is four-times more accurate than the current industrial standard. This allows a significantly finer resolution of the structures thus enabling far thinner wall thicknesses. Standing at 125 x 125 x 200 mm the build volume of the powder bed machine is unique for this precision class.
In the market of selective laser melting both models, convince with flexibility, productivity, and process security. One of the highlights is the flexible powder module rePLUG. It allows changing materials in less than two hours. The closed powder circuit guarantees a high degree of safety during work and process autonomy. The ergonomic stealth design of both machines additionally reflects what DMG MORI has been pursuing continuously for many years. Work is supposed to become easier for users by a better accessibility of important components. This also make work more efficient in the long term.
Two process chains can be realized with powder bed technology: On the one hand, workpieces produced by means of additive manufacturing can be finished to the required surface quality on a milling machine such as the 5-axis DMU 50 3rd Generation. On the other, the LASERTEC SLM machines can finish previously milled base plates and bodies without any need for support structures.
The integral software solution for CAM programming and machine control CELOS rounds off the process chains with the LASERTEC SLM series. The coordinated and uniform user interface enables parts to be programmed externally with minimum time expenditure and transferred to the machine. Thanks to the efficient flow of information and intuitive operation CELOS ensures optimum processes in the pre- and post-processing of additively manufactured parts. In addition the open system of the LASERTEC SLM ​​​​​​​series enables individual adjustment of all machine settings and process parameters, right through to include an unlimited choice of material manufacturers.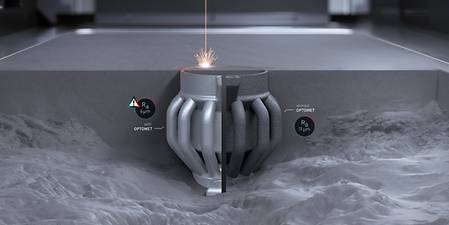 OPTOMET – first time right: Intelligent control of all process parameters

With a share of 30 percent in the Indian software developer INTECH DMG MORI has gained access to the key software and technological expertise for generative production. As a pioneer in the field of 3D print in India, the company has specialized in ADDITIVE MANUFACTURING and the related software solutions – including the artificial intelligence in this field. A first result of this collaboration is the new OPTOMET software, which INTECH offers for the LASERTEC SLM series from DMG MORI. It has self-adjusting and learning algorithms that calculate the required parameters of the SLM process in advance within minutes. This means layer thicknesses, for example, can be calculated freely, which in turn enables a faster and therefore also more productive build. OPTOMET also has a material database that allows users to use material from all manufacturers without having to test them in advance. The open system also allows independent expansion of the database using the customer's own experiments. OPTOMET is also able to adjust parameters in such a way that material properties, such as hardness, porosity and elasticity, can be changed or optimized.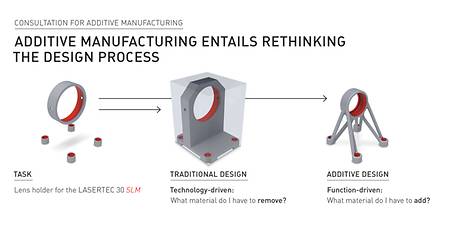 AM Consulting for fast technology introduction

Additive manufacturing is the perfect complement to conventional machining and opens up completely new freedoms in design. The potential of this technology is already recognized in many companies, but often they do not have the necessary knowledge. With its new consulting approach the DMG MORI Academy pursues the goal of supporting companies in building up the necessary knowhow and establishing the process chains linked with the LASERTEC 3D and LASERTEC SLM series. The consultancy portfolio encompasses services along the entire process chain of additive manufacturing, including the AM Quick Check as the perfect introduction to exploiting this potential.
DMG MORI Qualified Products
New category "Materials" opens up new diversity in additive manufacturing processes

The DMQP program, that has been tried and tested for many years in conventional machining, is now also being used in additive manufacturing. The certified machine peripherals and technology accessory components have now been expanded to include the fifth DMQP category "Materials". This opens up new diversity in the choice of powder suppliers and ensures consistent powder qualities with the desired material properties.