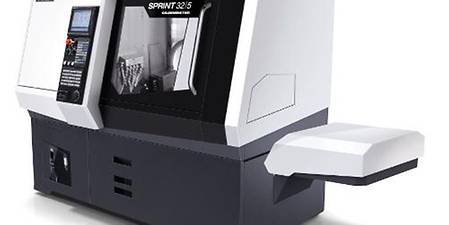 DMG MORI has now expanded its series of automatic lathes equipped with a SWISSTYPEkit to include the SPRINT 32|5 and SPRINT 32|8 for bar material with diameters of up to 1.26 in. Their capability of machining both short and long components with an equal degree of excellency make the SPRINT models with SWISSTYPEkit the machines of choice in the DMG MORI range. The machine tool manufacturer presented the SPRINT 32|5 and the SPRINT 32|8 as an expansion option with two additional axes at the EMO in Milan. DMG MORI will show this option at the Innovation Days in Chicago from May 17 – 20, 2016 as a US premiere. With these new machines, GILDEMEISTER Italiana has expanded its portfolio of automatic lathes to include an additional size for bar material with diameters up to 1.26 in. thus giving DMG MORI customers an even greater choice of manufacturing solutions for minimum cycle times.


SPRINT 32|5

Following in the footsteps of the smaller SPRINT 20|5, the SPRINT 32|5 and SPRINT 32|8, as versatile, top-performance automatic lathes, fit perfectly into the GILDEMEISTER Italiana product family. With a footprint of just  30.1 ft2, the two new models are the most compact machines in their class while at the same time offering a large work area for workpieces of up to ø 1.3 in. x 23.6 in.

The two new SPRINT models derive their versatility from the proven SWISSTYPEkit, which enables both short and long turning on one machine – with setup times of less than 30 minutes. To achieve this, the spindle stroke is lengthened from 3.9 in. to 9.4 in. An optional quick tool-change system reduces setup times by another 20 percent.

The SPRINT 32|5 comes with 5 linear axes and a C-axis on the main spindle and has 2 independent tool carriers with space for up to 22 tools. There are
4 pockets available for powered tools for radial machining on the main spindle.