07/22/2016
Innovation Days Chicago 2016 - CTX gamma 2000 TC
Complex complete machining with compact turning-milling spindle
With the CTX gamma 2000 TC, DMG MORI will be presenting one of its most recent turn & mill machining centres of the second generation with new turning/milling spindle compactMASTER at the Innovation Days.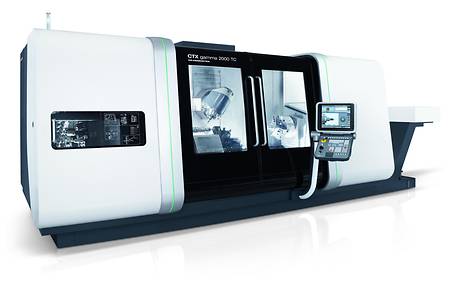 The trend towards complete machining continues unbroken.On the one hand, the diversity of products and variants is growing across a multitude of different industries and this in turn leads to a reduction in lot sizes on an increasingly wider scale. In view of such conditions, complete machining in a single setup quickly becomes the only economic alternative. On the other hand, the workpieces are getting more and more complex while at the same time placing higher demands on precision. Adding to this, global competition is aggravating the earnings situation in manufacturing plants. DMG MORI has been revolutionizing turn-mill complete machining with its turn & mill machines in the CTX TC series ever since their first presentation eight years ago. These machining all-rounders have now entered their second series. With the CTX gamma 2000 TC, DMG MORI will be presenting one of its most recent turn & mill machining centres of the second generation with the new turning/milling spindle compactMASTER at the Innovation Days in Chicago from May 17 – 20, 2016.

DMG MORI now producing the smaller CTX beta TC already in its second generation, the larger sister models CTX gamma 1250 TC and CTX gamma 2000 TC were also further developed for the EMO 2015. The outstanding features of these two models are the X-travel, which has increased by 5.9 in.to now 31.5 in., and the compactMASTER spindle of the B-axis, developed together with the Japanese engineers as a cooperation project. Its unique selling point above all is the torque increased by 120 percent to162.3 ft lbs. 

With a diameter of 8 in., the length of the compactMASTER spindle has been reduced by 2.8 in. so that it now measures only 17.7 in. – and all this with a 120 percent higher torque. The interplay of the 5.9 in. larger X-axis (-1 / +30.5 in.) and the 0.8 in. longer Y-travel of ± 8.3 in. brings an enormous gain in freedom for users. It means, for example, that radial machining of workpieces with maximum diameters of 27.6 in. is possible with 6.7 in. long tools (with the B-axis in a vertical position). The 2nd generation of the CTX gamma TC also has advantages where horizontal machining is concerned: workpieces measuring up to a good 11.8 in. in length can now be completely drilled out horizontally or hollow turned with no problem at all on the CTX gamma 2000 TC. The respective turning length is 80.7 in.

The core element of the two new CTX gamma TC models is still the B-axis with its swivel angle of ±120°, which is mounted on a highly stable travelling column and ensures milling performance right through to the field of 5-axis simultaneous machining. The machine concept has been radically revised with just such stability and precision in mind. The machines now have an integral thermal concept. This includes among other things integrated bed cooling as well as cooling of the linear guides of the travelling column, the spindle motors and the drive of the B-axis. Combined with the MAGNESCALE magnetic measuring systems, the thermal displacement of the machine is now ≤ 10 µm.

In addition, DMG MORI has completely redesigned the travelling column. The U-shaped basic construction with 3+2 guide shoes in the Z-axis increases stability enormously, a feature that has a great impact on machining with the Y-axis. Linearity has been improved here by over 60 percent to now stand at ≤ 2 µm. Another indication of the innovative character of the machine is the up to 65 percent faster feed rate of 1,968.5 ipm in all axes. It can also be optionally equipped with a linear drive in the Z-axis, which with 1 g acceleration increases the feed to 2,362.2 ipm and ensures maximum long-term accuracy; including a 5-year warranty granted for the linear drive.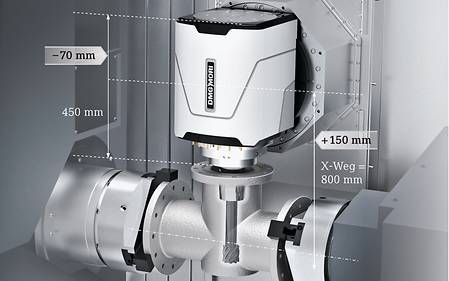 | | | |
| --- | --- | --- |
| |                        | With regard to other equipment features, the two world premieres are equipped with 36 tool pockets in their standard version. This capacity can be increased optionally to 80, 120 or 180 tools. Where tool holders are concerned, the customer has the choice of a standard HSK-A63 or a Capto C6, Capto C8 or HSK-A100. In addition, the optional counter-spindle opens up the possibility of up to 5-axis simultaneous 6-sided complete machining even for the most complex workpieces. Equipping the two 2nd generation CTX gamma TC models with the optional lower turret as a second tool holder for 12 powered tools with up to 10,000 rpm transforms them into veritable 5-axis production centres. Optional steady rests up to SLU 6 with maximum clamping diameters of 19.7 in. can be used instead of the second tool mount for the machining of shafts. |
As turn & mill machining involves extremely complex processes, DMG MORI also focuses its development work on the operation and programming of the turn-mill equipment. Exclusive technology cycles for, among other things, 5-axis machining in the field of application-related shop floor programming have already simplified the work involved enormously. Parameterized context menus enabling simple input of the parameters in the dialog box as well as pre-defined and easy to learn input screens mean that advanced programming skills are hardly required any more, not even in the mill & turn field. Another example in this context is the new DMG MORI gearSKIVING cycle. This enables eight times faster and top quality production up to DIN 7 of both straight-cut as well as helical-cut outer and inner spur gears and spline shaft gearing compared to gear shaping. Even toothing on shoulders can be realized without any damage to the projecting edge, while surface structures for low-noise gears are possible virtually at the press of a button.

Where operation of the turn & mill machining centres is concerned, DMG MORI has provided the machines with enormous system intelligence with CELOS and the many different CELOS Apps; this relieves the operator of many problems as well as guiding him/her through the daily work by means of stored job order and work plans that can be visualized. Both young and old quickly learn to manage the dialog-based App operation and intuitive CELOS structure. In addition, new employees are very quickly able to operate the machines without any great need of training. CELOS also offers the possibility of using a SMARTkey to organize individual access rights in such a way that only selected CELOS Apps are made available to employees in accordance with their qualification.

This makes CELOS a future-proof key for transition to the era of Industry 4.0. With CELOS, job order, process and machine data can be managed, documented and visualized via a common user interface for workshop and office. In addition, CELOS enables an open exchange of information with higher-level network structures via defined interfaces and as a result complete integration of a DMG MORI machine in the company organization.