04/09/2018
CCMT 2018
Digital workflows for the production of the future
At CCMT 2018 DMG MORI will demonstrate end-to-end strategies for digitisation, integral automation solutions and innovative manufacturing technologies as well as four China premieres.
Digital Factory: consistent CELOS Workflows for digital manufacturing in the age of Industry 4.0
Automated production: integral solutions for the production of the future
Technology Excellence: more than 50 years of experience in Aerospace
ADDITIVE MANUFACTURING: three complete process chains for powder bed and powder nozzle

China premieres: LASERTEC 30 SLM, CLX 350, DMU 95 monoBLOCK, NVX 5080 2nd Generation
Digital factory, integral automation solutions, ADDITIVE MANUFACTURING and technology excellence – DMG MORI will be showcasing its complete range of manufacturing competence at CCMT 2018 in Shanghai from 9th to 13th April 2018 in the Hall N1, booth 102. The exhibition program will showcase 10 high-tech machines, including integral system solutions for the production of the future plus digital workflows and innovative production processes such as ADDITIVE MANUFACTURING. Among the exhibited machine tools DMG MORI will present four China premieres: the LASERTEC 30 SLM for additive manufacturing in the powder bed, the universal turning centre CLX 350, the DMU 95 monoBLOCK for 5-axis simultaneous machining, and the high-precision vertical machining centre NVX 5080 2nd Generation.
DMG MORI Path of Digitization

The digital transformation in machine tool manufacturing will also be one of the key issues at CCMT. The presentation on the exhibition will consistently pursue the Path of Digitization. The digital transformation follows a bottom-up strategy from the CELOS machine on to CELOS manufacturing and right through to the digital factory.

End-to-end solutions for the digital factory

First presented at the EMO, digital workflows for data-supported production planning and automated tool management have meanwhile undergone fine tuning. They will be available for customers as CELOS apps as early as the first half of the year. Other digital focus topics include the continuous expansion of the monitoring possibilities for optimising processes and production as well as the digital products and services. Embedded in the new manufacturer-neutral IIoT platform ADAMOS, DMG MORI offers its customers and suppliers integral and open end-to-end digitisation solutions.
Automated production: Integral solutions for the production of the future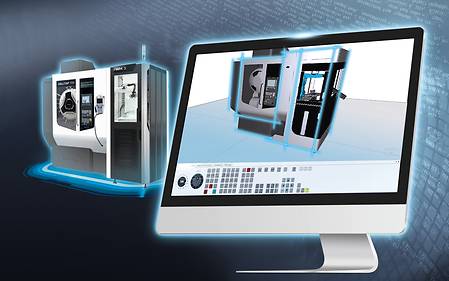 Automation solutions are gaining in importance in efficient manufacturing. DMG MORI supports this development by ensuring all machines from its diverse portfolio can be delivered from a single source ex works as either a standard automation or as a customised automation solution. In order to strengthen the development of future-oriented automation solutions the innovation leader concentrates their knowhow with a long-standing partner: DMG MORI AKTIENGESELLSCHAFT and HEITEC AG are founding the joint venture "DMG MORI HEITEC". One in four new machines from DMG MORI is already provided with an automation solution. In future, every machine shall be fitted with automation based on a modular system. By modular-based compatible solutions, DMG MORI HEITEC will supply customers with an integrated automation concept. During CCMT DMG MORI will be showing the NLX 2500SY | 700 with a robot and the horizontal machining centre NHC 4000 with the RPP as examples for this field of expertise.
ADDITIVE MANUFACTURING: Three complete process chains for powder bed and powder nozzle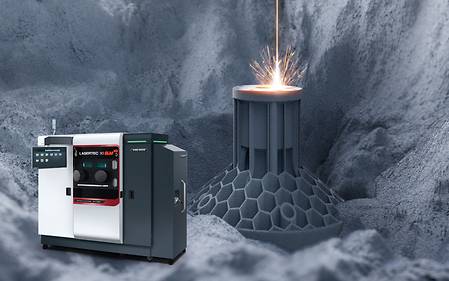 DMG MORI has been successful on the market for over four years now with its integral combination of laser deposition welding and machining on the machines in the LASERTEC 3D hybrid series. This is the basis on which DMG MORI has long established itself as a full-liner in additive manufacturing and with which it has rounded off its portfolio. While the LASERTEC 65 3D serves to supplement an existing machine park of machining centres where it is used solely for laser deposition welding, the LASERTEC SLM series expands the range to include the powder bed method using selective laser melting.

China premiere: LASERTEC 30 SLM
Complete solution for ADDITIVE MANUNFACTURING in the powder bed
On the market for additive systems for selective laser melting, the LASERTEC 30 SLM impresses with its high level of process reliability and efficiency. Its flexible powder module enables a powder changeover in less than two hours. With its CELOS SLM DMG MORI offers an integral software solution for CAM programming and machine control from a single source and with a uniform user interface. Thanks to the coordinated and uniform user interface components can be programmed and the data immediately transferred to the machine in the shortest possible time – regardless of the complexity of the parts.
DMG MORI Technology Excellence: 50 years of experience in Aerospace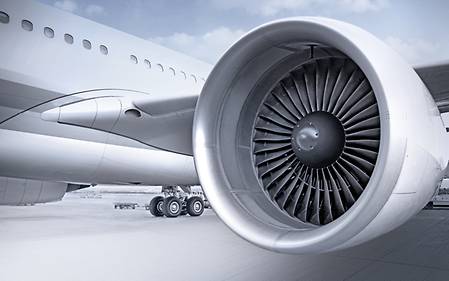 DMG MORI bundles its entire manufacturing competence in the aerospace sector. In its respective DMG MORI Technology Excellence Centers the machine tool manufacturer offers its customers far more than just high-tech machines and performance. Experienced experts from DMG MORI are being involved in the future projects of customers at a very earlier stage. This means path-breaking production processes and complete turnkey solutions can be developed in close collaboration with the customers. As a full-service provider DMG MORI supplies the entire spectrum of required components with our machines for manufacturing the most sophisticated and complex workpieces in the aerospace industry.

China premiere: CLX 350 Y-axis, counter spindle and innovative multi-touch control
With the CLX 350 DMG MORI now offers an attractive, high-performance universal turning centre in China. It is available with an extensive range of equipment options that will impress users in numerous industries. Both at the hardware level as well as when it comes to control and software features, DMG MORI continues to further develop the successful models, which are manufactured in Poland and Italy. This includes 3D controls with solutions from SIEMENS and FANUC, a Y-axis and a counter spindle as well as the gantry loader GX 6, an intelligent automation solution.
China premiere: DMU 95 monoBLOCK Productive machining solution with monoBLOCK basis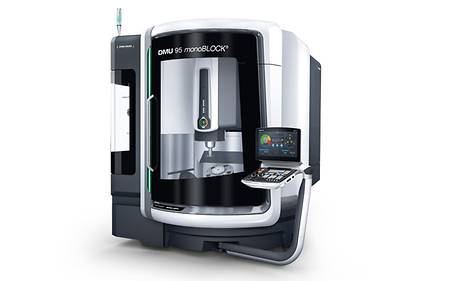 Die & mold, aerospace, or energy – with 950 mm traverse on the X-axis, a 20,000 rpm speedMASTER motor spindle with 36 month warranty and a tool magazine with 60 pockets, the DMU 95 monoBLOCK machines offer top features from the ground up for many industries. On a footprint of 12.3 m² workpieces up to 1,040 mm in diameter and 1,000 kg in weight can be machined. The working area can also be loaded from above without difficulty. Three different 3D control systems and the integrated MPC (Machine Protection Control) round off this unique 5-axis complete solution.
China premiere: NVX 5080 2nd Generation High-precision vertical machining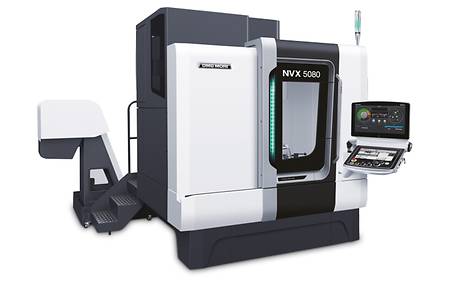 The NVX 5080 2nd Generation is a vertical machining centre that achieves outstanding accuracy, a meticulous attention to details and technical ingenuity. Offering unparalleled high-precision machining, the NVX 5080 2nd Generation can handle a wide variety of workpieces in any industry, allowing itself to be the ideal choice for customers machining various kinds of workpieces in different industrial sectors like die & mold and automotive. The machine structure of NVX 5080 2nd Generation including guideways has been thoroughly optimized to achieve high accuracy and high rigidity. The customer requests towards the conventional model are fully incorporated in the structure, which has dramatically evolved the machine into a contributor to higher productivity.