09/23/2021
PRE-EMO Show in Pfronten 2021 - Automation
Automated manufacturing throughout the entire process
Autonomous manufacturing from A to Z – with the introduction of the TH-AGV, DMG MORI enables process automation starting with tool handling.
Holistic automation portfolio across the entire product range
TH-AGV: Autonomous transport of up to 16 molds
PH Cell: Modular automation concept for up to 40 pallets
Robo2Go: Innovative robot automation for lathes and machining centers
MATRIS: Modular workpiece handling for components weighing up to 70 kg
With a wide range of innovative automation solutions, DMG MORI enables its customers to produce autonomously and economically in almost every application. As a pioneer in this field, DMG MORI offers 54 automation solutions completely from a single source. The machine tool manufacturer will also present innovative developments for autonomous manufacturing at the PRE-EMO Show. With the TH-AGV, DMG MORI is showing another member of its family of automated guided vehicles. In addition, the exhibition includes automation solutions such as the PH Wheel for up to 125 workpieces on less than 9 m², the MATRIS, a workpiece handling system for components weighing up to 70 kg, the PH Cell, the highly flexible Robo2Go and the RPS 9, a round pallet storage system for nine pallets.
TH-AGV: Autonomous transport of up to 16 tools
Driverless transport systems enable efficient work between man and machine. After the presentation of the PH‑AGV for the autonomous transport of pallets, DMG MORI now presents another AGV (Automated Guided Vehicle): The TH-AGV allows the driverless transport of up to 16 tools to the respective machine. Eight tools are loaded or unloaded simultaneously by the AGV autonomously and in parallel with machining time at the Tool Loading Station (TLS) of the machine.  In combination with the wheel magazine, the eight tools are transferred from the TLS to the outer tool wheel during machining. It is designed for tools weighing up to 50 kg and 400 mm in length. They are picked up in two rows of eight tools each.
The TH-AGV runs completely without guide rails and tracks. Laser navigation ensures safe transport through production. The same navigation technology is used here as on the PH‑AGV, so that both transport systems are compatible. Mixed operation with manual vehicles and workers is also possible. Acoustic signal transmitters, turn signals and a vehicle display for event messages allow easy interaction between man and machine.
PH Cell: Modular automation concept for up to 40 pallets
The compact PH Cell offers maximum flexibility. The modular design allows an individual number of pallets in different sizes. DMG MORI offers the PH CELL for a wide range of machining centers, starting with the models of the monoBLOCK series. With a footprint of 10.7 m², the PH CELL is a space-saving automation solution that allows highly autonomous production even in tight production spaces. The pallet system is modular in design and offers maximum flexibility. As a basic version with one rack module, up to twelve pallets 500 x 500 mm, 16 pallets 400 x 400 mm or up to 20 pallets 320 x 320 mm – distributed over three or four shelves – are possible. The system can also be expanded with a second shelving module to provide up to 40 pallet storage locations. The second shelving module can also be retrofitted. The shelf height can be easily adjusted. Each shelf can support up to 900 kg. The maximum transfer weight is 300 kg. In addition to the normal setup station, the modular system also includes a version that can be rotated in 90° steps for improved ergonomics during setup parallel to production.
Robo2Go: Innovative robot automation for lathes and machining centers
The Robo2Go is considered a highly flexible automation solution for the production of small to medium batch sizes. It can be commissioned on the lathes and turn-mill centers of the CLX, CTX and CTX TC series as well as NTX, NVX and NLX models. Since 2020, Robo2Go can be combined with machining centers such as the DMU 50 3rd Generation or DMC V machines – also with HEIDENHAIN controls. Users can operate the robot automation quickly and easily with the help of predefined program blocks, even without robot programming knowledge. Teaching a new workpiece thus takes less than five minutes.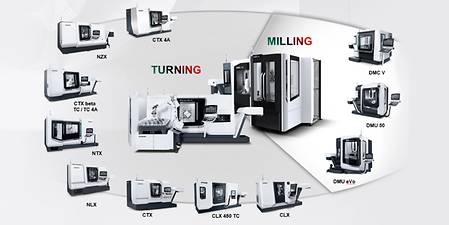 MATRIS: modular equipment diversity
The MATRIS workpiece handling for components weighing up to 70 kg enables individual adaptation to automation requirements. It can be equipped with different grippers and can be combined with standardized peripheral modules for washing, measuring, storing or visualizing, among other things. The structured structure of robot programs and the teach functions allow a quick start to series production. No robot programming knowledge is required, as everything is programmed on a CELOS basis using cycles in dialog via input masks. The MATRIS controller is used to connect the various peripherals and also facilitates maintenance and operation. At the PRE-EMO Show in Pfronten, DMG MORI will be demonstrating MATRIS on the NVX 2nd Generation 5100. The modular automation is available for lathes of the NLX and NZX series, vertical machining centers of the CMX V (MAPPS) and NVX 2nd Generation as well as the NHX 2nd and 3rd Generation (MAPPS).
Broad automation spectrum from compact workpiece and pallet handling to larger rotary storage solutions
Beyond these examples, the exhibition portfolio in Pfronten includes more than ten automation solutions. Among others, the PH 150, the WH Cell and the RPS 9 exemplify the fact that the machine tool manufacturer offers almost every machine tool as an automated version – including CE certification for machine and automation. DMG MORI is thus serving a clear trend towards autonomous production, with which manufacturing companies can remain competitive in the long term.