07/25/2016
Preview AMB 2016
A glimpse into the future of machine tool construction
The leader of innovation in machine tool construction offers ideal ways of achieving digital transformation with its DMG MORI Software Solutions.
Traditionally DMG MORI showcases a cross-section of the most innovative technologies when the AMB opens its doors to trade visitors from all over the world. With around 30 exhibits from the fields of turning, milling and advanced technologies on an exhibition area of over 2,000 m² the machine tool producer will be giving visitors a glimpse into the future of production from 13th to 17th September 2016. The innovations on show during the trade fair will include the Robo2Go automation solution – this can be used on several machines without any knowledge of robots.

DMG MORI Software Solutions – Products and solutions for digital transformation
A key building block in DMG MORI's customer-oriented digitalisation strategy is the app-based CELOS system, that the machine tool manufacturer first presented around three years ago and which it has consistently continued to develop in a targeted manner ever since. Using this uniform user interface for machine and office PC, employees in shop floor and job scheduling can manage, document and visualise all job order, process and machine data. Thanks to its open architecture, CELOS allows the exchange of information with higher–level structures in addition to the impact it has in the shop floor area. So CELOS offers customers complete integration of their machines in the company organisation while simultaneously creating today the interface of metal cutting production in the cyber-physical production system of the future. The benefits in day-to-day operation are convincing: a 30 percent time saving in tooling times and 50 percent less time and effort for the calculation of technology values or the search for important information are just a few of the effects that can be achieved with CELOS. Customers also profit from the continuous further development of the CELOS system, because with every new release DMG MORI implements 50 enhancements. In addition, DMG MORI will be presenting ten new CELOS APPs at the AMB. These will include the new CELOS DEVELOPER APP, with which partners will be able to develop their own APP for the very first time.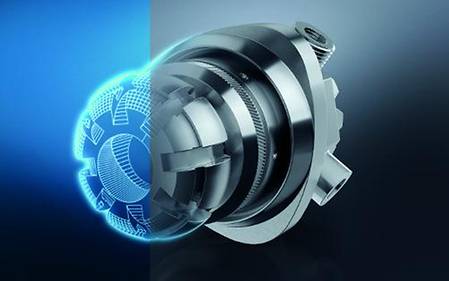 Workshop-oriented programming is still of great importance, especially in single item production and the production of small and medium-sized quantities – and it will remain just as important for a long time to come. Working with cycles is state of the art in this respect and the reason why standard cycles in turning, milling and drilling have long been part of the scope of performance of modern controls. Based on its decades of application experience DMG MORI has gone far beyond the standard and currently has 24 exclusive DMG MORI technology cycles for the fields of turning / turning-milling or rather milling / milling-turning in its portfolio. These enable operators in the workshop to programme even complex machining tasks themselves directly on the machine via a dialog using parameterised context menus up to 60% faster. Outstanding examples here include the machining of free-form surfaces using 5-axis interpolation or various cycles for gear cutting or gearwheel production. Other cycle highlights include the MPC (Machine Protection Control) for the protection of machines, workpiece and tool, the 3D quickSET toolkit  for checking and correcting the kinematic accuracy of 4 and 5-axis machines or the Application Tuning Cycle for the process-oriented tuning of feed drives in relation to the table load at the push of a button.

DMC 160 U duoBLOCK– maximum productivity in heavy-duty machining
DMG MORI has always responded to growing demands on components with future-proof CNC technology. The latest example of this is the new DMC 160 U duoBLOCK, which will be available as of this year's AMB. The 5-axis universal machining centre with pallet changer is based on the proven duoBLOCK principle and in its 4th generation offers 30 percent more stability and accuracy while at the same time reducing energy consumption by 30 percent. Innovative highlights include the new 1,800 Nm 5X-torqueMASTER gear spindle and a travel path in the Y-direction that has now been lengthened from 1,250 to 1,600 mm.

Heavy-duty machining is now part of routine work in the field of mechanical engineering generally – in the aerospace branch, for example, or the automotive industry for the production of chassis parts and engine blocks. In this respect the sturdy construction of the patented duoBLOCK concept offers the perfect basis for both productive and high-precision machining on the DMC 160 U duoBLOCK. Its extensive cooling measures in the machine bed and base plus its wide linear guides, drives and the spindle also boost the long-term accuracy of this universal machining centre. The pallet changer of the DMC 160 U duoBLOCK can handle workpieces weighing up to 4,000 kg, while travel paths of 1,600 x 1,600 x 1,100 mm mean the workpieces can also have extremely large dimensions.
2nd Generation DMC 210 U – productive heavy-duty machining with pallet changer
Maximum rigidity and long-term accuracy have always been the outstanding features of the portal machines from DMG MORI. The machine tool manufacturer has optimised these even further in the second general of this successful series. With a large cube-shaped work area and a high-performance spindle programme plus CELOS in the standard version, the new DMC 210 U is perfectly equipped for the rising demands on the market. Thanks to its numerous equipment options this machine, which will be available just in time for the AMB, is ideally suited for mechanical engineering in general and in particular for sectors such as tool and mould making and aerospace. The large cube-shaped work area with travel paths of 2,100 mm in the X and Y directions and 1,250 mm in the Z-axis offer ample space here.

The fast and innovative wheel magazine can hold up to 303 tools (SK50 / HSK-A100) with lengths of maximum 900 mm despite its minimum space requirement. The standard chain magazine has 60 tool pockets and offers the option of holding a 30,000-rpm pick-up motor spindle. With a torque of 1,800 Nm, 52 kW output and 8,000 rpm the 5X torqueMASTER is a special highlight among the other available spindles. Thanks to its extended swivel range and optimised interference contour, this gear spindle enables the heavy-duty machining of complex 5-axis components. In addition to its equipment and performance, DMG MORI has also improved the efficiency of the DMC 210 U thus reducing energy costs and making a significant contribution to environmental friendliness.

5-axis machining of the highest level is also the trademark of the fourth generation of the successful duoBLOCK series. Outstanding features here include the highly stable design of the universal machines, long-term accuracy and highest precision with up to 4 μm positioning accuracy even in the standard version. With its DMU 90 P duoBLOCK DMG MORI now presents a machining centre that will continue the triumphal march of the series. This latest model is designed as a package machine with a 430-Nm and 52-kW motor spindle, space for 60 SK50 tools plus an IKZ coolant unit and guarantees an economical entry into heavy-duty machining.
DMU 90 P duoBLOCK– heavy-duty machining with an attractive package price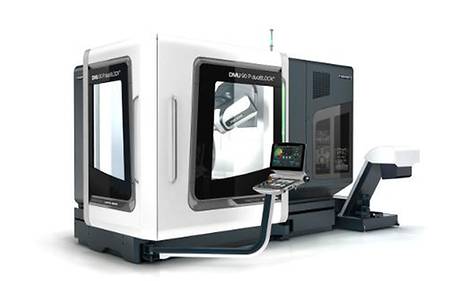 Applications in tool and mould making as well as in general mechanical engineering call for investment in reliable, high-performance production equipment. DMG MORI has included the attractively priced DMU 90 P duoBLOCK in its range with universal machining in mind. With an X-axis travel path of 900 mm and a workpiece weight of 1,800 kg, it outperforms the smaller DMU 80 P duoBLOCK. Where its technical equipment is concerned, DMG MORI has concentrated on heavy-duty machining and offers the DMU 90 P duoBLOCK as an appropriately equipped package machine.