09/15/2016
AMB 2016 - Customer First
AMB 2016 - Customer First
From best prices for spare parts and spindle repairs to full-service offers – DMG MORI underscores its customer orientation with five service promises
Maximum service quality at fair prices and with best-price guarantee
Innovative and efficient machine tools are just as important in the manufacturing sector as the absolute reliability of production technology. And that is exactly what the DMG MORI manufacturer service guarantees with its extensive offer. With its maximum service quality and fair prices, the machine tool manufacturer puts the customer first.

For DMG MORI the technological evolution of its product portfolio goes hand-in-hand with the continuous optimisation of its service offer. Regular feedback from customers – which the machine supplier heeds and most especially responds to – plays a key role here. Dr. Maurice Eschweiler, Member of the Board Industrial Services, DMG MORI AKTIENGESELLSCHAFT, explains: "We wish to satisfy the high demands on service quality at fair prices with five service promises. A tough claim to measure up to!"

Best-price guarantee for OEM spare parts

In accordance with its strong customer commitment DMG MORI is as of now, offering an exclusive best-price guarantee. If a customer finds a spare or wear part somewhere else that is at least 20 percent cheaper, DMG MORI will reimburse the price difference to 100 percent. Dr. Maurice Eschweiler goes on to tell us: "This means we can ensure our customers get OEM spare parts at fair prices." A customer can also save additional costs: "Shipping is free of charge for orders placed in the online shop."
Spindle service at best prices directly from the manufacturer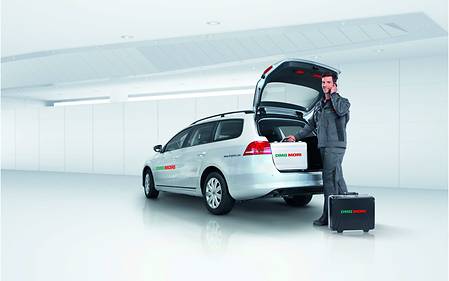 DMG MORI continues to offer maximum manufacturer expertise where the spindle service is concerned. What is new here is the pricing structure, which allows customers to benefit from attractive conditions. The 18,000 SK-40 OEM spindle is one example where DMG MORI guarantees the best price. The offer of the Spindle Service ranges from professional spindle repair at a fixed price to the replacement spindle service. In this case, either a new or generally overhauled replacement spindle is installed. The advantage here is obvious according to Dr. Maurice Eschweiler: "We have over 1,000 spindles in stock that are available immediately for our customers."

Significantly reduced service costs thanks to our new job flat rate​​​​​​​

DMG MORI is introducing a transparent job flat-rate that is applicable as of now. This flat rate is a one-off charge per service order and technician. There are no longer any additional charges for travelling time, kilometers travelled or any flat charges for expenses and small parts. This adds up to service prices with an up to 50-percent price saving.

All-round carefree with full-service agreements

As of now, the DMG MORI full-service agreement is also available for customers who purchase a new machine. All service and spare part costs are covered by a monthly flat-rate charge with this all-round carefree package. Even a potential crash is covered to 100 percent thanks to a machinery breakdown insurance. The lifecycle costs with this offer amount to less than two percent a year. "Aside from that, all services will be performed with the usual manufacturer quality", adds Dr. Maurice Eschweiler. Financing of the DMG MORI full-service within the framework of a leasing contract is also possible. Another plus point: three services are included in a three-year agreement.

Overhaul – 100% restoration of performance capacity
One offer in the DMG MORI manufacturer service portfolio that has stood the test of time is the overhaul of DMG MORI machines and components. Dr. Maurice Eschweiler believes this will remain an indispensable service in future as well: "It is an optimal way for customers to secure established production processes." After all, the performance capacity of the machines is restored to 100 percent. Furthermore: "Where applicable an overhaul also includes software updates and retrofit options, so that users can continue their high-level of production."