09/19/2018
AMB 2018 - Customer First
Higher service availability and fair prices
More capacity, digital solutions and fair prices for service.

Faster support: Around 200 additional service technicians in 2018
Original spindle service: Fair prices and fast support guaranteed!
NETservice: New remote service with camera connection
Already in 2016, DMG MORI pledged a clear commitment to their customers with its "Customer First 1.0" and 5 service promises. This commitment has been steadily expanded since then. DMG MORI is therefore planning to employ an additional 200 service technicians this year. A further highlight is the new NETservice together with the SERVICEcamera, which is also new. A combination that promises fast support already on the telephone. In the case of spindle damage, DMG MORI has access to an immediately available stock of up to 2,000 spindles.
Core element of sustainable differentiation

"Service is and will remain a particularly sensitive subject", explains Dr. Maurice Eschweiler of the Executive Board of Industrial Services of DMG MORI AKTIENGESELLSCHAFT. Our targeted measures continue to improve our service for the long term – real as well as digital. Particularly the availability of service is being significantly increased and even greater attention is being focused on the possibilities offered by digitalisation.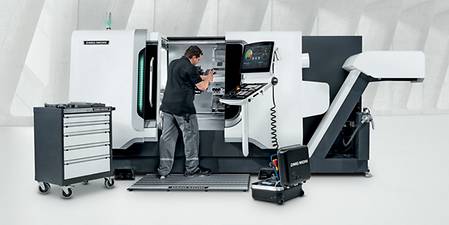 Additional capacity for shorter reaction times

For over 300,000 DMG MORI machines in operation worldwide, service is the top priority for the user as well as for DMG MORI. DMG MORI has successively increased the number of its service experts in-house and in the field in order to satisfy the high service demands. Already by the end of the year, around 200 additional service technicians will provide their support to the team. At the same time, DMG MORI has enormously expanded internal training and advanced training activities in order to satisfy the demands of the customers when it comes to the large product range and technology.
Higher solution rate already on the hotline

The major focus in the area of digitalisation is on the newly introduced remote tool "NETservice" including connection to the specifically developed SERVICEcamera for visual support during troubleshooting. NETservice offers intuitive operation as well as extensive and, at the same time, very secure access to CELOS, IPC and NC. Furthermore, it is possible to take advantage of multi-user conferences within the DMG MORI network of experts to solve problems together. In comparison to its predecessor, this highly modern remote service promises a significantly higher solution rate directly through the hotline and thus faster support.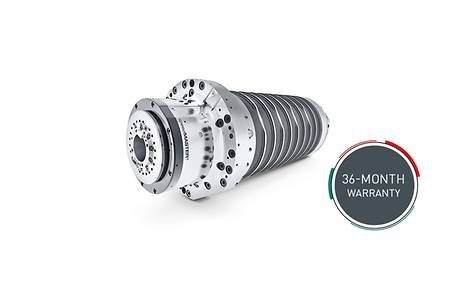 Spindle service at a world-class level

The spindles of the machine tools are another important service topic. "They are the heart of the machine", knows Dr. Maurice Eschweiler and is convinced that DMG MORI will continue to also offer service here at a world-class level. This is the reason why the machine tool manufacturer provides a 36-month warranty on all MASTER spindles and even includes unlimited hours. For service cases, DMG MORI has a worldwide stock of over 2,000 new and replacement spindles. This corresponds to more than 96 percent availability from stock, which can be accessed within 24 hours.
An attractive alternative to spindle replacement is the economic spindle repair with function guarantee. The experts responsible for this at DMG MORI have the required manufacturer expertise and only use original spare parts. Dr. Maurice Eschweiler would like to particularly point out the fair-price guarantee for spindle service: "DMG MORI will offer every customer the fastest support and a functional guarantee – and at a very attractive price."