09/19/2018
AMB 2018 - Automation
More value creation through integral automation solutions
DMG MORI HEITEC GmbH has established itself as an automation partner for DMG MORI and their customers.
DMG MORI HEITEC: Joint-venture for integrated automation concepts
Digital Twin: Virtual models for support of engineering processes
Intelligent combination of machine tool and automation solution
Automation solution for all DMG MORI machine tools

Production sites deliver machine tool and automation from one supplier
Perfect coordination of hardware and software

Portfolio from standard automation over customer-specific automation solutions to turnkey solutions
Already more than 2,000 delivered machine tools with automation
13 intelligent automation solutions at AMB
Automation is an important pillar of DMG MORI's strategy for the future: Every fourth new machine is already automated or equipped for it. At the same time, DMG MORI has been strengthening its automation expertise since November 2017 with the joint venture DMG MORI HEITEC. The core area of this joint venture is to work as an automation partner of DMG MORI and support the development and realisation of flexible automation solutions, such as workpiece handling. The automation expertise for, e.g. pallet handling, is directly integrated into the production plants of DMG MORI. The interplay between engineering from the DMG MORI production plants and automation expertise on the part of DMG MORI HEITEC provides the customer with a customised, integrated and reliable solution – from engineering through fixtures, tooling and NC programs right up to integrated automation – and everything from a single source. Additional service features from DMG MORI HEITEC comprise configuration through to the operation of the system – including the modification or expansion of a system for additional products. DMG MORI will be presenting its automation skills at the AMB in the form of the latest developments in the area of automated manufacturing solutions from the group's portfolio. This includes the second generation of the Robo2Go as well as the new workpiece handling system demonstrated on a DMU 50 3rd Generation with WH 15 and a MILLTAP 700 with WH 3.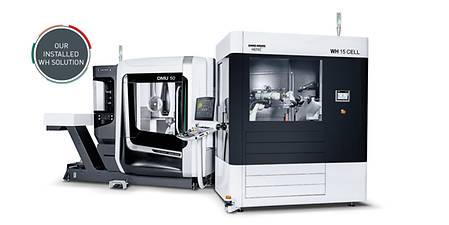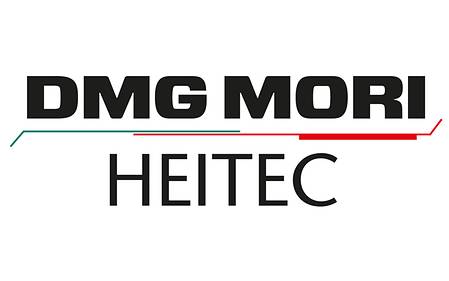 With an integral approach, DMG MORI HEITEC considers itself to be a supplier of modular, perfectly coordinated automation solutions. As a machine tool manufacturer, customer and also partner, DMG MORI will be intensively involved in the area of gripper technology. "In essence, we implement modular manufacturing cells and systems on the basis of a building block system, which allows them to be individually set up and customised", explains Kai Lenfert, joint managing director of DMG MORI HEITEC GmbH together with Markus Rehm. This is a decisive factor, particularly for small- and medium-sized companies. "Even if these companies represent a large portion of DMG MORI customers, as an automation specialist, we don't differentiate according to the size of the company", adds Markus Rehm. Only the solution to the problem counts for DMG MORI. "This perspective then very quickly blurs the borders." Specific tasks such as these are only one side of the coin. DMG MORI HEITEC is also focusing on value creation in the long term. Markus Rehm is convinced: "Automation is far more than the sum of the machines and the associated handling, storing and logistic systems."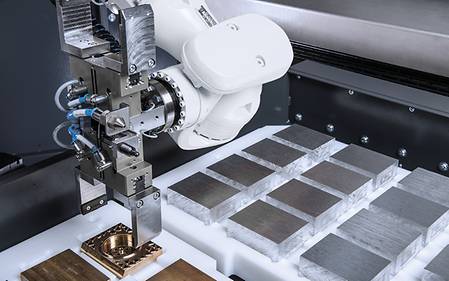 It is also about incorporating important implications of automation throughout the entire production process. Kai Lenfert provides a simple but obvious example: "A customer that develops an automated system for unmanned nightshift must also be capable of making available the required resources beforehand and during further processing." The more complex the task, the more detailed the planning needs to be for the system and, above all, integrated into value creation.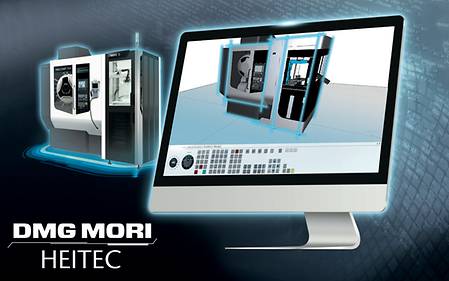 Integral overview with digital engineering

Due to the direct interaction with the DMG MORI plants, DMG MORI HEITEC can already plan and improve every automation project very specifically and optimised for the customer based on virtual mapping and in real time. Even specific component programs can be run as a simulation for the customers already prior to installation on the computer. This creates a high degree of investment security for the customer, guarantees fast installation and commissioning on site and ensures an incomparably fast production start. The cycle times can be reduced by up to 80 percent in this way. Above all, equipped with knowledge gained from the virtual results of the digital engineering, customers can already precisely asses during the decision-making phase how the system will affect the process chain and what the company may potentially need to do to guarantee efficient operation of the system and its entire production process.
Solely the possibilities offered by predictive simulation of processes or the analytical predictability of events is seen by DMG MORI HEITEC as an important building block for Industry 4.0. But Markus Rehm stresses: "Automation and digitalisation are only two elements alongside information and production technology as well as technology and process and neither of the elements are able to be considered in isolation from the others." Ultimately one is confronted with the interdisciplinary challenge of being a good partner offering integrated solutions to its customers in all fields of expertise.
Robo2Go 2nd Generation: flexible automation, easy to program

DMG MORI will be presenting the new second generation of the Robo2Go from its automation portfolio at the AMB. It can be operated on the CLX and CTX series turning centres as well as the turn & mill complete machining centres from the CTX TC series. The flexible robot automation is easy to operate via new software. The processes can be directly created through CELOS with the Robo2Go 2nd Generation based on predefined program modules and even without any knowledge of robot programming. This means that teaching a new workpiece takes less than 15 minutes. The new gripper geometry has a reduced interference contour and improved load capacity. Depending on the model, the load capacity is 10 kg, 20 kg or 35 kg.
The high degree of flexibility of the Robo2Go 2nd Generation is evidenced by the way it can be used on multiple machines – setup takes a maximum of 30 minutes – as well as its handling of different components. The multi-job function means the Robo2Go 2nd Generation can handle multiple orders with one workpiece tray. The tray has been enlarged by 20 percent in the new generation and holds up to 90 workpieces. Moreover, the Robo2Go 2nd Generation is capable of stapling workpieces. The automation features a parallel gripper and allows external as well as internal gripping. It is also possible to use a bar loader at the same time. The same applies to the optional feature of handling shaft parts.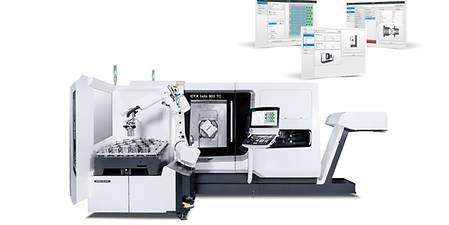 Broad automation portfolio in hall 10

In addition to the Robo2Go, which DMG MORI is presenting on a CLX 350 and CTX beta 800 TC, the machine tool manufacturer will demonstrate their automation skills on eleven other manufacturing solutions in full cutting action. These will include a NHX 4000 with RPS 21 pallet rotary storage, the PH 150 pallet handling system on a CMX 800 V and a DMU 65 monoBLOCK as well as two workpiece handling systems. This will enable the DMU  3rd Generation with WH 15 Cell to perform automated 5-axis machining of components up to 15 kg. On top of this is the MILLTAP 700 compact machining centre with the WH 3 for workpiece weights up to 3 kg. With a footprint of just 1.66 m², this very compact module has 15 stations.