09/15/2016nd Generation
AMB 2016 - DMC 210 U 2
AMB 2016 - DMC 210 U 2nd Generation
The new DMC 210 U makes an impressive appearance with an enlarged work area, innovative wheel magazine and maximum precision
Productive heavy-duty machining with pallet changer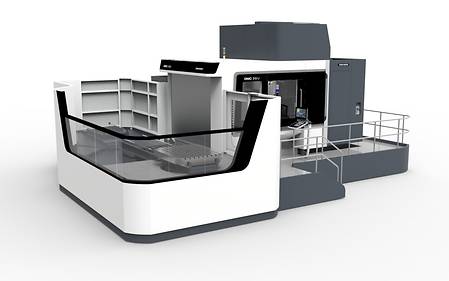 Highest rigidity and long-term accuracy have always been the outstanding features of the DMG MORI portal machines. The machine tool manufacturer has once again optimised the successful series in the second generation. With a large cube-shaped work area and a powerful spindle program as well as CELOS installed as standard, the new DMU 210 U is extremely well equipped for increasing market demands.

The heavy-duty machining of complex components are part and parcel of tool and mould construction, general mechanical engineering and the aerospace sector. Thanks to its diverse optional equipment, the DMU 210 P 2nd Generation is optimally equipped for manufacturing large deep-drawing moulds, bearing blocks and integral components. The large cube-shaped work area with traverse paths of 2,100 mm in X and Y directions offers ample space for this. The Z-axis is 1,250 mm. The NC rotary table can cope with loads up to 6,000 kg. The work pieces are supplied to the machine through the integrated pallet changer. Pallet rotary storage for up to five pallets is available as an option.

The fast and innovative wheel magazine guarantees machining diversity. It can accommodate up to 303 SK50 tools up to lengths of 1,200 mm at the same minimum space requirement. The chain magazine in the standard version comes equipped with 60 tool pockets. The large spindle modules similarly allow the right spindle to be selected according to the application. The innovative highlight here is the SK50 gear spindle 5X torqueMASTER with up to 1,800 Nm torque, 52 kW and 8,000 min-1. DMG MORI has, moreover, completely redesigned the traverse area and optimised the interference contour of the milling head. In addition to the equipment and the performance, DMG MORI has also improved the efficiency of the DMU 210 U, contributing to a decrease in energy and an increase in environmental friendliness.

The high long-term accuracy of the DMG MORI portal machines is based on an extremely stable design. In the current generation, the rigidity of the traversable crossbeam has once again been increased, while extensive cooling measures ensure a high degree of temperature stability in the standard version. These measures include, amongst others, the drive motors in the Z axis, the linear guides, the drive in the rotary axis and the machine bed. These can also be temperature controlled as an option. In addition, there is also sensor-based spindle compensation.