09/15/2016th Generation
AMB 2016 - DMC 160 U duoBLOCK 4
AMB 2016 - DMC 160 U duoBLOCK 4th Generation
The benefits of the fourth duoBLOCK Generation make the DMC 160 U duoBLOCK a match for the toughest demands of mechanical engineering, aerospace and automotive sectors
Maximum productivity for heavy-duty machining
The latest example is the new DMC 160 U duoBLOCK. The 5-axis universal machining centre with pallet changer is based on the tried-and-tested duoBLOCK principle, which, in its fourth generation, offers 30 percent greater stability and precision at 30 percent less energy consumption. The innovative highlights of the world premiere, which DMG MORI will be presenting at the AMB, are the new 5X-torqueMASTER gear spindle with 1,800 Nm and the increase in the traverse path the in the Y-direction from 1,250 to 1,600 mm.

Heavy-duty machining is a part of day-to-day manufacturing for general mechanical engineering, in the area of aerospace as well as the automotive industry; for example for processing undercarriage parts and engine blocks. The stable construction of the patented duoBLOCK concept offers here the perfect basis for productive and also highly precise machining on the DMC 160 U duoBLOCK. Moreover, the extensive cooling systems in the machine bed and columns as well as the broad linear guides, drives and the spindle help to increase the service life of the universal machining centre. The pallet changer loads the DMC 160 U duoBLOCK with workpieces up to 4,000 kg. Traverse distances of 1,600 x 1,600 x 1,100 permit generous component dimensions.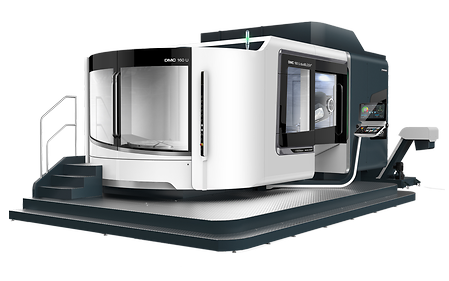 With its maximum torque of 1,800 Nm, the new 5X-torqueMASTER gear spindle promises maximum power for heavy-duty machining. It provides a rotational speed of up to 8,000 min-1 at 52 kW power. With the largest range of spindles on the market, DMG MORI equips the DMC 160 U duoBLOCK optionally with a powerMASTER motor spindle with 1,000 Nm or a speedMASTER spindle of up to 30,000 min-1.

With its innovative wheel magazine with minimum space requirements, the DMC 160 U duoBLOCK also supports productive manufacturing. Up to 453 tools – 63 are supplied as standard – can be accommodated here using the same minimum space requirements. Further optional equipment includes the accuracy and production package, a measuring probe as well as the RS 6 pallet rotary storage for longer autonomous manufacturing.

On the control side, the DMC 160 U duoBLOCK is equipped with CELOS and a SIEMENS 840D solutionline. These solutions enable simplified operation and guarantee efficient machining processes.