09/29/2021
Technology Excellence Magazin 03/21
AI-based calculation
Time calculations of components and the production of quotes are traditionally based on individual expert knowledge, mainly using Excel, and are extremely time-consuming. And only a small proportion of the quotes that are sent actually lead to an order.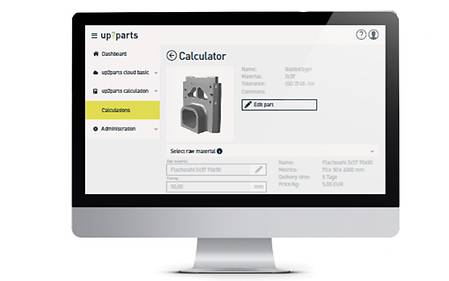 So why not digitize this process, reduce time-consuming activities to a minimum and increase the success rate of your quotes at the same time? The motivation behind up2parts GmbH is to digitally optimize the entire value creation chain. To date, Up2parts has developed the up2parts cloud basic and calculation products, which increase the competitiveness of small- and medium-size manufacturing companies enormously.
Increased efficiency & reduced costs by means of digitization, from a quantity of 1
That is exactly the promise of cloud-based products from up2parts. Developed by up2parts GmbH, a strategic partner of DMG MORI, for small- and medium-size companies using the latest technologies and based on artificial intelligence. The up2parts solutions provide a simple introduction to digitization, are ready for use immediately, are maintenance-free and do not require expensive training courses.
up2parts cloud basic – The digital image of your manufacturing company
With up2parts cloud basic, you manage your company-specific database and look after your machines, materials, customers and components centrally in one software package. You can automatically find the same or similar components within seconds using the geometric similarity search. Due to the unlimited amount of storage, you can map your company holistically and digitally, and even process data-intensive 3D models having a high degree of complexity. up2parts cloud basic is ready to go in just 2 minutes and acts as the basis for the use of all other up2parts products.
up2parts calculation – Create calculations & quotes in seconds
With up2parts calculation, you can set new standards in efficiency. Work planning and calculation of quotes are generated fully automatically based on your individual company data by means of an AI-supported analysis of 3D models. Each component calculation automatically teaches your company- specific intelligence and generates more extensive data sets – for increasingly precise results in work preparation. And you can generate a quote that is ready for dispatch with just two clicks.
This means: Accurate calculations in the shortest possible time.
Artificial intelligence from up2parts for small- and medium-size companies
Create your own company-specific AI which becomes increasingly intelligent, thereby preserving your manufacturing company's know-how for generations. Your company- specific intelligence starts learning from the 1st work plan – like an apprentice who continuously increases his or her knowledge.
Your data is 100 % secure.
Data security is a top priority for up2parts. Your data is encrypted, using state-of-the-art methods during and after the transfer, and is only accessible to you and your team.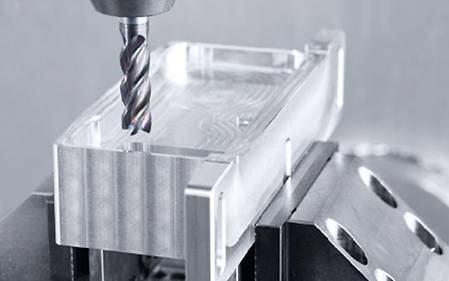 up2parts Calculation in field test
With a location for sheet metal working in Sigmaringen and a machining and fabrication plant in Albstadt, JUCOWA Metallbearbeitung GmbH has been a reliable service provider to the mechanical engineering and medical sectors for many years. The company was founded in 1999 and with its 50 skilled workers offers customers a wide range of services. There are nine CNC machine tools from DMG MORI in its production facility, which were integrated into a fully digitized process chain during a move into the newly built production centre. It also includes automated preparation of quotations with up2parts based on artificial intelligence software.
90 % vertical integration
"A vertical integration of 90 percent allows us to respond flexibly and promptly to our customers", mentions Andreas Kanz, Managing Director of JUCOWA as being a key success factor for the daily business of a contract manufacturer. However, this calls for well-organized workflows from A to Z. JUCOWA has taken a big step towards digitization with the purchase of a DMU 50 3rd Generation from DMG MORI. "We have been using DMG MORI Messenger to monitor production ever since." Thanks to subsequent automation, the machining center is now also operated unmanned over night shifts. With regard to programming, Jucowa relies on ESPRIT from DMG MORI, which also accelerates the processes.
Digitization early on in work preparation
Andreas Kanz found the digitization solutions from DMG MORI persuasive, which is why he adopted them right from the outset when building a new facility: "We have integrated all DMG MORI machines except for two old models into the digital process chain in our new unit, which further optimizes our processes." Nowadays, the process chain starts early on with the preparation of quotations: "We heard about up2parts from DMG MORI and installed the software at the end of 2020 to test it out." With the aid of artificial intelligence, up2parts helps medium-sized companies to calculate quotations during work preparation. With a stake in the software company, DMG MORI underlines the importance of the large increase in efficiency achieved with up2parts and its integration into the entire digitized value-added chain.
Find similar workpieces in just a few seconds
up2parts is based on a company-specific database, which interested parties can use straight away in the free version, up2parts cloud basic. "In principle, the database is a digital image of a user's company", explains Andreas Kanz. Machines, materials, customers and components – the latter as 3D models – are stored centrally with unlimited storage space.
A geometric similarity search finds identical or similar components automatically within a few seconds. The extension of up2parts calculation then contributes to another enormous increase in efficiency in work planning.
"Preparing quotations takes a lot of time, which we do not necessarily have when the order situation is good," explains Andreas Kanz, who as a qualified design engineer is well acquainted with this part of work planning and knows how crucial it is to submit an offer quickly. That is why he was very interested in the automated solution with up2parts. Based on the CAD models already in the company database, the software automatically creates component calculations and makes suggestions for a work plan and run times. These originate from the company-specific artificial intelligence, which is trained to become more accurate with each calculation.
Andreas Kanz is impressed: "up2parts learns new things with every component, so calculations become more and more accurate." Meanwhile, the deviations from the real price are as minimal as they are with manual calculations. As up2parts reduces and automates this process to a few clicks, users save up 80 percent of the time needed for preparing a quotation, increasing their success rate. Andreas Kanzwas already acquainted withthe automated form of quotation preparation from his time in sheet metal working: "However, this involves two-dimensional components, whereas up2parts also manages to reliably automate the process for three-dimensional workpieces."
The people at up2parts are convinced that 3D models will continue to gain in importance in future, because they are the basis for digitization in production.
Digitization and automation to stay competitive
Following the economic instability of the past few years, the order situation at JUCOWA has now picked up again, which made it urgent to move into a new production facility. "We had to increase capacity to remain competitive", recalls Andreas Kanz. Equally important was the modernization of production: "Modern machine tools, where necessary automation solutions, and digitization from order intake through to quality control will significantly influence our future investments."