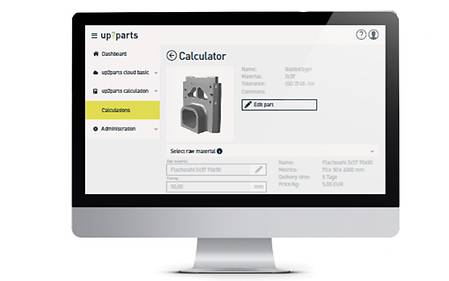 So why not digitize this process, reduce time-consuming activities to a minimum and increase the success rate of your quotes at the same time? The motivation behind up2parts GmbH is to digitally optimize the entire value creation chain. To date, Up2parts has developed the up2parts cloud basic and calculation products, which increase the competitiveness of small- and medium-size manufacturing companies enormously.
Increased efficiency & reduced costs by means of digitization, from a quantity of 1
That is exactly the promise of cloud-based products from up2parts. Developed by up2parts GmbH, a strategic partner of DMG MORI, for small- and medium-size companies using the latest technologies and based on artificial intelligence. The up2parts solutions provide a simple introduction to digitization, are ready for use immediately, are maintenance-free and do not require expensive training courses.
up2parts cloud basic – The digital image of your manufacturing company
With up2parts cloud basic, you manage your company-specific database and look after your machines, materials, customers and components centrally in one software package. You can automatically find the same or similar components within seconds using the geometric similarity search. Due to the unlimited amount of storage, you can map your company holistically and digitally, and even process data-intensive 3D models having a high degree of complexity. up2parts cloud basic is ready to go in just 2 minutes and acts as the basis for the use of all other up2parts products.
up2parts calculation – Create calculations & quotes in seconds
With up2parts calculation, you can set new standards in efficiency. Work planning and calculation of quotes are generated fully automatically based on your individual company data by means of an AI-supported analysis of 3D models. Each component calculation automatically teaches your company- specific intelligence and generates more extensive data sets – for increasingly precise results in work preparation. And you can generate a quote that is ready for dispatch with just two clicks.
This means: Accurate calculations in the shortest possible time.
Artificial intelligence from up2parts for small- and medium-size companies
Create your own company-specific AI which becomes increasingly intelligent, thereby preserving your manufacturing company's know-how for generations. Your company- specific intelligence starts learning from the 1st work plan – like an apprentice who continuously increases his or her knowledge.
Your data is 100 % secure.
Data security is a top priority for up2parts. Your data is encrypted, using state-of-the-art methods during and after the transfer, and is only accessible to you and your team.